February 25, 2013
AAAAI: Omalizumab Treatment Effective for Urticaria
Reduces itch severity in patients resistant to antihistamines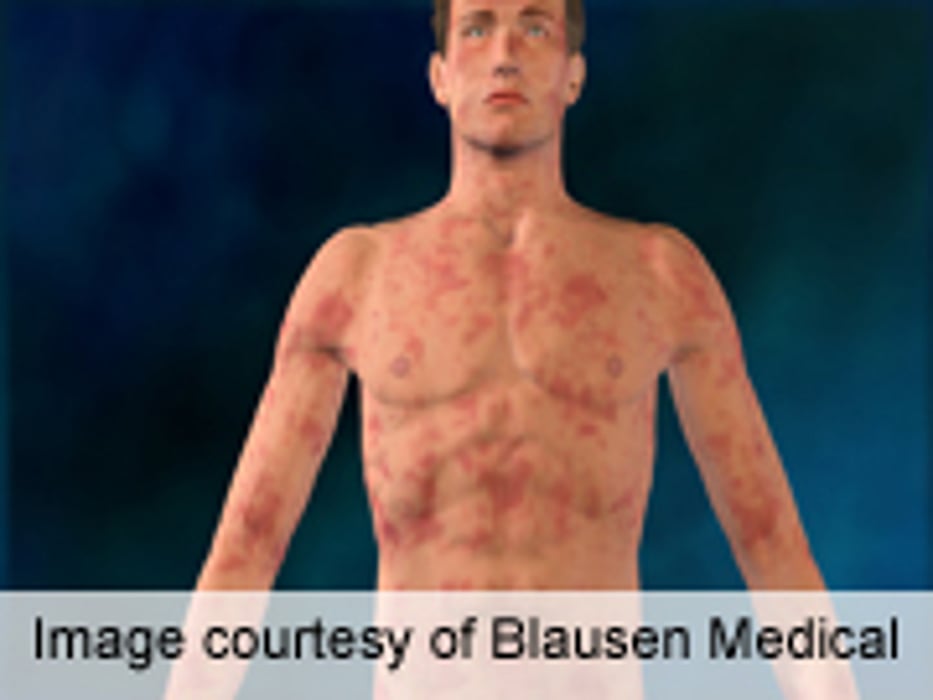 MONDAY, Feb. 25 (HealthDay News) -- Treatment of chronic idiopathic urticaria with omalizumab is effective in reducing itch severity in patients resistant to treatment with antihistamines, according to a study published online Feb. 24 in the New England Journal of Medicine to coincide with presentation at the annual meeting of the American Academy of Allergy, Asthma & Immunology, held from Feb. 22 to 26 in San Antonio.
Marcus Maurer, M.D., from Charite-Universitatsmedizin in Berlin, and colleagues randomly assigned 323 patients with moderate-to-severe chronic idiopathic urticaria who did not respond to therapy with H1-antihistamines to three injections (four weeks apart) of placebo or omalizumab (75 mg, 150 mg, or 300 mg).
The researchers found that at week 12 the weekly itch-severity score was significantly lower for the 150 mg and 300 mg doses compared with placebo. Most secondary outcomes were similarly dose dependent. There was a low frequency of serious adverse events, although the rate was six percent in the 300 mg group compared with 3 percent for placebo and 1 percent for the 75 and 150 mg groups.
"Omalizumab diminished clinical symptoms and signs of chronic idiopathic urticaria in patients who had remained symptomatic despite the use of approved doses of H1-antihistamines," Maurer and colleagues conclude.
The study was funded by Genentech and Novartis; several authors disclosed financial ties to pharmaceutical and biotechnology companies, including Genentech and Novartis.
Physician's Briefing