November 9, 2012
ACAAI: Much of Alpha-Gal Sensitivity Due to Lone Star Tick
Wide regional variation identified, with positive IgE rates even in areas outside of lone star ticks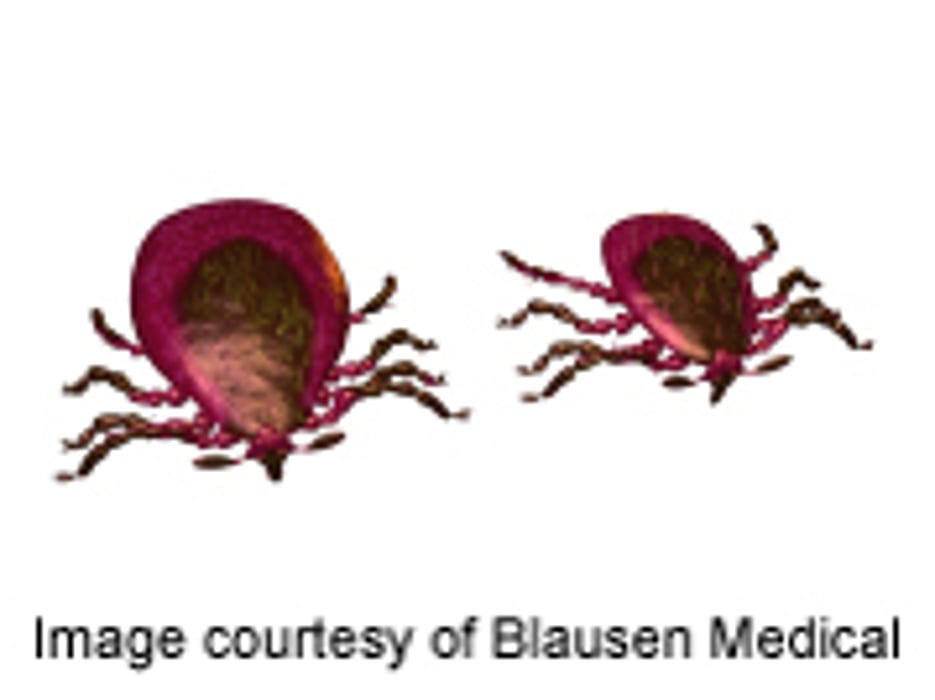 FRIDAY, Nov. 9 (HealthDay News) -- Although rates of galactose-alpha-1,3-galactose (alpha-gal) immunoglobulin (Ig)E sensitization are higher in areas where the lone star tick is known to exist, alpha-gal sensitization is also seen in regions without the lone star tick, according to research presented at the annual meeting of the American College of Allergy, Asthma & Immunology, held from Nov. 8 to 13 in Anaheim, Calif.
Jeff Hester, Ph.D., from Viracor-IBT Laboratories in Lee's Summit, Mo., and colleagues retrospectively reviewed national laboratory data from tests performed over the first three years of the commercial release of the alpha-gal IgE assay. The number of positive and negative tests were calculated and data were mapped into six geographical regions and compared with the July 2011 U.S. Centers for Disease Control and Prevention published map for the established lone star tick populations.
The researchers found that 44.8 percent of serum alpha-gal IgE tests were positive. Across the lone star tick population areas, positive alpha-gal IgE rates were 47.4 percent, while in regions without the lone star tick the rates were only 15.4 percent. Positive rates varied regionally from 4.2 to 49.3 percent, with the central and southern regions having the highest prevalence of alpha-gal sensitization. In the north-central and west regions, positive rates were higher than expected.
"These findings suggest that other species of ticks, or possibly human factors, may play a role in allergic reactions to alpha-gal," ACAAI president Stanley Fineman, M.D., said in a statement. "Patients with delayed allergic reactions after eating meats should see an allergist to determine if it is an alpha-gal allergy."
Physician's Briefing