October 29, 2020
Apical Lung Exam on CTA Aids COVID-19 Screen in Stroke Patients
Sensitivity of apical lung assessment improved in combination with symptoms of cough, shortness of breath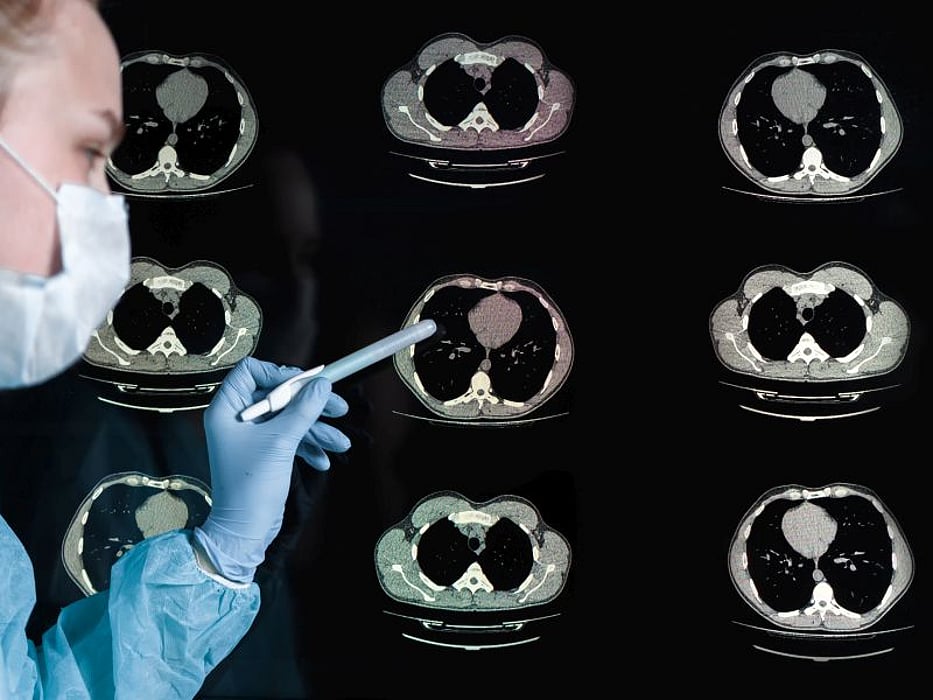 THURSDAY, Oct. 29, 2020 (HealthDay News) -- For patients presenting with acute ischemic stroke (AIS), apical lung assessment on computed tomography angiography (CTA) may be useful as part of the screening approach for COVID-19, according to a study published online Oct. 29 in Stroke.
Charles Esenwa, M.D., from the Montefiore Medical Center/Albert Einstein College of Medicine in Bronx, New York, and colleagues examined the utility of an apical lung exam on CTA for COVID-19-specific lung findings in 57 patients presenting with AIS. The diagnostic accuracy of apical lung assessment alone and in combination with patient-reported symptoms was measured.
The researchers found that in patients presenting to the hospital for AIS, when used in isolation, apical lung assessment yielded a sensitivity of 0.67, specificity of 0.93, positive predictive value of 0.19, negative predictive value of 0.99, and accuracy of 0.92 for COVID-19 diagnosis. Sensitivity of apical lung assessment improved to 0.83 when combined with self-reported clinical symptoms of cough or shortness of breath.
"In combination with symptoms, CTA scan analysis is relatively accurate in diagnosing COVID-19, even compared to the nasal swab test. Since this analysis is much faster and at no extra cost, we hope it could be incorporated as a rapid diagnosis tool for patients with acute stroke," Esenwa said in a statement. "In addition, accurately diagnosing COVID-19 within hours, rather than the sometimes days wait-time to receive the results from nasal swab tests could help protect both patients and medical professionals."
Abstract/Full Text (subscription or payment may be required)
Physician's Briefing