July 27, 2022
Las visitas de telesalud pueden mejorar la atención prenatal y de maternidad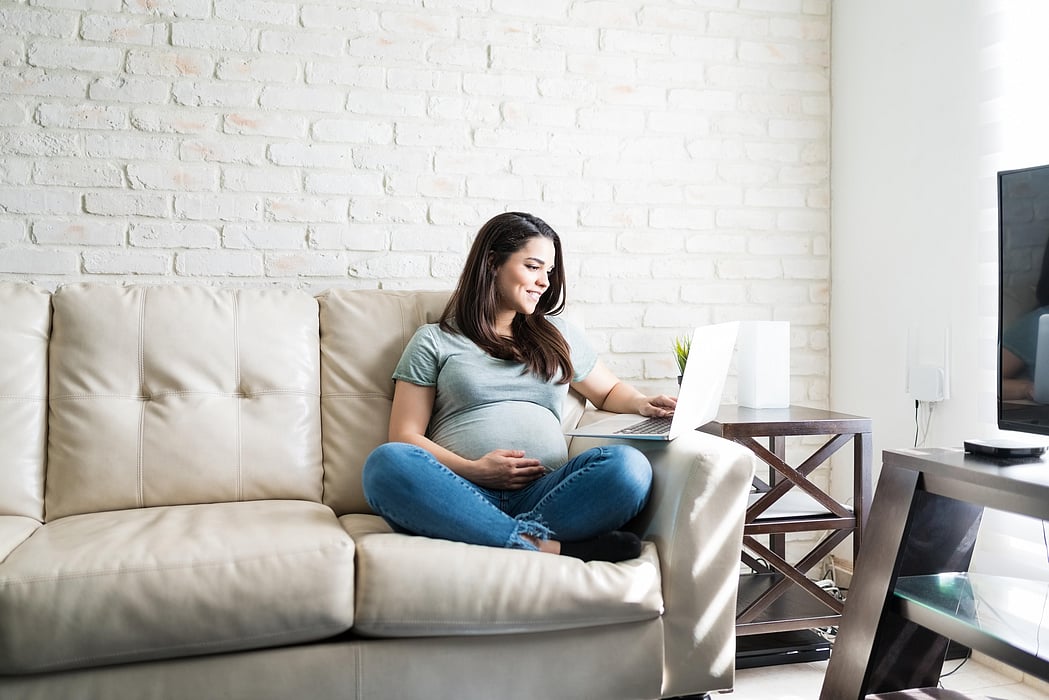 Adobe Stock
MARTES, 26 de julio de 2022 (HealthDay News) -- Ver a sus médicos mediante telesalud en lugar de presencialmente durante la pandemia de COVID-19 parece haber sido igual de bueno, y a veces incluso mejor, para las mujeres embarazadas y las madres recientes.
Los investigadores de la Universidad de Salud y Ciencias de Oregón revisaron 28 ensayos clínicos aleatorios y 14 estudios observacionales, que incluyeron a más de 44,000 mujeres. La meta era determinar la efectividad y cualquier daño de las estrategias de telesalud para la atención de salud de maternidad.
Muchas de las estrategias de telesalud incluidas se usaron para tratar la depresión posparto o para monitorizar la diabetes, o la hipertensión, durante el embarazo. También sirvieron como alternativa a la atención de maternidad general en los embarazos de bajo riesgo.
Los investigadores encontraron que estas citas resultaron en unos resultados mayormente similares, o a veces mejores, en comparación con la atención presencial.
Los autores apuntaron que esto podría significar que la telesalud puede ser un complemento para la atención usual de la depresión postparto. Fue más probable que las intervenciones de telesalud mejoraran los síntomas del estado de ánimo a corto plazo, en comparación con la atención presencial sola, apuntaron, aunque quizá los efectos no sean sostenidos.
Los hallazgos se publicaron el 25 de julio en la revista Annals of Internal Medicine.
En Estados Unidos hay unas tasas altas de problemas de salud y muertes maternas, junto con unas significativas disparidades de salud. Se ha mostrado que el acceso a una atención de alta calidad reduce las tasas de enfermedad y muerte, porque los médicos pueden tomar medidas oportunas para prevenir las afecciones que pueden aumentar el riesgo de unos malos resultados.
Los investigadores señalaron que la telesalud podría ser una estrategia posible para mejorar la administración de la atención de maternidad, aumentar la satisfacción de la pacientes y reducir las desigualdades en la salud.
Es un área que está lista para la innovación, aseguraron los investigadores en un comunicado de prensa de la revista.
Apuntaron que los hallazgos resaltan la necesidad continua de incorporar métodos para evaluar y cerrar las lagunas en la atención de la salud. Añadieron que este es un importante elemento que falta en los estudios que revisaron.
Más información
El Departamento de Salud y Servicios Humanos de EE. UU. ofrece más información sobre cómo tener un embarazo sano.
Artículo por HealthDay, traducido por HolaDoctor.com

FUENTE: Annals of Internal Medicine, news release, July 25, 2022

¿Le ha sido útil esta página?
Was this page helpful?
¿Le ha sido útil esta página?
Was this page helpful?
Consumer News in Spanish