December 28, 2012
Surgery May Not Be Needed for Ruptured Achilles Tendon
Review found equal long-term recovery in patients who followed specific rehab program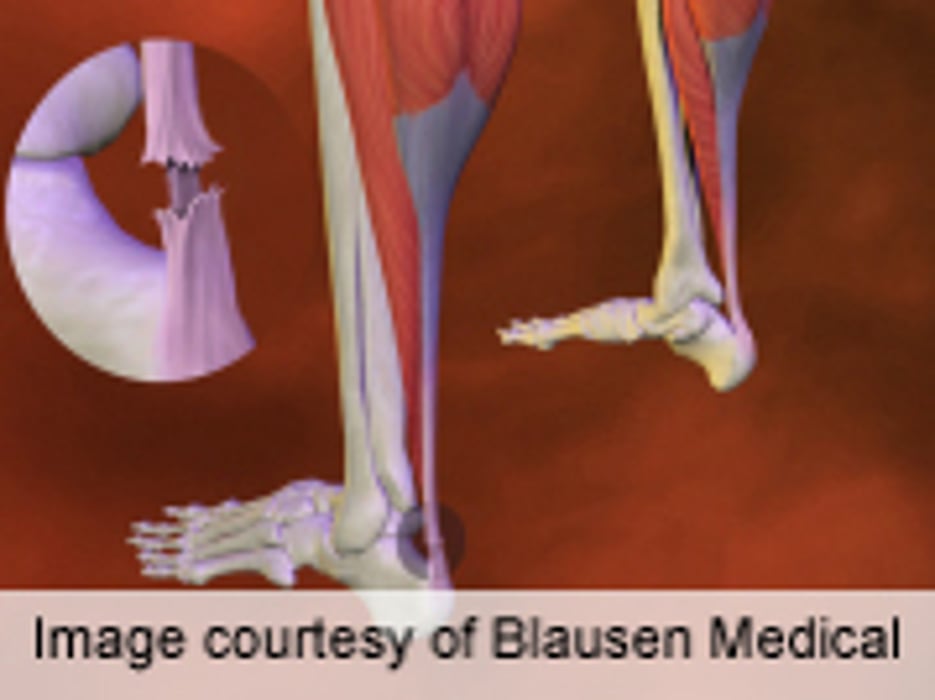 FRIDAY, Dec. 28, 2012 (HealthDay News) -- In the long run, patients who rupture their Achilles tendon fare equally well following nonsurgical treatment as they do with surgery, a new Canadian research review shows.
The catch: Nonsurgical patients can only expect to see results on par with surgery patients if they simultaneously engage in so-called functional rehabilitation, a bracing process that offers patients the opportunity to quickly engage in range-of-motion exercises to promote tendon healing.
And even so, nonsurgical patients will experience a slower speed of recovery than surgery patients.
"[But] if you rupture your Achilles you need to consider nonoperative treatment, because it's safer than surgical treatment," said study co-author Dr. Mark Glazebrook. "What this means is that if you have nonoperative treatment with functional rehabilitation you will have an outcome just as good as surgery and you almost eliminate the absolute risk for surgical complications."
Glazebrook, an assistant professor of surgery in the division of orthopedics at Dalhousie University Queen Elizabeth II Health Sciences Center in Halifax, Nova Scotia, and colleagues discuss their findings in the Dec. 5 issue of the Journal of Bone and Joint Surgery.
The Achilles tendon -- located at the back of the leg, between the heel and calf -- is the most commonly ruptured tendon, the study team pointed out.
Nonsurgical treatment options typically involve the use of a cast, a cast-boot or a splint, sometimes accompanied by physical therapy or functional rehabilitation bracing. Such bracing is a relatively recent innovation that enables patients to begin monitored range-of-motion exercising very shortly after the initial injury.
Nevertheless, in the United States, surgery has been the more favored treatment route, in large measure due to the widespread belief that the risk of re-rupturing is lower following surgery than it is following nonsurgical interventions.
That said, while nonsurgical intervention is considered extremely low risk, roughly 10 percent of surgical patients end up developing serious complications, such as deep infection, skin death, tendon death, and a draining sinus. About 15 percent will also develop relatively minor skin complications.
The authors reviewed the findings of 10 Achilles tendon studies conducted between 2005 and 2011. In sum, the studies included 418 patients who underwent surgery and 408 patients, mostly male, who underwent nonsurgical treatment. Some patients had additionally undergone functional rehabilitation, while others had not.
When functional rehabilitation was included in either treatment mix, the investigators found no appreciable difference in the risk for tendon re-rupturing when comparing surgical and nonsurgical patients. Similarly, both sets of patients fared equally well in terms of range of motion, calf circumference and overall function when functional rehabilitation was in play.
However, when functional rehabilitation was not part of the overall treatment package, surgery patients did face a lower risk -- nearly 9 percent lower -- for re-rupture compared to nonsurgical patients.
When looking at the four studies that assessed the time it took for patients to return to work following treatment launch, the team found that surgery patients did see a faster recovery, being able to return to work about 19 days sooner than nonsurgical patients.
Glazebrook and colleagues concluded that at institutions where functional rehabilitation is available, the option to go the nonsurgical route should be given consideration, given the inherently lower risk for complications. But they added that when functional rehabilitation is not an option, surgery should be the go-to approach.
For his part, Dr. James Barber, an orthopedic surgeon with the Coffee Regional Medical Center in Douglas, Ga., lauded the comparative analysis. "It really reinforces our understanding of treatment options," he said.
"But my concern is that it not be misinterpreted as discounting the surgical option," he added, "because each of the choices is valid, depending on patient need. And this study clearly shows that there is no one answer for every patient," with each having to carefully weigh faster surgical recovery times versus the lower-risk/less-invasive nonsurgical approach, Barber explained.
"So I would say that for low-demand patients who are not required to get back to work quickly, nonsurgical treatment is a good way to go," Barber said. "But for others, surgery is a legitimate and well-thought-of option. And this study helps me lead the kind of decision-making process that's needed when considering these two choices."
As far as cost comparisons between surgical and nonsurgical treatment, Barber said costs vary so much from hospital to hospital that it's impossible to say which would be more for any given patient.
More information
For more about Achilles tendon injury, visit the health information site at the University of Wisconsin-Madison.
SOURCES: Mark Glazebrook, M.D., Ph.D., assistant professor, surgery, division of orthopedics, Dalhousie University Queen Elizabeth II Health Sciences Center, Halifax, Nova Scotia, Canada; James Barber, M.D., orthopedic surgeon, Coffee Regional Medical Center, Douglas, Ga.; Dec. 5, 2012, Journal of Bone and Joint Surgery
Consumer News