October 12, 2020
Un estudio con animales apunta al calentador como origen de las lesiones graves relacionadas con el vapeo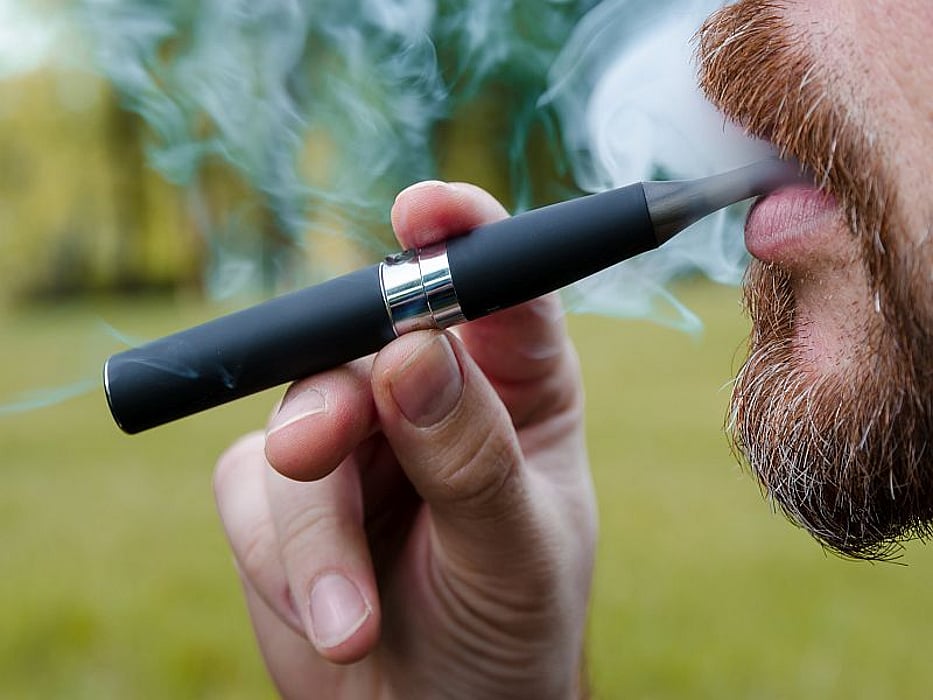 JUEVES, 8 de octubre de 2020 (HealthDay News) -- El tipo de calentador usado en un cigarrillo electrónico y la cantidad de voltaje que pasa por él podrían estar contribuyendo a las lesiones pulmonares relacionadas con el vapeo, plantea un nuevo estudio con animales.
Unas ratas de laboratorio sufrieron lesiones pulmonares cuando se expusieron al vapor de dispositivos que usaban unos calentadores de mucha potencia fabricados con una aleación de níquel y cromo, algo que no ocurrió en experimentos anteriores que usaron unos calentadores de acero inoxidable, informan los investigadores.
"Cuando observamos sus pulmones, vimos que tenían un daño muy grave en la estructura pulmonar", señaló el investigador principal, Michael Kleinman, profesor de medicina ocupacional y ambiental de la Universidad de California, en Irvine. "Encontramos que tuvimos los peores efectos con los calentadores que contenían níquel y cromo, que es un calentador típico".
Los cigarrillos electrónicos convierten el líquido en vapor usando un calentador similar a los que se encuentran en una tostadora, explicó Kleinman. El líquido rodea al calentador, y cuando el voltaje pasa por el calentador, se calienta con rapidez.
Kleinman y sus colaboradores estaban realizando investigación sobre el vapeo con ratas de laboratorio, usando dispositivos equipados con calentadores de acero inoxidable cuando realizaron el descubrimiento.
El fabricante dejó de producir el dispositivo específico que usaban, de forma que tuvieron que cambiar a un modelo compatible que usaba calentadores de níquel y cromo, recordó Kleinman.
"Cuando nos llegaron los nuevos calentadores y los usamos en la configuración de alta potencia, notamos de inmediato tras la primera ronda de exposiciones que los animales literalmente se quedaban sin aliento", dijo. "Estaban en el suelo de las jaulas, jadeando. Tenían mal color. Su nariz, que normalmente tiene un color rosa, se veía como pálida".
Kleinman anotó que el experimento con las ratas usó un líquido para cigarrillo electrónico que era una mezcla de un 50 por ciento de propilenglicol y un 50 por ciento de glicerina vegetal, que son los dos ingredientes principales de la mayoría de esos líquidos, con un poco de sabor de tabaco añadido. No incluía nicotina, THC ni aditivos de vitamina E.
Los defensores de los cigarrillos electrónicos contrarrestaron diciendo que este tipo de experimentos logran sus resultados usando los dispositivos de formas que ningún consumidor lo haría.
"Son condiciones bajo las cuales los usuarios normales de cigarrillos electrónicos nunca los usarían", aseguró Lindsey Stroud, miembro de la junta de la Asociación Comercial de Alternativas Libres de Humo (Smoke Free Alternatives Trade Association). "Un usuario de cigarrillo electrónico no usaría un producto si lo quema. Sentirán el sabor a quemado".
Añadió que los productos de cigarrillos electrónicos más populares (los que usan cápsulas o que son desechables) no tienen configuraciones de potencia que el usuario pueda cambiar.
"No se puede cambiar la forma de calentar de ningún dispositivo con cápsulas", aseguró Stroud. "Para obtener estos resultados, se hace bajo unas condiciones realmente estrictas".
Pero la Asociación Americana del Pulmón (American Lung Association) asegura que el estudio es un ejemplo perfecto de por qué la Administración de Alimentos y Medicamentos (FDA) de EE. UU. debe regular estos productos de una forma más estricta.
"La FDA tiene la oportunidad de aprovechar investigaciones como esta y solo permitir los productos que demuestren que su diseño es adecuado para la protección de la salud pública", comentó Erika Sward, vicepresidenta asistente de defensoría nacional de la asociación del pulmón. "Está muy claro que un vataje más alto es problemático, de forma que cuando revisen los productos, pueden decir que tienen un límite específico. Que no van a permitir que ningún producto con un vataje superior a un valor determinado siga en el mercado".
Sward dijo que la regulación debe ir más allá del tipo de líquido usado en los cigarrillos electrónicos, y que debe tomar en cuenta el diseño completo de cada dispositivo.
"No sabemos lo suficiente sobre los productos que las personas están usando para inhalar sustancias hasta sus pulmones", advirtió. "Creo que en realidad esto es la punta del iceberg. No se trata solo de los compuestos que las personas inhalan hasta sus pulmones, sino también de qué están hechos los dispositivos y su temperatura y el vataje asociado, el tipo de batería... todo esto se junta. La FDA de verdad tiene que ver esto y reconocer, como dijo el exdirector [de los Centros para el Control y la Prevención de Enfermedades (CDC) de EE. UU.], que estos productos son culpables hasta que se pruebe su inocencia. Este tipo de investigación añade más delitos a la acusación de culpable".
Kleinman dijo que hay un par de motivos posibles por los cuales los calentadores de níquel y cromo que funcionan a un alto voltaje pudieran producir un vapor tóxico.
Quizá el tipo de metal, el alto voltaje y los componentes primarios del líquido de los cigarrillos electrónicos se combinen y creen una reacción química tóxica.
"Hay reacciones químicas que ocurren a esas temperaturas altas, y algunos de los glicoles se polimerizan y forman nuevos compuestos", planteó Kleinman. "Es posible que algunos de estos compuestos pudieran haberse oxidado, o que se hayan hecho tóxicos de una forma u otra".
También es posible que el metal sobrecalentado libere partículas en el vapor.
"Cuando se calientan, los calentadores pueden desprender iones de metal, así que podría haber hierro y níquel y otras cosas" que se desprenden cuando se vapea, añadió Kleinman. "El acero inoxidable tiende a ser menos vulnerable a las manchas y al óxido, mientras que los calentadores de níquel y cromo se oxidan con una mayor facilidad".
La nueva investigación aparece en una edición reciente de la revista Journal of the American Heart Association.
Más información
El Cirujano General de EE. UU. ofrece más información sobre los cigarrillos electrónicos.
Artículo por HealthDay, traducido por HolaDoctor.com
© Derechos de autor 2020, HealthDay

FUENTES: Michael Kleinman, Ph.D., professor, occupational and environmental medicine, School of Medicine, University of California, Irvine; Lindsey Stroud, member, board of directors, Smoke Free Alternatives Trade Association; Erika Sward, assistant vice president, national advocacy, American Lung Association; Journal of the American Heart Association, Sept. 28, 2020
Consumer News in Spanish