June 1, 2014
Experimental Drug May Extend Lung Cancer Survival, Study Suggests
But experts debate significance of this expensive treatment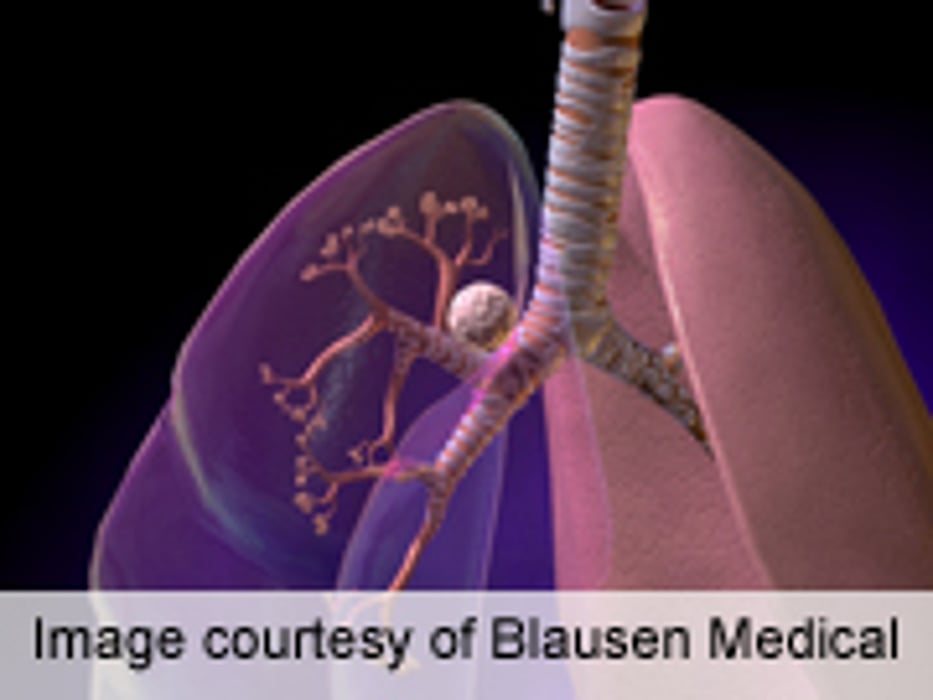 SATURDAY, May 31, 2014 (HealthDay News) -- A new "targeted" therapy might help extend the lives of patients with advanced lung cancer who have a relapse after their initial treatment, a clinical trial suggests.
The drug, ramucirumab, improved survival by more than a month when combined with standard chemotherapy, researchers are scheduled to report Saturday at the American Society of Clinical Oncology annual meeting in Chicago.
Ramucirumab fights cancer by preventing the creation of new blood vessels in tumors, robbing them of needed nutrients and oxygen.
The study found that median overall survival in patients with advanced non-small cell lung cancer was 10.5 months for those taking ramucirumab plus chemotherapy, compared with 9.1 months for patients who received a placebo, or dummy drug, with their chemo.
The significance of this advance may be subject to debate.
Currently, very limited chemotherapy options exist for patients whose lung cancer returns, said study lead author Dr. Maurice Perol, head of thoracic oncology at the Cancer Research Center of Lyon in France.
Those options provide relatively poor results, shrinking tumors only about 10 percent and extending patient survival 7 to 9 months, he said.
"This is the first treatment in approximately a decade to improve the outcome of patients in the second-line setting," Perol said. "The survival improvement is significant because patients with advanced non-small cell lung cancer typically have a very short survival time following second-line therapy."
The findings should be considered preliminary until published in a peer-reviewed medical journal. Also, if the drug receives U.S. Food and Drug Administration approval, doctors and patients will have to weigh the effectiveness of the treatment against what's expected to be its enormous cost.
The clinical trial involved 1,253 patients with stage IV non-small cell lung cancer that had progressed despite standard chemotherapy. Non-small cell lung cancer is the most common type of lung cancer.
All of the patients were treated with the chemotherapy drug docetaxel. Some then were randomly given ramucirumab as well, while others received a placebo.
Adding ramucirumab improved the effectiveness of chemotherapy, the investigators found, with nearly 23 percent of patients experiencing tumor shrinkage compared with 13.5 percent of those who received placebo.
Ramucirumab also improved survival against all types of non-small cell lung cancer, indicating that it could be useful in treating all patients battling a recurrence of this type of lung cancer, Perol said.
The progression-free survival periods for ramucirumab patients was 4.5 months, versus 3 months in the placebo group.
The experimental drug came with few serious side effects. "There was no increase in adverse events or in pulmonary hemorrhage [bleeding from the lung], which is one of the greatest potential risks," Perol said.
The findings from the clinical trial don't represent a huge advance over current treatment, said Dr. Norman Edelman, senior medical advisor for the American Lung Association.
However, ramucirumab does show promise as part of a new class of targeted therapies, he added.
"I find this drug interesting because it represents an attempt to step beyond the usual cytotoxic agents. But on its own, it's not a remarkable breakthrough," Edelman said.
"Some people will have an extra year. Other people will have nothing," Edelman said. "And it won't be cheap. The new biologics are expensive. We're talking tens of thousands of dollars for cost of treatment. These are complicated decisions."
More information
For more on treatment of recurring lung cancer, visit the U.S. National Cancer Institute.
SOURCES: Maurice Perol, M.D., head of thoracic oncology, Cancer Research Center, Lyon, France; Norman Edelman, M.D., senior medical advisor, American Lung Association; May 31, 2014, presentation abstract, American Society of Clinical Oncology meeting, Chicago
Consumer News