September 18, 2007
Tiny Sensor Could Spot Cancer Early
Device is one of many innovations that may revolutionize care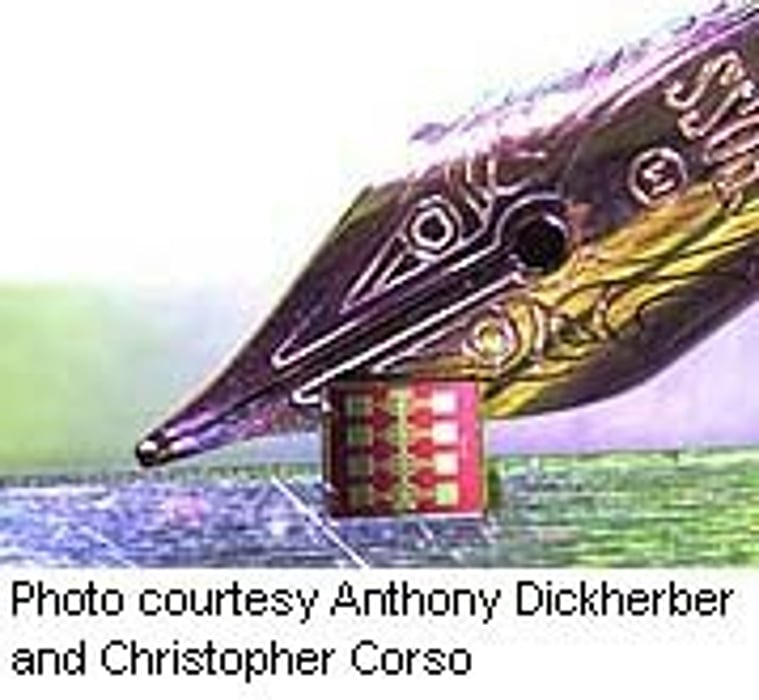 TUESDAY, Sept. 18, 2007 (HealthDay News) -- A small, cheaply produced device could hold the key to detecting cancer at its earliest and most curable stage, developers say.
Graduate students say they've created an acoustic sensor aimed at detecting minute amounts of mesothelin, a molecule associated with several cancers, in blood samples. But they stress that real-life applications are still a way off.
"We're still at an early stage. This is just past the proof-of-concept stage," said Anthony J. Dickherber, lead author of the study and a doctoral candidate in bioengineering at the Georgia Institute of Technology in Atlanta. "Once this tool is fully developed, it probably will be most useful to clinical laboratories. We're trying to create a very cost-effective, disposable test that can detect very small amounts of a target in a very noisy medium [a blood sample] where you have parts per billion or parts per trillion of your target amid all these things."
Dickherber presented the findings at the American Association for Cancer Research's second International Conference on Molecular Diagnostics in Cancer Therapeutic Development, being held in Atlanta.
A second study, also being presented at the conference, identifies a protein that may be an early warning sign for lung cancer.
Early detection is a holy grail of cancer research. The earlier a cancer is found, the more likely a cure will ensue.
Scientists are always busy identifying many new biomarkers that can detect cancer at its very earliest stages. However, these biomarkers are usually only found in very low concentrations. That means that not one, but multiple markers may be needed for an accurate diagnosis to be made.
"It's generally considered for most cancers that not one single golden target is going to tell you everything you need to know. It's very likely you will need to have multiple targets," Dickherber explained. "The idea is that a tool needs to detect multiple things at very low concentrations."
Dickherber and his colleagues developed the ACuRay (Acoustic micro-array) chip, a tiny device that should be able to be mass produced at low cost.
"Incredible advances in the past 30 to 40 years in microelectronic fabrication has driven costs down to be able to mass produce integrated circuits, so we were thinking there has to be a way to leverage that to make disposable sensors to detect things at low concentrations," Dickherber said.
The ACuRay is not unlike sonar. Tiny particles are resonating back and forth at a very high rate. When the molecule the scientists are trying to detect binds to the surface of the device, the particles slow down. "It's that difference that we can detect electrically," Christopher Corso, the other graduate student engaged in the project and an M.D., Ph.D. student, said.
The challenge now is to make them work for different, specific purposes.
"We probably still have a couple of months left of optimizing the design so that we can move on to looking for new targets and trying to detect them," Dickherber said.
"The reason for the optimization is to make the device as sensitive as possible," Corso added.
Cancer is one problem for which the device might provide a solution. But environmental hazards and bioterror could be others.
The second study also addressed the early-detection problem, this time specifically for lung cancer, the leading cancer killer in the United States.
The five-year survival rate for lung cancer, which is rarely detected early, is a very low 15 percent. But, if detection can be made early, survival rates of 50 percent have been seen.
Researchers from Panacea Pharmaceuticals of Gaithersburg, Md., have developed a blood test that targets a protein called human aspartyl (asparaginyl) beta-hydroxylase (HAAH), which appears on the surface of cancer cells and in the blood of people with cancer.
Ninety-nine percent of 160 patients with different stages and types of lung cancer had high levels of HAAH in their blood, as opposed to only 9 percent of nonsmokers without lung cancer.
"It would be very valuable to have an inexpensive test to recognize that someone has an increased risk of lung cancer," said Dr. Arthur Frankel, a professor of internal medicine at Texas A&M Health Science Center College of Medicine and director of the Cancer Research Institute and the Division of Hematology/Oncology, Scott & White. "And, if you had markers that told you that if you had this marker, and you smoked, it was a bad thing, that would be very valuable. Many people are at increased risk because of genetics."
More information
There's more on the early detection of cancer at the American Cancer Society.
SOURCES: Anthony J. Dickherber, doctoral candidate, bioengineering, Georgia Institute of Technology, Atlanta; Christopher Corso, Ph.D./M.D. student, Georgia Institute of Technology and Emory University, Atlanta; Arthur Frankel, M.D., professor, internal medicine, Texas A&M Health Science Center College of Medicine and director, Cancer Research Institute and the Division of Hematology/Oncology, Scott & White, Temple; presentations, Second International Conference on Molecular Diagnostics in Cancer Therapeutic Development, American Association for Cancer Research, Atlanta
Consumer News