December 31, 2009
Clues to Cancer That Could Wipe Out Tasmanian Devils
Researchers are working on genetic puzzle to try to save the mammals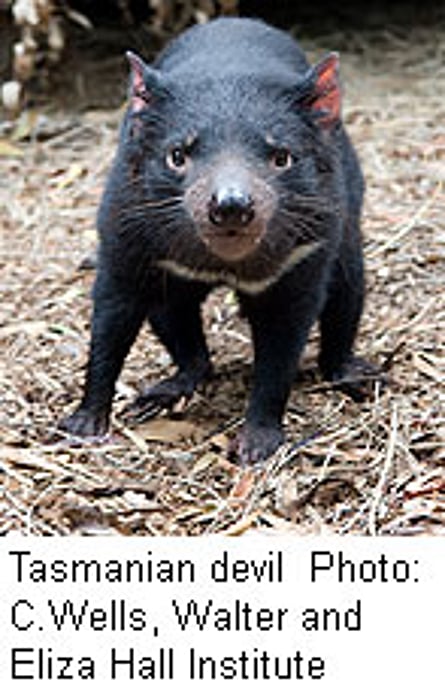 THURSDAY, Dec. 31, 2009 (HealthDay News) -- Researchers are gaining a better understanding of an outbreak of cancerous tumors that is killing many of Australia's Tasmanian devils, according to a new report.
Devil facial tumor disease, a kind of cancer that's spread from animal to animal through biting or other physical contact, is one of only two types of cancer known to be transmitted in this way through living cancer cells (the other such cancer is in dogs). The disease, which quickly kills the animals, starts out as large tumors on the face and mouth, but then can spread to the animals' internal organs.
Advocates fear that the aggressive tumors could kill off Tasmanian devils within a few decades because there currently is no treatment or vaccine.
"Our findings represent a big step forward in the race to save the devils from extinction," study lead author Elizabeth Murchison, of Cold Spring Harbor Laboratory and the Australian National University, said in a news release from the lab.
The researchers report that they've discovered the genetic basis of the cancer, which appears to be linked to a type of tissue that protects nerve cells.
"Now that we've taken a good look at the tumors' genetic profile, we can start hunting for genes and pathways involved in tumor formation," study co-author Greg Hannon, also of Cold Spring Harbor Laboratory, stated in the news release.
The findings are published in the Jan. 1 issue of the journal Science.
More information
The San Diego Zoo has facts about Tasmanian devils.
SOURCE: Cold Spring Harbor Laboratory, news release, Dec. 31, 2009
Consumer News