June 28, 2011
Genome Map May Help Save Tasmanian Devils
Researchers hope to protect healthy marsupials from contagious cancer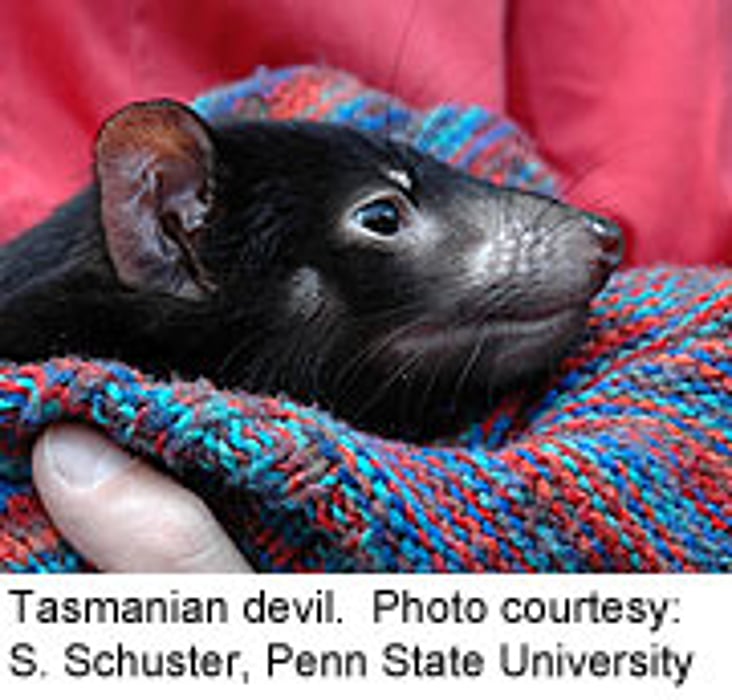 TUESDAY, June 28, 2011 (HealthDay News) -- Analyzing the genomes of Tasmanian devils could help prevent the species' extinction from a contagious cancer, according to scientists.
Tasmanian devils are a marsupial found in the wild only on the Australian island of Tasmania. They're being decimated by Devil Facial Tumor Disease (DFTD), which disfigures the animals and causes death from starvation or suffocation within months. The cancer was first noted on the east coast of Tasmania 15 years ago and has since spread rapidly on the island.
Penn State University scientists and colleagues conducted whole-genome analyses of a healthy devil and one that died of DFTD and used that information to create a theoretical model to predict which individual animals should be kept in captivity to maximize the chances of preserving enough genetic diversity to prevent the extinction of the species.
If a number of healthy Tasmanian devils were kept in "protective custody" at zoos and other facilities until the disease ran its course, the captive animals could be released back into their natural habitat in order to re-establish the species, the researchers explained.
"However, it's not just a matter of scooping up a few individuals at random and locking them away," Webb Miller, a professor of biology and computer science and engineering at Penn State, said in a university news release.
"Our team developed a smarter, more calculated approach: We asked ourselves, which individuals would be the best candidates for 'protective custody,' and what criteria would we use to make those determinations?," Miller explained. "We soon realized that the answer was to compile genetic data and to analyze it in novel ways."
The study is published June 27 in the journal Proceedings of the National Academy of Sciences.
More information
The Tasmania Parks & Wildlife Service has more about the Tasmanian devil.
SOURCE: Penn State University, news release, June 27, 2011
Consumer News