August 20, 2008
Skin Cancer Carries Its Own Scent
Researchers hope to develop noninvasive test to detect malignancies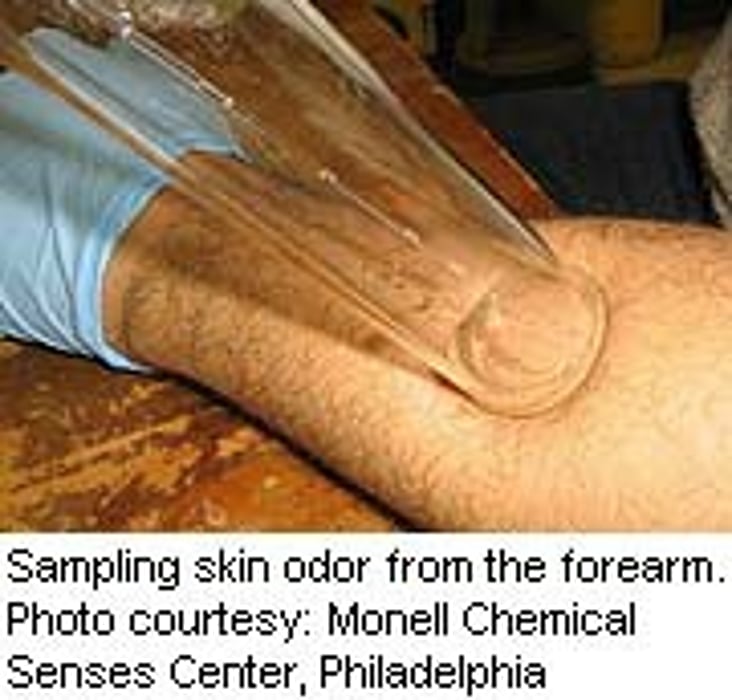 WEDNESDAY, Aug. 20, 2008 (HealthDay News) -- Researchers have identified an "odor profile" for skin cancer, with an eye toward developing a fast, simple and noninvasive test to diagnose the most common form of skin cancer in the United States.
"We found that the odor profile coming from the skin of skin cancer patients was markedly different than that coming from healthy skin," noted study author Michelle Gallagher, who conducted her research while a postdoctoral fellow at the Monell Chemical Senses Center in Philadelphia.
"So, we think that this kind of biomarker could be used in a rapid and noninvasive way to detect skin cancer," she said. "And this would be novel, because now the only way to do so is with a visual exam and a biopsy, which is, of course, invasive."
Gallagher presented the findings Wednesday at the American Chemical Society National Meeting & Exposition in Philadelphia.
Gallagher said that the specific chemical analysis she and her team used to explore odor profiling for skin cancer had not previously been attempted.
She noted, however, that other research teams have conducted work with dogs trained to detect skin cancers through smell.
Odor profiling has also been tested in the past to screen for other types of cancer. For example, the Cleveland Clinic announced in February that their investigators had successfully used an inexpensive breath sensor that detected lung cancer accurately in 75 percent of cases.
In all the research, scientists were able to differentiate healthy odor profiles from cancerous ones by picking up on the unique smells generated by the presence of differing amounts of naturally occurring chemicals known as volatile organic compounds (VOCs) in healthy versus diseased tissue.
In the current work, the authors first sampled the air above back and forearm areas among 25 healthy men and women between the ages of 19 and 80. Then, they tested the air above tumor sites in 11 basal cell carcinoma patients, as well as above the disease-free skin of 11 healthy volunteers.
The sampling revealed that cancerous tissue and healthy tissue contained different VOC "recipes," exuding different smells.
While skin cancer tissue did not produce any new VOCs, the diseased area had more of some chemicals and less of others.
The team hopes to develop an odor profile for each form of skin cancer, after which an attempt would be made to link the profiles to nano-sensor technology to fashion a kind of "electronic nose." The authors envision the resulting device as a kind of diagnostic wand, designed to sweep across the surface of the skin and detect cancer.
"This work is preliminary," said Gallagher. "But I think within a few years, it's reasonable to say that this could end up being a diagnostic tool that would be a routine thing one could do in a doctor's office. It's a real possibility."
However, Dr. Jean-Claude Bystryn, former head of the melanoma program and vaccine clinic at New York University Medical Center, issued a word of caution.
"In terms of this replacing the standard method we have of diagnosing skin cancer, which is basically to look at a specimen under the microscope, it's hard to imagine this would do it completely," he said. "Because when you're dealing with cancer, the margin for error is really small. You don't want to miss something that may be a cancer that then doesn't get treated. And you don't want to treat someone for cancer if they actually have something else. So, it's really a very novel and interesting idea but one which I think really needs to be further researched and carefully confirmed."
More information
For details on skin cancer diagnosis, visit the American Cancer Society.
SOURCES: Michelle Gallagher, Ph.D., senior scientist and analytical chemist, Rohm and Haas, Philadelphia; Jean-Claude Bystryn, M.D., professor, dermatology, New York University School of Medicine, and former head, melanoma program and vaccine clinic, New York University Medical Center, New York City; Aug. 20, 2008, presentation, American Chemical Society National Meeting & Exposition, Philadelphia
Consumer News