August 28, 2012
Functional Flow Reserve CT Improves Diagnosis of CAD
Diagnostic accuracy and discrimination improved for noninvasive FFRCT plus CT versus CT alone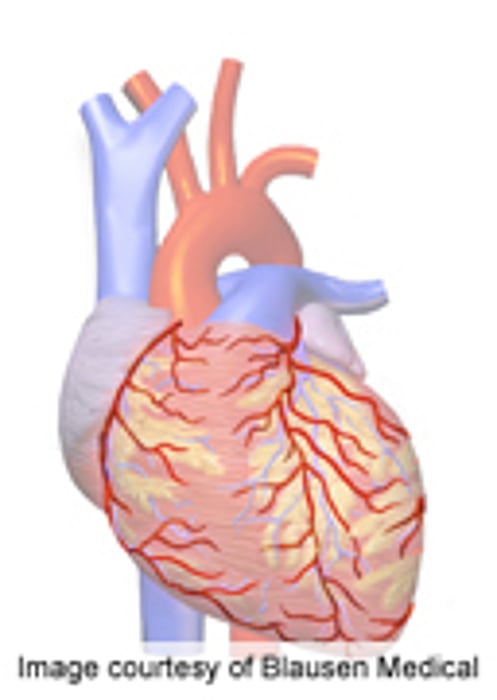 TUESDAY, Aug. 28 (HealthDay News) -- Noninvasive fractional flow reserve (FFR) computed from computed tomography (CT) (FFRCT) plus CT improves the diagnostic accuracy of coronary artery disease (CAD) compared with CT alone, according to a study published online Aug. 26 in the Journal of the American Medical Association to coincide with presentation at the annual European Society of Cardiology Congress, held from Aug. 25 to 29 in Munich.
James K. Min, M.D., from the Cedars-Sinai Heart Institute in Los Angeles, and colleagues conducted a multicenter diagnostic performance study, in which 252 stable patients with suspected or known CAD underwent CT, invasive coronary angiography (ICA), FFR, and FFRCT. The diagnostic performance for FFRCT plus CT for diagnosis of ischemia was assessed and compared to CT alone.
The researchers found that 54.4 percent of the participants had an abnormal FFR. FFRCT had a diagnostic accuracy of 73 percent; sensitivity of 90 percent; specificity of 54 percent; positive predictive value of 67 percent; and negative predictive value of 84 percent. FFRCT plus CT was associated with significantly improved discrimination of obstructive CAD compared to diagnosis with CT alone (area under the curve, 0.81 versus 0.68).
"Although the study did not achieve its prespecified primary outcome goal for the level of per-patient diagnostic accuracy, use of noninvasive FFRCT plus CT among stable patients with suspected or known CAD was associated with improved diagnostic accuracy and discrimination versus CT alone for the diagnosis of hemodynamically significant CAD when FFR determined at the time of ICA was the reference standard," the authors write.
Several authors disclosed financial ties to the pharmaceutical and medical imaging industries. Heart Flow Inc. funded the study.
Physician's Briefing