June 13, 2012
Curbing Antibiotic Prophylaxis Doesn't Up Endocarditis Risk
No increase in infective endocarditis in high-heart risk dental patients since 2007 AHA guidelines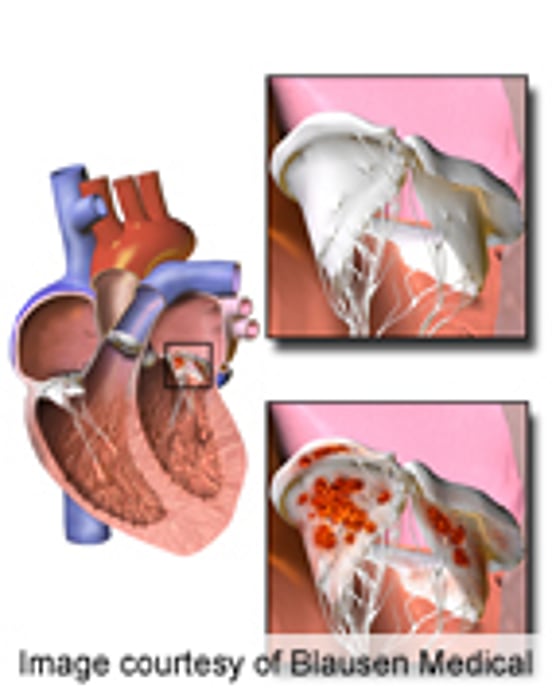 WEDNESDAY, June 13 (HealthDay News) -- The incidence of viridans group streptococci infective endocarditis (VGS-IE) has not increased since the publication of the 2007 American Heart Association (AHA) guidelines restricting prophylactic antibiotics in dental patients, according to a study published online June 11 in Circulation.
To investigate the incidence of VGS-IE since publication of the 2007 AHA guidelines, Daniel C. DeSimone, M.D., from the Mayo Clinic in Rochester, Minn., and colleagues reviewed all definite or possible cases of VGS-IE (1999 through 2010) using data from the Rochester Epidemiology Project of Olmsted County, Minn. In addition, they examined the Nationwide Inpatient Sample hospital discharge database for VGS-IE cases (1999 through 2009).
During the 12-year study period, the researchers identified 22 cases of VGS-IE in Olmsted County. Incidence rates (per 100,000 person-years) were 3.19 for 1999 to 2002, 2.48 for 2003 to 2006, and 0.77 for 2007 to 2010 (P = 0.061 from Poisson regression). The national number of hospital discharges with a VGS-IE diagnosis ranged from 15,318 to 15,938 in 1999 to 2002; from 16,214 to 17,433 for 2003 to 2006; and from 14,728 to 15,479 in 2007 to 2009.
"Despite marked changes in IE prevention guidelines that were published by the AHA in 2007 that restricted antibiotic prophylaxis to four patient groups with a high risk of complications from IE, the findings of our population-based investigation from Olmsted County suggest that the incidence of VGS-IE after publication of these guidelines did not increase," the authors conclude.
One author disclosed financial ties to UpToDate Inc.; a second author disclosed ties to TyRx Inc.
Physician's Briefing