April 1, 2014
ACC: Evolocumab Significantly Lowers LDL Cholesterol
Findings when taken alone or in combination with atorvastatin with/without ezetimibe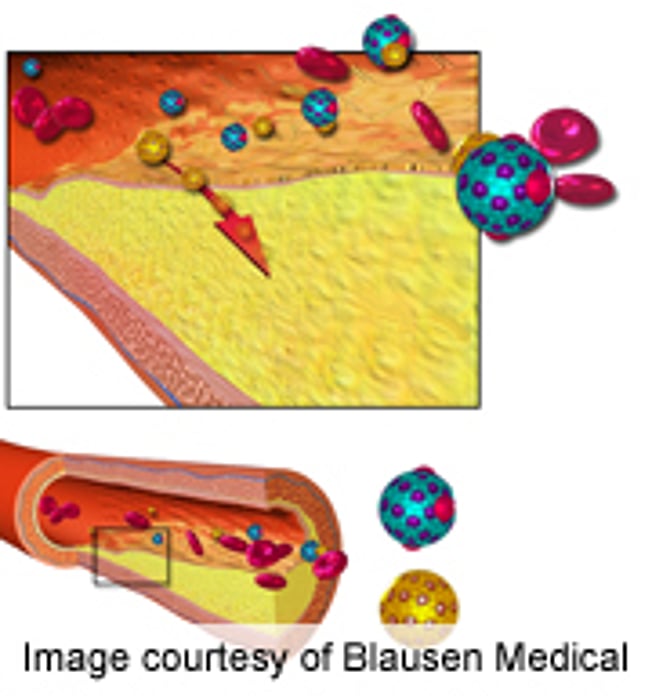 TUESDAY, April 1, 2014 (HealthDay News) -- The monoclonal antibody evolocumab significantly reduces low-density lipoprotein (LDL) cholesterol, according to a phase 3 study published online March 29 in the New England Journal of Medicine. The research was published to coincide with presentation at the annual meeting of the American College of Cardiology, held from March 29 to 31 in Washington, D.C.
Dirk J. Blom, M.D., Ph.D., from the University of Cape Town in South Africa, and colleagues conducted a phase 3 trial to evaluate the efficacy and safety of 52 weeks of treatment with evolocumab in patients with hyperlipidemia. Patients were initially started on background lipid-lowering therapy with diet alone; diet plus atorvastatin (80 mg daily plus ezetimibe [10 mg daily]). Random assignment (2:1) to either evolocumab (420 mg) or placebo was made for those with a cholesterol level of 75 mg/dL or higher.
The researchers found that, taking into account the change in the placebo group, the overall least-squares mean reduction in LDL cholesterol from baseline in the evolocumab group was 57.0 percent (P < 0.001). For those who underwent background therapy with diet alone, the reduction was 55.7 percent, and for those who received 10 and 80 mg atorvastatin, the reduction was 61.6 and 56.8 percent, respectively (P < 0.001 for all). The reduction was 48.5 percent for those who received a combination of atorvastatin and ezetimibe (80 mg and 10 mg, respectively; P < 0.001). Nasopharyngitis, upper respiratory tract infection, influenza, and back pain were the most common adverse events.
"At 52 weeks, evolocumab added to diet alone, to low-dose atorvastatin, or to high-dose atorvastatin with or without ezetimibe significantly reduced LDL cholesterol levels in patients with a range of cardiovascular risks," the authors write.
The study was funded by Amgen, the manufacturer of evolocumab.
Physician's Briefing