September 10, 2012
Early Prophylactic Tx Beneficial for Hypertrophic Cardiomyopathy
Beta blockers reduce exercise-triggered left ventricular outflow tract obstruction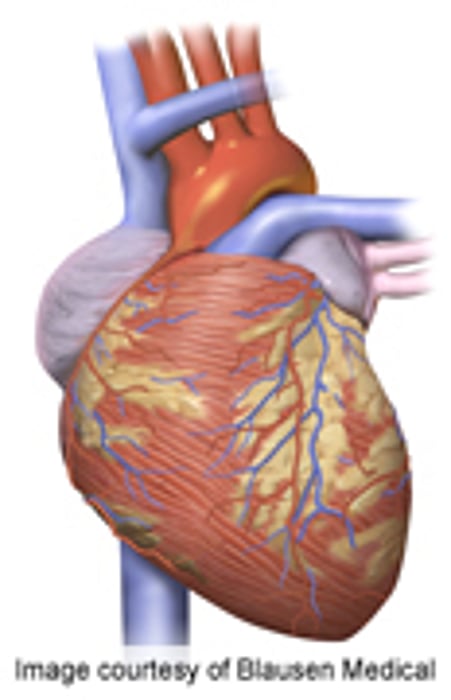 MONDAY, Sept. 10 (HealthDay News) -- Beta blockers (BBs) are effective as an early prophylactic pharmacologic treatment for patients with mild hypertrophic cardiomyopathy (HC) who have exercise-induced left ventricular outflow tract (LVOT) obstruction, according to a study published in the Sept. 1 issue of The American Journal of Cardiology.
Stefano Nistri, M.D., Ph.D., of CMSR-Veneto Medica in Vicenza, Italy, and associates examined the benefits of BBs in a prospective study involving 27 patients with HC with mild or no symptoms of heart failure, without obstruction at rest, but with exercise-induced LVOT gradients of ≥30 mm Hg.
The researchers found that the mean post-exercise LVOT gradient was 87 ± 29 mm Hg. After an average of 12 months of BB treatment with nadolol or bisoprolol, the post-exercise LVOT gradient decreased significantly and was almost abolished in 52 percent of patients (0 to <30 mm Hg), considerably reduced in 33 percent (≥20 mm Hg reduction), and unchanged in 15 percent. Severe post-exercise obstruction persisted in 22 percent of treated patients, compared with 93 percent of untreated patients. Body mass index was increased among non-responders (hazard ratio, 2.03 per 1 kg/m²).
"In patients with HC with mild or no symptoms, treatment with BBs can prevent the development of LVOT obstruction triggered by physiologic exercise," the authors write. "These findings provide a rationale for the novel strategy of early prophylactic pharmacologic treatment with standard, well-tolerated doses of BBs in physically active patients with provocable gradients, aimed at effective prevention of the hemodynamic burden associated with dynamic obstruction."
Abstract
Full Text (subscription or payment may be required)
Physician's Briefing