May 13, 2014
Addition of Evolocumab to Statins Further Cuts LDL-C
Rates of adverse effects were similar compared to placebo or ezetimibe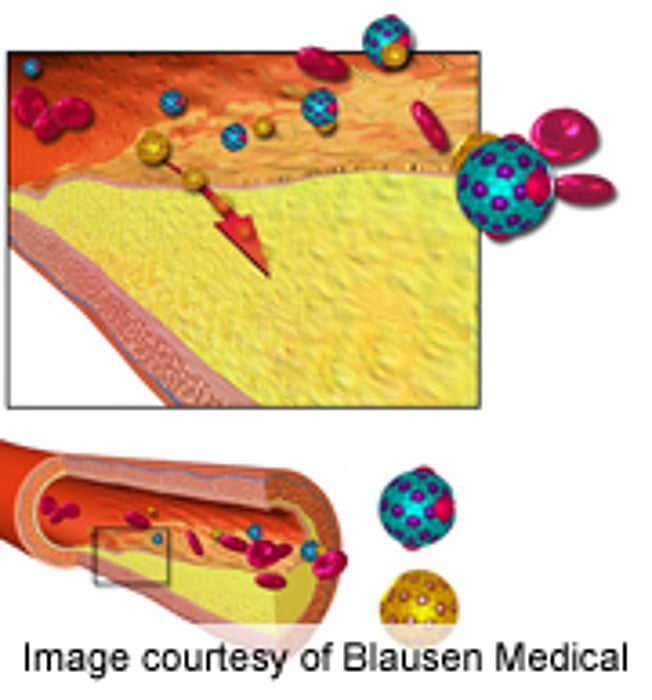 TUESDAY, May 13, 2014 (HealthDay News) -- Evolocumab plus moderate- or high-intensity statin therapy results in additional cholesterol lowering, according to a study published in the May 14 issue of the Journal of the American Medical Association.
Jennifer G. Robinson, M.D., M.P.H., from the University of Iowa in Iowa City, and colleagues randomized patients initially to a daily, moderate-intensity (atorvastatin [10 mg], simvastatin [40 mg], or rosuvastatin [5 mg]) or high-intensity (atorvastatin [80 mg], rosuvastatin [40 mg]) statin. After a four-week lipid-stabilization period, 1,899 patients were randomized to either evolocumab (140 mg every two weeks or 420 mg monthly) with placebo (every two weeks or monthly) or ezetimibe (10 mg or placebo daily; atorvastatin patients only) when added to statin therapies.
The researchers found that evolocumab reduced low-density lipoprotein cholesterol (LDL-C) levels by 66 to 75 percent (every two weeks) and by 63 to 75 percent (monthly) versus placebo at the mean of weeks 10 and 12 in the moderate- and high-intensity statin-treated groups. However, at week 12, the LDL-C reductions were comparable. Reports of adverse events were seen in 36, 40, and 39 percent of evolocumab-, ezetimibe-, and placebo-treated patients, respectively.
"Further studies are needed to evaluate the longer-term clinical outcomes and safety of this approach for LDL-C lowering," the authors write.
Several authors disclosed financial ties to the pharmaceutical industry.
Abstract
Full Text (subscription or payment may be required)
Physician's Briefing