July 31, 2012
Infrapopliteal Nitinol Stent Safe for Critical Limb Ischemia
Clinical improvements seen in amputation rates, revascularization, and pain relief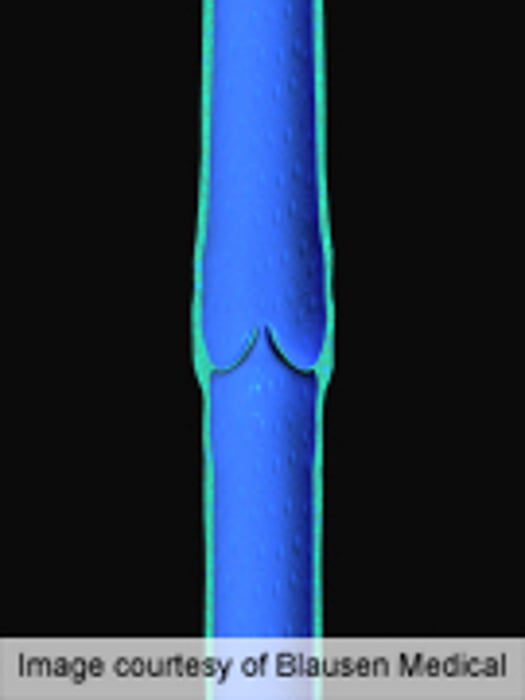 TUESDAY, July 31 (HealthDay News) -- For patients with critical limb ischemia (CLI), use of infrapopliteal nitinol stenting (Xpert self-expanding nitinol stent) is safe and improves clinical outcomes at six and 12 months, according to a study published online July 24 in Catheterization & Cardiovascular Interventions.
Krishna J. Rocha-Singh, M.D., from St. John's Hospital in Springfield, Ill., and colleagues examined the safety and effectiveness of the Xpert self-expanding nitinol stent using data from 120 Rutherford Class 4 to 6 patients (140 limbs; 212 implanted devices), who underwent primary infrapopliteal nitinol stent deployment.
The researchers found that the 12-month amputation-free survival (AFS) rate was 78.3 percent, despite a six-month binary stent restenosis rate of 68.5 percent. The 12-month AFS rates were 100, 77.3, and 55.2 percent, respectively, for Rutherford classes 4, 5, and 6, and the corresponding freedom from major amputation rates were 100, 90.9, and 70.1 percent. The 12-month freedom from major amputation rate was 89.6 percent and the rate of clinically driven target lesion revascularization was 70.1 percent. The complete wound-healing rates were 49.0 percent at six months and 54.4 percent at 12 months. There was significant pain relief through 12 months for Rutherford class 4 patients.
"Primary infrapopliteal nitinol stenting to treat CLI is safe and effective in improving six-and 12-month clinical outcomes," the authors conclude.
Several authors disclosed financial ties to Abbott Vascular, which funded the study and manufactures the Xpert self-expanding nitinol stent.
Abstract
Full Text (subscription or payment may be required)
Physician's Briefing