September 13, 2007
Novel Cooling Therapy May Have Aided Injured Football Player
Lowering Kevin Everett's body temperature helped protect his spinal cord, doctors say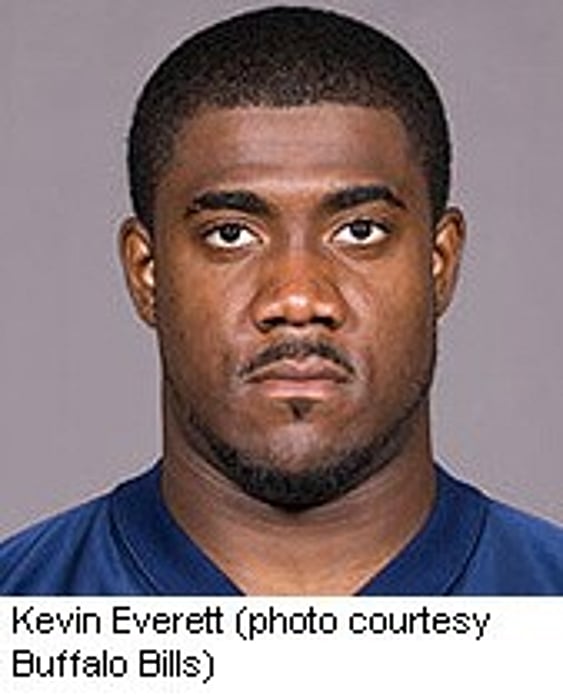 THURSDAY, Sept. 13, 2007 (HealthDay News) -- As Buffalo Bills football player Kevin Everett was being rushed by ambulance to a hospital Sunday night with a life-threatening spinal cord injury, he was already getting experimental treatment that may have saved him from paralysis.
Everett's spinal cord was damaged in his neck as he tried to tackle Denver Bronco Domenik Hixon during the Bills' season opener. Everett dropped face-first to the turf after his helmet hit Hixon on the left shoulder.
In the ambulance to Buffalo's Millard Fillmore Gates Hospital, a doctor injected Everett with steroids -- standard treatment to reduce swelling and potentially damaging inflammation. But, at the same time, paramedics started pumping an ice-cold saline solution into Everett's veins, to lower his body temperature, according to news reports. The approach, though experimental, has shown promise in stroke and cardiac arrest patients, and even in infants deprived of oxygen.
The theory behind the therapy: By lowering the core body temperature between six and eight degrees, doctors can tamp down swelling and inflammation, and limit the release of harmful chemicals -- such as free radicals -- that can cause even more damage than that left by the initial injury.
Still, Everett's prognosis on Sunday was dim. Once at the hospital, however, the body-cooling efforts -- called moderate hypothermia -- were continued using an external system as well as intravenous saline that reduced his core body temperature by 8 to 10 degrees, according to published reports.
"The advantage of cooling is that it is a neuro-protective agent that is able to attenuate [limit] the amount of injury that occurs after a spinal injury," said Dr. David Greer, an instructor in neurology at Massachusetts General Hospital. "It decreases the amount of injury and the swelling that occurs from the injury and thereby, hopefully, affects the outcome for the patient."
For hypothermia to be effective, it needs to be started as soon after the injury as possible, Greer said. Usually, a patient remains cooled for one to two days and then is re-warmed, which takes about half a day.
Using cooling for a spinal injury is a new application of the technique, Greer said. "It has been used in traumatic brain injury for years as a neuro-protective agent," he said. In fact, soldiers who suffer severe traumatic brain injury in Iraq are being treated this way, he added.
"I like to think of hypothermia as a bridge from when the injury occurs to getting a more definitive therapy like decompressing the spine," Greer said.
Once at the hospital, Everett was diagnosed with a potentially fatal fracture/dislocation between the third and fourth cervical vertebrae in the neck. On Sunday night, he underwent emergency decompressive surgery to prevent pinching of the spinal cord.
During the operation, surgeons repaired the break in the vertebrae and also reduced pressure on the spinal cord. They also made a bone graft and inserted a plate, held in place by four screws, and also implanted two small rods, also kept in place with additional screws.
On Monday, Everett's doctors said there was not much hope that he'd make a full recovery. But, on Tuesday, they announced that the tight end could move his arms and legs, and his spinal cord was intact.
Still, his doctors said it's too early to know if Everett will be left with any paralysis or how severe it might be, the Associated Press reported.
"Walking out of this hospital is not a realistic goal, but walking may be," Dr. Andrew Cappuccino, the Bill's orthopedic surgeon, said at a news conference on Wednesday.
Greer said it's not known what role the cooling therapy may have played in Everett's condition. "Who knows if he wouldn't have done well without the hypothermia treatment. But it didn't do any harm, and it may have done some good," he said.
Therapeutic hypothermia is also used to treat stroke patients and patients who have suffered cardiac arrest.
For stroke patients, it serves the same purpose as it does for spine patients -- as a neuron-protector and a block against swelling. Stroke patients most likely to benefit from hypothermia are those with moderate to severe strokes, Greer said. "It's an up-and-coming technology that has shown great promise in stroke patients," he noted.
Dr. Mary Ann Peberdy, a cardiologist and assistant professor of medicine at Virginia Commonwealth University, said hypothermia is used for cardiac arrest patients who survive but remain in a coma.
Peberdy said cooling has several beneficial effects. It reduces metabolism. It also prevents harmful chemicals that develop in the blood after cardiac arrest from reaching the brain once blood flow has been restored -- called reperfusion injury, she said.
"Hypothermia blocks reperfusion injury," she said. "That's why it's important to start cooling as early as you possibly can."
Peberdy said that only about 5 percent of patients survive a cardiac arrest. "Of the patients who survive, a significant number have neurological damage. Using hypothermia, we have taken our neurologically intact survival from about 30 to 40 percent to about 60 to 80 percent," she said.
Greer said many patients with a spinal cord injury could benefit from hypothermia therapy. "I wouldn't say that there is a spinal cord injury that's too severe that I wouldn't want to at least try cooling early on," he said.
Greer said he expects this treatment to become more widespread. "At the same time that it's effective, it's very safe," he said. "The risks with hypothermia are very low and manageable."
More information
To learn more about spinal cord injury, visit the U.S. National Institute of Neurological Disorders and Stroke.
SOURCES: David Greer, M.D., instructor in neurology, Massachusetts General Hospital, Boston; Mary Ann Peberdy, M.D., assistant professor of medicine, Virginia Commonwealth University, Richmond; Associated Press
Consumer News