March 10, 2013
Was Heart Disease the Mummies' Real Curse?
Study finds 'hardening of the arteries' widespread throughout history, showing it's not just a modern ill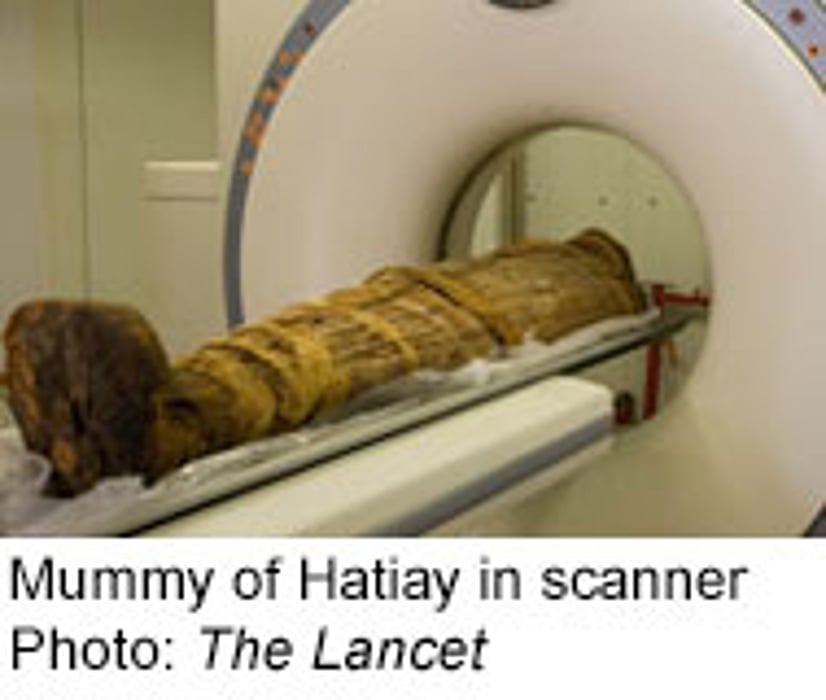 SUNDAY, March 10, 2013 (HealthDay News) -- Unwrapping the mysteries of the leading killer of modern-day humans, researchers have found evidence of heart disease in ancient mummies from around the globe.
The study also questions assumptions about what causes the illness, since it seems to have plagued civilizations with lifestyles that were very different than those of today.
"Heart disease is a serial killer that's been stalking mankind for 4,000 years," lead investigator Dr. Randall Thompson said at a press briefing Sunday at the American College of Cardiology annual meeting, in San Francisco.
"What we found is that heart disease is present, and not hard to find, in all of these cultures," said Thompson, who is a professor of medicine at the University of Missouri and a cardiologist at the Mid-America Heart Institute in Kansas City. The study was also published online simultaneously in The Lancet.
To investigate the ancient history of atherosclerosis (hardening of the arteries), Thompson said he and his colleagues "gathered some forensic evidence from a 21st century instrument, a CT scanner, looking for residue in the form of calcium in arteries."
"We looked up some cold cases, some very cold cases," he said.
In total, the researchers scanned the arteries of 137 mummies -- 76 from Egypt, 51 from Peru, five from the ancestral Puebloan cultures of the American Southwest (formerly known as the Anasazi), and five from the hunter-gatherer culture of the Alaskan Aleutian islands.
The time period encompassed was enormous, from about 2,000 B.C. for the oldest Egyptian mummies to the late 1800s A.D. for the Aleutian individuals.
"Roughly 34 percent of our mummies had atherosclerosis, either probable or definite, including more than 80 percent of the Egyptians, 25 percent of the Peruvians, two of the five ancestral Puebloans, and three of the five Aleutians," Thompson said.
The study's biggest surprise occurred with findings of extensive artery deposits among the Aleutian mummies -- people who led very traditional, highly physical lives hunting for foods such as sea urchins and fish. One Aleutian woman, aged about 50, had "extremely extensive [arterial] calcification," Thompson said, and might have been a candidate for bypass surgery if she had lived today.
All of this brings up complex questions for modern humans.
"When you look at these mummies, much of what we think we know [about heart disease] is wrong, and if you open your eyes we can learn a lot," co-researcher Dr. Samuel Wann of Columbia St. Mary's Healthcare, in Milwaukee, told reporters.
He stressed that the investigators can't say for sure that the calcified arteries they discovered meant that the people had suffered heart attacks or strokes. However, one Egyptian medical papyrus text from 1550 B.C. does describe a patient having a heart attack, he said, "and there are paintings on some tombs in Egypt that show people falling over clutching their chest, as if they are having a heart attack."
The research team concluded that heart disease is potentially as old as mankind itself, and is probably an inevitable part of aging, not just a product of sedentary lives and fatty foods.
But that doesn't give modern people a pass to be slothful, and to eat whatever they want.
"On the one hand [the study shows that] we may have less control of this disease than some people would like to think we do," Wann said. "But that's all the more reason to control the risk factors that we think we can control."
One cardiologist not connected to the research agreed with that advice.
The study "supports the notion that humans may be genetically predisposed to atherosclerosis or heart disease," said Dr. Kevin Marzo, chief of cardiology at Winthrop-University Hospital in Mineola, N.Y. "We have no way to change our genetic makeup, so the best we can do in the meantime is to control our fates: eat healthy, not smoke, exercise and, yes, avoid the trans fats."
More information
Find out more about atherosclerosis at the U.S. National Library of Medicine.
SOURCES: Kevin Marzo, M.D., chief, cardiology, Winthrop-University Hospital, Mineola, N.Y.; March 10, 2013, presentation, American College of Cardiology annual meeting, San Francisco, with Randall Thompson, M.D., professor, medicine, University of Missouri, and cardiologist, Mid-America Heart Institute, Kansas City; Samuel Wann, M.D., Columbia St. Mary's Healthcare, Milwaukee; March 10, 2013, The Lancet, online
Consumer News