February 2, 2012
Anemia May Boost Death Risk After Stroke
Study of men finds the blood disorder affects survival rates up to a year later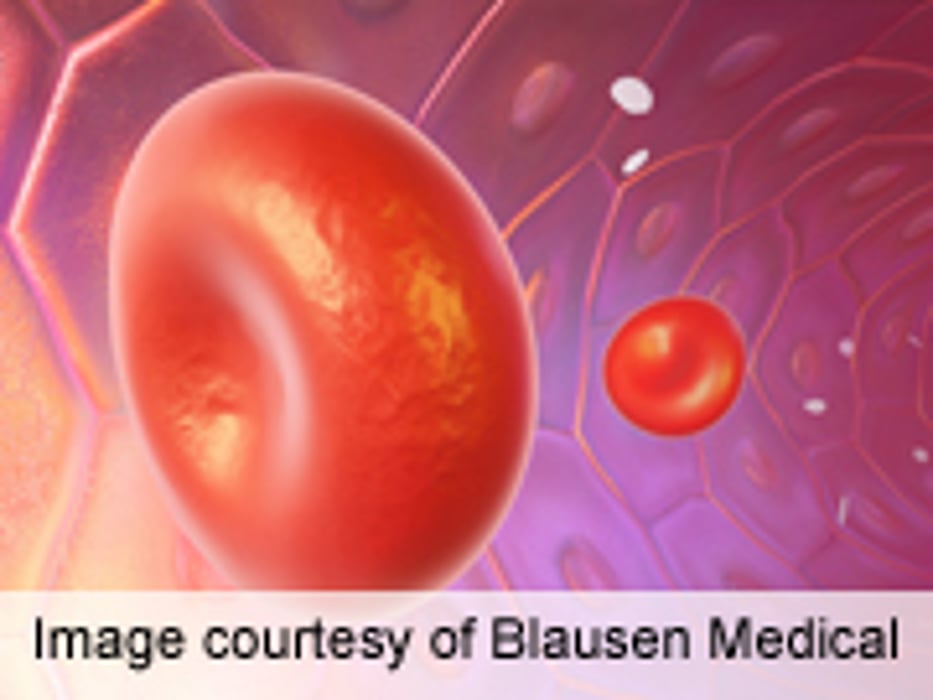 THURSDAY, Feb. 2, 2012 (HealthDay News) -- Anemia more than triples a man's risk of death after suffering a stroke, a new study suggests.
"Severe anemia among stroke survivors increases their chance of dying throughout the first year after their stroke," said lead researcher Dr. Jason Sico, an assistant professor of neurology at the Yale University School of Medicine.
Anemia, a common blood disorder, is a better predictor of death after stroke than heart disease, cancer or a severe stroke, the researchers said. The risk is even there in people who are slightly anemic, they found after studying nearly 4,000 men who suffered a stroke.
Sico explained that anemia can cause changes in the blood vessels of the brain, making the brain less able to counteract a stroke.
"It can also change how effectively oxygen is delivered to the brain, and may [play a role] in common medical problems that also increase the risk of having a stroke," he said.
Most people having a stroke have very high blood pressure at that time, he said. "While it may seem unsafe, higher blood pressure at the time of a stroke is something the body does to try to get more blood to the brain, and especially to the part of the brain where the stroke is happening. This process, called 'cerebral auto-regulation,' is oftentimes impaired in those with long-standing anemia," Sico said.
Anemia also decreases the amount of oxygen reaching the brain, which is even more detrimental during a stroke, when blood and oxygen are prevented from getting to the brain, he added.
The findings are slated for presentation Thursday at the American Stroke Association conference in New Orleans.
Sico's team reviewed the medical records of 3,750 men who had suffered a stroke and were seen at one of 131 U.S. Veterans Administration hospitals in 2007. They all had suffered an ischemic stroke, which occurs when a blood vessel to the brain is blocked or a blood clot occurs within the brain.
Comparing anemic patients to non-anemic patients, the researchers found severe anemia increased the risk of dying 3.5 times while the patient was in the hospital and 2.5 times within a year.
Patients with moderate anemia had twice the risk of dying six months to a year after their stroke, compared to patients without anemia. For mild anemia, the risk was 1.5 times higher in that time frame.
People with anemia don't have enough healthy red blood cells. Symptoms include fatigue, shortness of breath and rapid heartbeat.
Earlier research shows that anemia increases the risk of death after a heart attack, heart failure or kidney disease.
Beside anemia, the researchers took into account factors such as age, stroke severity, stroke risk factors, vital signs, lab results and the overall health of the patient before and after the stroke.
"This study demonstrates that stroke survivors with anemia have an increased risk of dying from the time they are admitted to the hospital, onward. Those with a stroke and anemia should be monitored closely throughout their first year after a stroke," Sico said.
Future research might include examining whether the risk of dying with anemia is different among men and women, and among blacks and whites, Sico said.
"Also, we would like to determine what type of anemia patients with stroke have," he added.
"Will giving a stroke patient with anemia a blood transfusion help prevent them from dying? We don't have a definitive answer for this question, but it is a question well worth examining," Sico said.
Dr. Ralph Sacco, chair of neurology at the University of Miami Miller School of Medicine, commented that other studies have shown the danger of anemia for stroke, but this is the first to show the risk associated with acute stroke, right at the time of hospitalization.
It is important to treat anemia in stroke patients, because it can impair oxygen delivery to the brain, Sacco said. "Most likely this would apply to women too," he added.
Because this study was presented at a medical meeting, the data and conclusions should be viewed as preliminary until published in a peer-reviewed journal.
More information
For more about stroke, visit the American Stroke Association.
SOURCES: Jason Sico, M.D., assistant professor of neurology, Yale University School of Medicine, New Haven, Conn.; Ralph Sacco, M.D., professor and chairman, neurology, professor and chairman, stroke and clinical cerebral vascular diseases, University of Miami Miller School of Medicine; Feb. 2, 2012, presentation, American Stroke Association International Stroke Conference 2012, New Orleans
Consumer News