January 3, 2020
Una terapia genética podría ser una cura a largo plazo para un tipo de hemofilia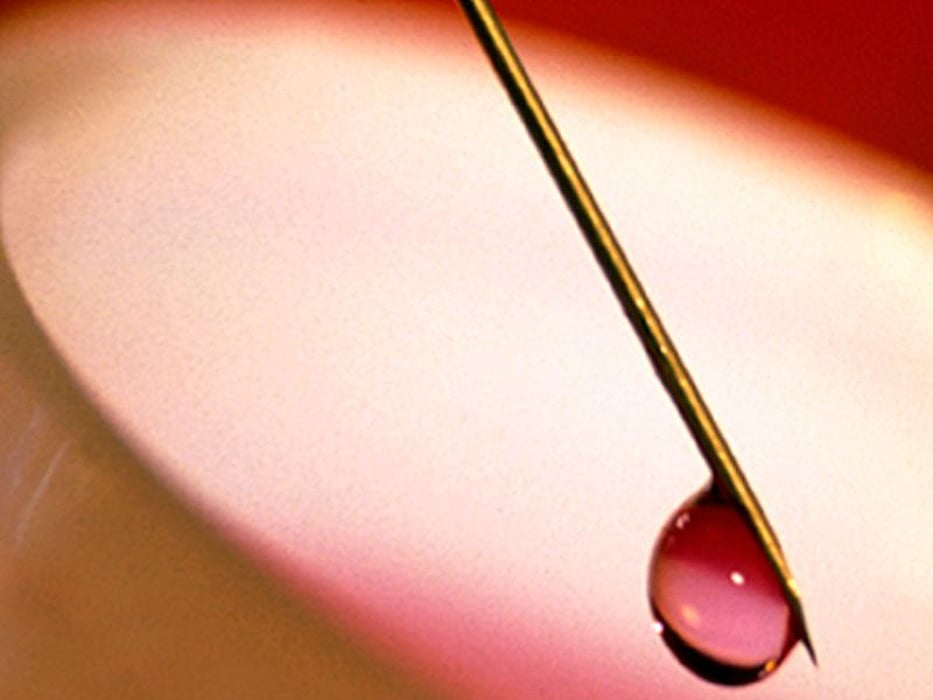 JUEVES, 2 de enero de 2020 (HealthDay News) -- Una nueva terapia genética parece servir como cura funcional para el tipo más común de hemofilia, indican los resultados tempranos de un ensayo clínico.
Los pacientes que recibieron una sola terapia intravenosa siguen teniendo una reducción de más de un 90 por ciento en los eventos de sangrado entre dos y tres años tras su tratamiento inicial, reportaron los investigadores en la edición del 1 de enero de la revista New England Journal of Medicine.
La terapia arregla un gen dañado en las células hepáticas que provoca la producción de un factor VIII, una proteína que tiene un rol clave en la coagulación de la sangre, defectuoso.
Las personas con esta mutación genética tienen hemofilia A, el tipo más común de este trastorno del sangrado. Ocho de cada 10 casos de hemofilia son del hemofilia A, señalaron los investigadores.
Los pacientes con hemofilia A deben autoinyectarse el factor VIII cada dos días para prevenir el sangrado, comentó el investigador principal, John Pasi, profesor de Barts y de la Escuela de Medicina y Odontología de Londres, en Inglaterra.
"Ha habido una reducción masiva del sangrado en los pacientes, y ya ninguno necesita tratarse regularmente con factor VIII para prevenir el sangrado", dijo Pasi sobre los participantes en este ensayo clínico en fase 1/fase 2. "La inmensa carga de tratamiento de tener que autoinyectarse por vía intravenosa cada dos días ha desaparecido".
La terapia usa un virus para portar la secuencia de ADN para un gen funcional del factor VIII a la células hepáticas, apuntó.
"Infecta a las células hepáticas y transfiere el gen del factor VIII a esas células", indicó Pasi. "Las células hepáticas producen el factor VIII y entonces lo secretan, y pasa a la circulación".
Siete de los participantes iniciales del estudio tienen una reducción del 96 por ciento en los eventos de sangrado tras tres años, informan los investigadores. Otros seis que se inscribieron más tarde tenían una reducción del 92 por ciento en el sangrado al final del segundo año.
"A los tres años, los pacientes que fueron tratados con una dosis más alta expresaban niveles funcionales del factor VIII, un poco más bajos que cuando alcanzaron su máximo, pero todavía estaban a unos niveles de verdad buenos que son inmensamente efectivos para proteger a los pacientes del sangrado", aseguró Pasi.
Se está realizando un ensayo en fase 3 con más de 130 pacientes, dijo, y el fabricante de la terapia, BioMarin Pharmaceutical, inició el proceso de solicitud a la Administración de Alimentos y Medicamentos (FDA) de EE. UU.
El efecto secundario más notable son cambios en las enzimas hepáticas en algunos pacientes, pero desaparecen tras el tratamiento con esteroides, apuntó Pasi.
Inicialmente, el tratamiento no estará disponible para todos los pacientes con hemofilia A.
Como implica infectar al hígado con un virus, los pacientes con hepatitis o VIH fueron excluidos del ensayo clínico, comentó Pasi. Ahora mismo, el tratamiento es solo para adultos.
El mayor obstáculo para algunos pacientes será si sus cuerpos han desarrollado una reacción inmunitaria al factor VIII, dijo Pasi.
Alrededor de un tercio de los pacientes con una hemofilia grave desarrollan anticuerpos contra el factor VIII, observó. La mitad de esos casos se resuelven solos, y los demás quizá deban ser tratados con protocolos de tolerancia inmunitaria para deshacerse del anticuerpo.
Meg Bradbury, directora de investigación de la Federación Americana de la Hemofilia (Hemophilia Federation of America), aseguró que los resultados son "extremadamente alentadores". Pero anotó que el trabajo debe continuar para encontrar una cura para toda las personas con un trastorno del sangrado.
"Esta terapia y otras parecidas quizá no sean una solución universal", dijo Bradbury. "Todavía debemos pensar sobre quién es elegible para esta terapia en particular, en quién será efectiva, y cómo podemos ayudar a todas las personas de nuestra comunidad".
Es probable que la terapia tampoco sea barata. Dado que será un tratamiento administrado una sola vez, su precio será distinto que el de un medicamento de mantenimiento que se tome de manera regular, apuntaron los representantes de BioMarin.
Anotaron que el costo anual de la terapia para un paciente con hemofilia A en Estados Unidos es de unos 500,000 dólares.
Más información
La Federación Americana de la Hemofilia ofrece más detalles sobre la hemofilia.
Artículo por HealthDay, traducido por HolaDoctor.com
© Derechos de autor 2020, HealthDay

FUENTES: John Pasi, M.B., Ch.B., Ph.D., professor, Barts and The London School of Medicine and Dentistry, England; Meg Bradbury, M.S., M.S.H.S., research director, Hemophilia Federation of America; New England Journal of Medicine, Jan. 1, 2020
Consumer News in Spanish