October 25, 2017
America's Dementia Caregivers Cite Stresses, Rewards
New survey results illustrate the ups and downs of caring for aging family members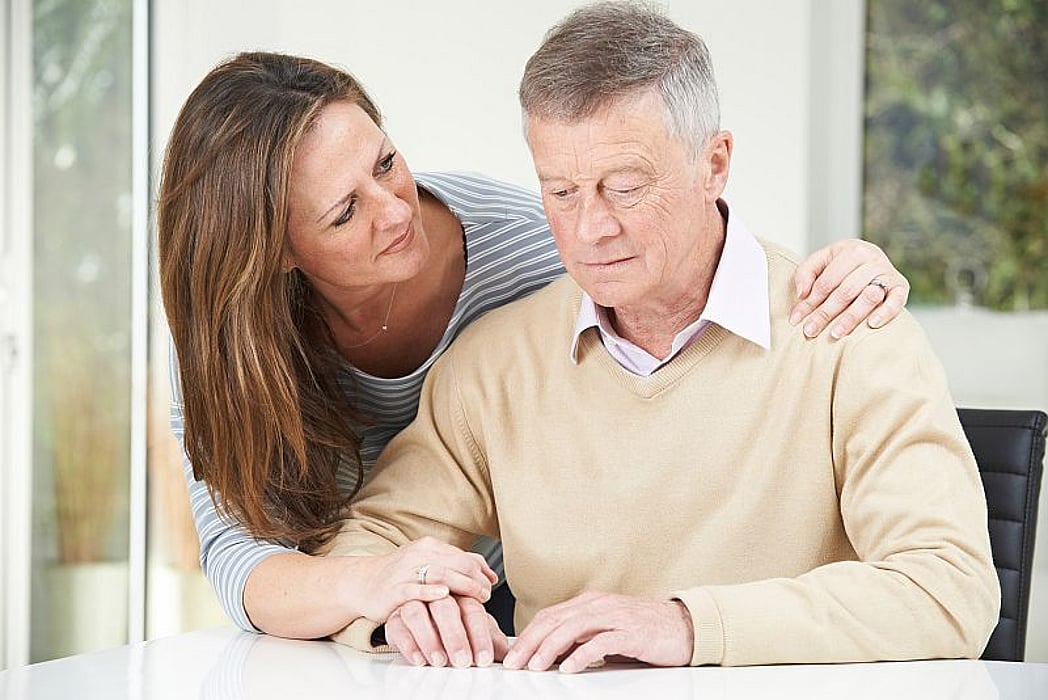 WEDNESDAY, Oct. 25, 2017 (HealthDay News) -- It's tough, often thankless work done by millions of Americans every day. And people who tend to a loved one with dementia say they're often overburdened, but the task has its rewards, too.
Those are just some of the findings from a new University of Michigan survey, the National Poll on Healthy Aging, which tallied the experiences of dementia caregivers.
About 5.5 million Americans are currently living with Alzheimer's disease, according to the Alzheimer's Association. It estimates that the bulk of their care -- 83 percent -- falls on unpaid family members. Alzheimer's is the most common form of dementia.
It's no secret that family caregivers face heavy demands. However, the new survey turned up some surprises, said Erica Solway, of the University of Michigan's Institute for Healthcare Policy and Innovation.
A striking finding, she said, was that 45 percent of caregivers described their experience as "very rewarding," while just 19 percent called it "very stressful."
That illuminates the fact that there are positive aspects to dementia caregiving, Solway said, but she stressed that it should not overshadow the burdens families face.
Of the survey respondents, 78 percent said caregiving was at least "somewhat" stressful, and more than a fourth said they'd neglected their own health.
Dr. Gisele Wolf-Klein, director of geriatric education for Northwell Health in Great Neck, N.Y., was not surprised by that finding, saying she's witnessed how caregivers put their own health care on the back burner.
"They don't go for routine health screenings because they think they don't have time," Wolf-Klein said. "But something as simple as getting your flu shot is important for both you and your loved one -- to help make sure neither of you gets sick."
Beyond health care, caregivers often say they have little personal time at all. Of those Solway's team surveyed, two-thirds said their responsibilities interfered with their work, everyday tasks or general ability to take care of themselves.
It's crucial, Wolf-Klein said, that family caregivers have time for themselves -- even if that means an afternoon to "just do nothing."
She recommended that caregivers ask a trusted relative or friend to take over for the day, or a few hours -- and do so "without guilt."
If there's no one who can step in, Wolf-Klein said, "respite" care might be an option. Some assisted-living facilities, for example, offer short-term care when a family member needs to travel or simply needs a break.
Those breaks are critical, agreed Ruth Drew, who directs information and support services for the Alzheimer's Association.
"No one can do this on their own," she said. "It's not a sign of weakness to ask for help. It's actually a sign of strength."
Besides turning to family and friends, Drew said, caregivers can look to resources in their community and online. Those range from support groups and classes on caregiving to adult day centers -- where people with dementia can go for supervised activities, giving their family members time off.
But in the survey, only 27 percent of caregivers said they'd used such resources.
Families often are unaware that help is out there, Drew said, and by the time caregivers need those resources, they might be so overwhelmed by their responsibilities that they feel they don't have the time -- or energy -- to make it happen.
She suggested that families start planning for those needs soon after a loved one is diagnosed with dementia -- before the caregiving becomes too intense.
Money, of course, can be another barrier. Medicare does not pay for adult day care, and offers only limited coverage for in-home health care. Some families, though, may be eligible for benefits through the U.S. Department of Veterans Affairs or state assistance programs, for instance, Drew said.
Also, the Alzheimer's Association has a 24-hour "helpline" and information on a range of resources for caregivers on its website, she said.
"That's a good starting point," Solway agreed. Families can also try their local agency on aging, she said.
"We're putting a lot of responsibility on the shoulders of family caregivers," Solway said. "Supporting them is critical."
The survey included 148 caregivers, ages 50 to 80. Most -- 62 percent -- were women, and 60 percent were caring for a parent. The others were caring for a spouse, another relative or a friend.
More information
The Alzheimer's Association offers help at its online Caregiver Center.
SOURCES: Erica Solway, Ph.D., senior project manager, Institute for Healthcare Policy and Innovation, University of Michigan, Ann Arbor; Ruth Drew, M.S., L.P.C., director, information and support services, Alzheimer's Association, Chicago; Gisele Wolf-Klein, M.D., director, geriatric education, Northwell Health, Great Neck, N.Y.; University of Michigan, National Poll on Healthy Aging, Oct. 25, 2017
Consumer News