March 25, 2002
Psychotic Form of Alzheimer's Disease May be Genetic
Experts say discovery could lead to future therapies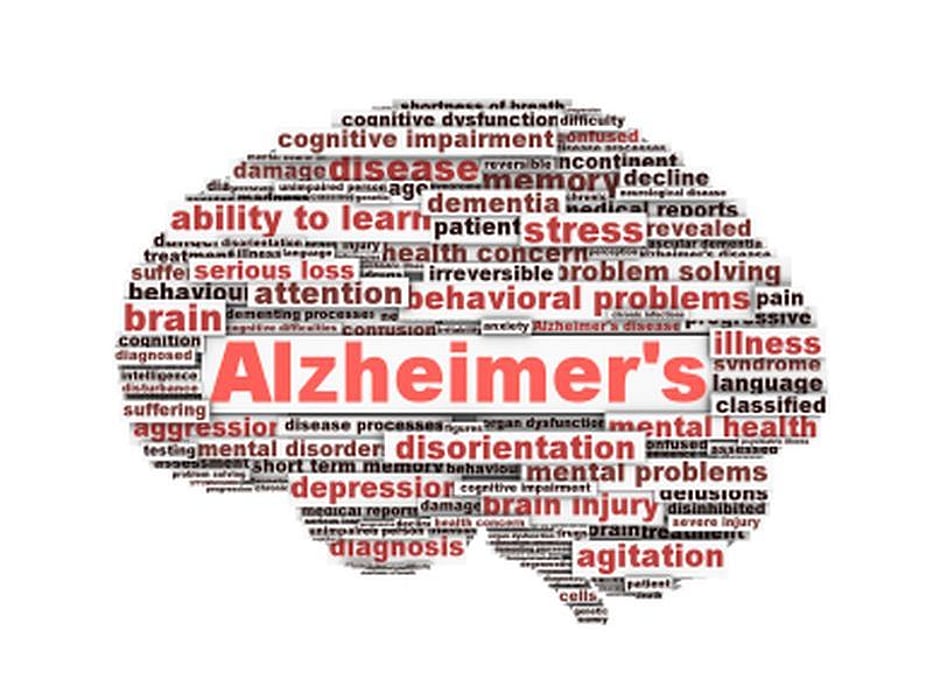 MONDAY, March 25, 2002 (HealthDayNews) -- A variant of Alzheimer's disease that adds frightening psychotic behaviors to its more well-known symptoms runs in families.
A new study reports that siblings of people with the variant -- called Alzheimer's disease with psychosis -- are more likely to develop the variant than if their siblings have Alzheimer's disease alone.
The report, appearing in the March 26 issue of the journal Neurology, is the first study to examine whether psychosis in Alzheimer's patients runs in families.
Roughly 4 million people in the United States today have Alzheimer's disease, but experts speculate that by the year 2050, the number of Americans with Alzheimer's could reach 14 million.
Early signs include mild forgetfulness of names or recent events. Eventually, patients forget how to perform simple tasks, and they may become anxious or aggressive, frequently wander off and require round-the-clock care. Progression of the disease varies, ranging from five years to more than 20.
Estimates of the incidence of psychotic behaviors vary from roughly 20 percent to 40 percent of Alzheimer's patients. The behaviors, which include paranoia, delusions and hallucinations, generally occur during the middle stage of the disease.
"These symptoms tend to be very distressing to caregivers," says Dr. Robert Sweet, the study's lead author. "Sometimes, in about half the cases, it can be associated with aggressive behavior [by the person with the disease]."
Sweet, an associate professor at the Western Psychiatric Institute and Clinic at the University of Pittsburgh Medical School, says that, on average, people with the psychotic form of the disease are institutionalized earlier than those without the symptoms.
While drugs, including antipsychotic medications and antidepressants, can reduce the intensity of the symptoms, they usually can't eliminate the behaviors.
The team had speculated that certain genes might contribute to the abnormal behaviors seen in some people with Alzheimer's disease. By identifying those genes, "it might lead to improved therapies for those particular behavioral disturbances, which are not well treated by current medications," says Sweet.
The first step towards finding a genetic link was to see if the psychotic behaviors run in families. To find out if this was so, Sweet and his colleagues turned to a database called the National Institute of Mental Health Genetics Initiative Alzheimer's Disease Cohort, which contains information from families in which two or more members had been diagnosed with definite, probable, or possible Alzheimer's disease.
The database contained medical information from 371 family members diagnosed with Alzheimer's disease, which the researchers split into those with Alzheimer's disease and Alzheimer's disease with psychosis (AD+P). The database also contained information on their 461 siblings.
An individual with AD+P was 2.41 times more likely to have a sibling with AD+P -- a significantly higher likelihood than if the individual had Alzheimer's disease without psychosis, suggesting that AD+P runs in families.
"[It tells me that] this psychotic variant of Alzheimer's disease is likely to have a genetic basis," says Sweet, rather than simply developing by chance as the neurodegenerative disease progresses.
"There's clearly a predisposition, it's likely to have a genetic component because it runs in families, and there could be a shared environmental component," adds Sweet, noting that siblings develop their brains in the same womb.
John Hardy, chief of the National Institute of Aging's Neurogenetics Laboratory in Bethesda, Md., praises the study. "It's going to be interesting to understand the genetic basis of this," he says. "It might have implications not only for when the symptoms arise in Alzheimer's disease, but when they arise in people without dementia."
"As we understand the precise basis of this symptom cluster, we'll be able to devise better-targeted therapies," says Hardy. "It will eventually have therapeutic implications."
Aside from a treatment, says Sweet, "it's likely to help us understand more about the generation of psychosis in Alzheimer's disease, which may be informative for many other illnesses that are prone to the development of psychotic symptoms, [such as] Huntington's disease, Parkinson's disease, depression, manic-depression and schizophrenia."
The researchers are currently looking for regions of the genome that may be home to genes that influence psychosis risk in Alzheimer's disease, or if certain genes are linked to specific psychotic symptoms.
What To Do
For more information on Alzheimer's disease, visit the Web sites for the National Institute of Neurological Disorders and Stroke or the Alzheimer's Association.
SOURCES: Robert A. Sweet, M.D., associate professor of psychiatry, University of Pittsburgh Medical Center, Pittsburgh; John Hardy, Ph.D., chief, Laboratory of Neurogenetics, National Institute on Aging, Bethesda, Md.; March 26, 2002 Neurology
Consumer News