April 11, 2008
When a Mind Begins to Disappear: A Young Family's Journey to the Dark Side
'I thought Alzheimer's, I thought gray hair,' says Chicago father of 3 who has early-onset version of disease.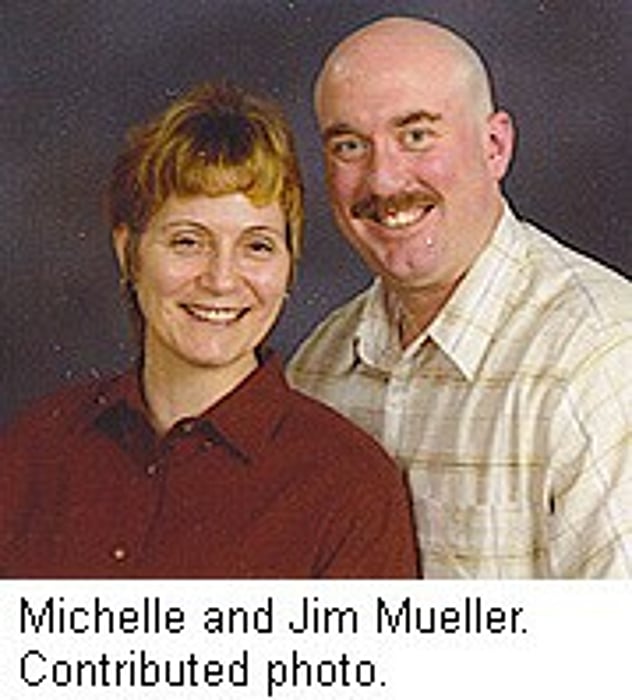 FRIDAY, April 11, 2008 (HealthDay News) -- Construction foreman Jim Mueller was in his early 30s when his memory started to go. He'd forget things: his schedule, his equipment, where he was, and where he was going. Sometimes even the names of his daughters and his wife. But nothing prepared the Mueller family for the doctor's verdict.
"When they said Jim had Alzheimer's, I was in shock," Jim's wife, Michelle, quietly recalls. "I mean, I had heard of Alzheimer's because of President Reagan. And I had worked at one time when I was younger to care for someone with Alzheimer's (but) I thought that was for people when they got older. And I really didn't believe it."
Jim Mueller, now 39, is, in fact, just one of an estimated 500,000 Americans currently battling the daily ravages of early-onset Alzheimer's (sometimes called young-onset Alzheimer's) -- a form of the incurable and devastating neurodegenerative disease that strikes those in their mid-30s to mid-60s.
For the Mueller family, the unexpected havoc wrought by Jim's Alzheimer's diagnosis at the age of 36 has turned every facet of their lives completely upside down.
"It was a shock to me, too," Jim confirms. "I thought Alzheimer's, I thought gray hair. And we were just starting to get our feet wet. Just starting our family. Now we've lost everything."
There was nothing in Jim's past to suggest the rough times to come.
Back in 1992, the 23-year-old Illinois army reservist was fresh-faced and 100 percent healthy. He met Michelle -- also an Illinois reservist -- while both were attending a military carpentry school in Fort McCoy, Wisc. After marrying, the two settled down in Villa Park, a quiet suburb of 23,000 people just west of Chicago, where the Mueller brood soon grew.
A stay-at-home mom, Michelle took care of their three girls, Jamie, Erin, and Katie -- now 14, 13, and 9 -- while Jim embarked on his burgeoning career in construction, captaining multi-million dollar high-rise projects in downtown Chicago.
Heading towards their 10-year anniversary, everything seemed to be going according to plan. But shortly after Jim turned 34, Michelle started to notice some slight changes in his behavior.
"I saw that he was experiencing some problems with his memory -- forgetting appointments, that kind of thing," she remembers. "And he was coming home from work increasingly tired. But I just attributed it to the job. . . I wasn't alarmed."
"But," she sighs. "A lot of the things he was really experiencing he kept hidden from me. He didn't share it all. And I do believe it's because he was afraid."
"I started to forget a lot of things," Jim now admits. "I pushed it off as business and stress, but it was weird and frustrating. I mean, you know, I would forget where I parked my car."
"Jim had started to forget about work meetings," Michelle adds. "He forgot to turn people's time cards in. Forgot where his tools were. And this was just not Jim at all."
Then, at 35, Jim was hospitalized. "He was very ill," Michelle remembers. "He had a serious flu, and an inner ear infection. And dizziness. And his vision was affected. He didn't recover from the dizziness, and he was not able to see clearly, so there was something neurologically going on with his brain. So they did an MRI, and they discovered that he had a small stroke. Then I was alarmed."
Though he had to stop working immediately, it would take another full year of spinal taps, MRIs, CT scans, neurology exams and memory tests before the Muellers would get a final diagnosis at Rush Medical Center in Chicago.
"I said, 'What do you mean dementia?!'," Michelle recalls with horror.
Searching for a way to explain the experience, Michelle starts by describing the healthy man she married.
"What really drew me to Jim," she says, "is that he enjoyed life so much. He's a lively person, who loves to play around... So when he started to lose some of his motor skills, when his legs first gave out, I thought he was kidding. And I would say, 'Come on, Jim! Stop playing! And he said, 'I'm not playing around.' And it was like a knife through my heart."
She remembers clearly "the first time he said he didn't know who I was, during the first year, before I even knew he had Alzheimer's. I really thought he was kidding. But he wasn't. And then he started to forget the names of the kids. And that hurt. They didn't understand what was going on."
Financially, the impact has been disastrous, as Jim's construction career came to a permanent and abrupt halt. "So we had no income," he said. "We had to use all our savings. We lost our house, we lost our car, we lost everything that we worked for."
They now subsist on a fixed disability insurance and Social Security. They also lost their private health insurance. Medicare pays for some of Jim's Alzheimer's medications --such as Exelon and Namenda-- as well as the antidepressant Prozac. "But still," Michelle says, "the prescriptions are too much. So we have to get prescription samples from doctors to get by."
The Muellers say the disease has also affected the very nature of their relationship.
"Basically, instead of me taking care of everything, she does," he says. "We've switched roles. It's as if I'm not here sometimes. My wife has to make the decisions, because I can't."
But Jim reserves his greatest heartbreak for the toll the disease has taken on his girls.
"They know dad's sick," he adds. "So they don't push me like they used to. I do see them all the time, which is good. But it's not the same. They kind of leave me alone. But they're very smart kids... They've been very helpful and thoughtful, and they've given up a lot."
On Friday, Jim, Michelle, and their children are taking their story to New York City to speak at an Alzheimer's Foundation of America (AFA) conference, entitled, "Preparing for the Crisis: Diagnosing & Caring or People in Their 30s, 40s, & 50s with Young-Onset Alzheimer's Disease".
"In general, there is still such a fear and stigma surrounding this disease," notes AFA President and CEO Eric J. Hall. "So regardless of age, people are not talking to their doctor about it. And when the patient is young, some doctors don't even consider the possibility. So this conference -- and the Muellers -- are helping us get the word out, because getting people treated early is effective in helping to offset the symptoms of the disease."
"I want to encourage people to pay attention to other people," Michelle says. "And when they start noticing something peculiar, I would encourage them to mention it to their bosses and even make a phone call to their families and let them know that this is going on. Because I really believe that, had I had known what was going on at an earlier time I could've gotten Jim in sooner to the doctor, and I would've been able to make better preparations to take care of my family."
"My mission," Jim adds, "is to help people. And I want to tell them, 'Don't think it can't happen to you.' Because it can."
Jim is determined to publicize his cautionary tale, even if, at times, he finds it increasingly difficult to gather his thoughts. "Sometimes, I have all these words in my head, but it's hard to get them out," he says. "It's all there. But it's just hard to get them out."
Yet on a good day, when rested and relaxed, Jim speaks clearly -- with clarity and authority. Nevertheless, Michelle believes that he is now in the latter part of the second stage of Alzheimer's -- following the first stage of initial memory loss and confusion, and preceding the final stage of personality deterioration and the full loss of bodily function control.
Jim's current state -- the middle stage of disease progression -- is where mental and physical decline starts to take a mounting toll, and dependence on caregivers grows.
Yet despite the dire prognosis, Jim continues to draw on a deep reservoir of support filled by friends, family and a monthly support group he attends at Rush Hospital. And the constant flow of encouragement seems to have steeled in him a dedication towards making the most of his current abilities --to continue, in fact, "chasing my dream".
"I always wanted to be a varsity basketball coach, and now I've done it," said Jim, who has been hired part time as a varsity softball and basketball coach at Westminster Christian High School in nearby Elgin, Ill.
"He's so good with the kids," Michelle remarks. "They just love him. They really accept him for who he is and how he is. So it's a blessing."
"It's not easy to get a job with a handicap and, of course, I have to work hard just to look normal," Jim admits. "And, yes, I have to plan ahead just to do things that most people can do in a heartbeat. But that's OK, because I've never been a real organized person. So now I kind of am. I write things down. I make lists. I have to. It's kind of hilarious."
More information
For additional information on early-onset Alzheimer's, visit the Alzheimer's Association. And for basic information on the disease, go to the Alzheimer's Foundation of America.
SOURCES: Jim and Michelle Mueller, Villa Park, Illinois; Eric J. Hall, president and CEO, Alzheimer's Foundation of America, New York City
Consumer News