July 15, 2010
Gentle Horses Help Rein in Autism in Kids
Equine therapy can build confidence, social skills, experts say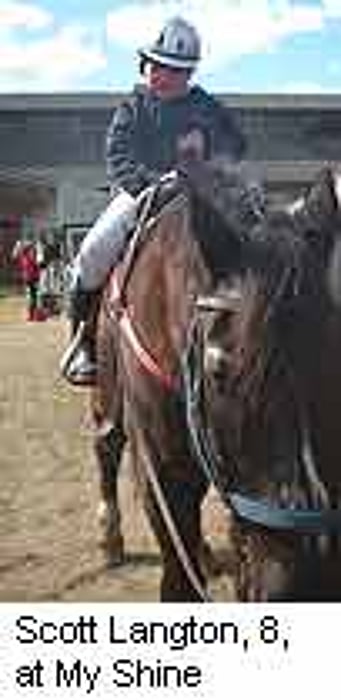 THURSDAY, July 15, 2010 (HealthDay News) -- Over the eight years that Mary Cusack has been raising her son, Nicky, she's become familiar with finger 'stims' -- the repetitive hand movements that Nicky and others with autism often display. If left unchecked, Nicky's stimming can interfere with everyday activities.
But Mary and her husband, Tom, have found a solution to the problem: therapeutic horseback riding.
For reasons that aren't fully understood, Nicky's stims "only go away when he rides," Mary Cusack said on a morning spent with her family at the My Shine therapeutic riding program, run at a stable in rural Suffolk County, N.Y.
"Stimming interferes with his abilities at school," she said. "But I always say, 'Don't worry, as soon as we get him back on the horse I can guarantee that for every month that he hasn't been riding, it's going to take one week and then we aren't going to see the stim again.'"
After a few sessions on horseback, Nicky's hands stop their restless movement. Tom Cusack calls his son's therapeutic riding sessions "the one therapy we would never give up," because it has already given Nicky so much.
My Shine is just one of many equine therapy centers spread across the United States, with instructors accredited through the North American Riding for the Handicapped Association (NARHA). A nonprofit program founded by Barbara Kruger (whose son has autism), My Shine, based in Huntington, N.Y., has grown from serving just a few special-needs children four years ago to more than 50 kids today.
Youngsters typically visit once every week, traversing an indoor or outdoor ring at a varied pace with the same horse "partner," along with one highly trained instructor and one volunteer.
Called "equine therapy" or "therapeutic riding," the treatment appears to work because many children on the autism spectrum appear to form deep connections with horses and horse riding. For many, the activity leads to new confidence and improved language skills as they link the spoken word with the physicality of riding.
That's important, since many children with classic autism are either nonverbal or minimally verbal, experts noted.
"Working with a horse can help a child to learn how to communicate using nonverbal behavior," explained Geraldine Dawson, chief science officer of the national advocacy group Autism Speaks. "The child may learn that by making a certain movement or sound the horse will respond in a specific way. They can also learn to monitor their own behavior and look at how it affects the horse."
That can help build confidence, experts say, as well as better socialization in terms of eye contact and language.
Edith Heinsohn has seen those types of changes firsthand. She started bringing her son Scott, 8, to My Shine a year ago. Scott, who has Down syndrome and autism, "gets a lot from the horses," Heinsohn said. "There's a lot of interaction with the horse, a lot of eye contact, he actually starts to babble -- and he's usually nonverbal."
Scott's riding instructor, Mary Mugnai, has had extensive training in both caring for kids with special needs as well as equine therapy. Taking a short break as horses and young riders lope around the indoor ring, she outlined the progress Scott has made.
"He looked at me right in the eye today and smiled at me," Mugnai said. "For him to look me directly in my eyes and smile at me, when his mother said that before he started horseback riding he never made eye contact with her -- and I'm basically a stranger -- I think that's amazing."
Children with autism may also tune into the rhythmic nature of riding, Kruger said.
"Some of the things these kids do at occupational therapy is sit on the bouncy-ball, sit on a swing, and that gives them certain proprioceptive input that calms them," she explained. "You put them on the horse and you are getting the same rhythmic motion, plus now you are on an animal, you're outside, you're not on a ball in a gym. It seems to be even more therapeutic."
And there's also that special bond between child and horse.
"A child may weigh 40 pounds, and they are controlling a 1,200- to 1,500-pound animal, they are telling that horse what to do," Kruger said. "It's a tremendous feeling of accomplishment." Autistic individuals might also bond with horses because they present fewer social challenges than people do. As Kruger pointed out, horses neither expect nor desire eye contact, and verbalization isn't an issue.
"An animal doesn't have any expectations of you," she said. "Our kids can relate to the horse because a lot of our kids are nonverbal -- a horse is nonverbal and has no expectations of them. And then that bond forms."
Instructors at My Shine say that many of their horses -- typically chosen because they are older, gentler animals -- seem to adapt instinctively to kids with special needs.
"I don't know how it happens, but I think that [the horses] are a little more careful with a kid with special needs on their back than another person," said volunteer Kerri Abberton, who works professionally with special-needs children. "If a child is acting up, the horse will stop so the child won't get hurt. They'll slow down if the kid is moving around in the saddle too much. I think that they really have a good sense of how the kids are feeling."
Of course, therapeutic riding is just one of many treatment options available to children with autism, and results will vary. Katrina and Jamie Donnelly have been bringing their sons Paul, 6, and Patrick, 4, (both have autism) to My Shine for the past couple years.
"I'm not sure that it is making a big difference in them, but it's part of the equation," Katrina Donnelly said between riding sessions. "I've seen other children really relate to animals, but not my sons so much. At least not yet."
However, for many children on the autism spectrum, riding becomes an act of sheer enjoyment, with a little learning thrown in -- just as it might be for a "typical" child.
"Horseback riding is like a mask for the various skills that they are learning: fine motor skills, gross motor skills, following directions, listening, paying attention, keeping your attention span going, all sorts of coordination," Abberton said. "All that [the children] know is that they are coming and having a great time on the horse. But they are learning so many other skills that they don't even realize -- and they have awesome partnerships with the horses."
More information
Find out more about equine therapy at the North American Riding for the Handicapped Association.
SOURCES: Geraldine Dawson, Ph.D., chief science officer, Autism Speaks, New York City; Barbara Kruger, program director, Mary Mugnai, president and instructor, and Kerri Abberton, volunteer, all of My Shine Program, Old Bethpage, N.Y.; Katrina Donnelly, Mary Cusack, Thomas Cusack and Edith Heinsohn, all parents of My Shine participants
Consumer News