September 12, 2008
Bye, Bye Back Fat?
Technique removes loose skin, but downside is scar hidden under the bra line, expert says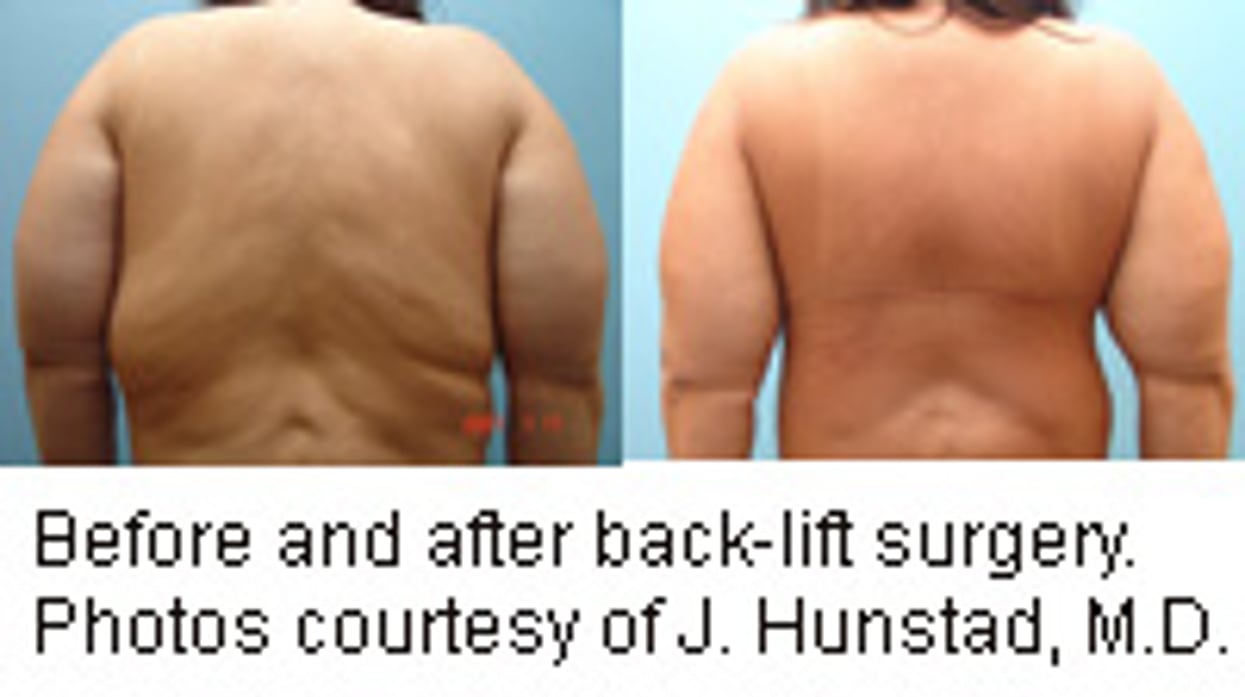 FRIDAY, Sept. 12, 2008 (HealthDay News) -- For many women, unsightly bumps and bulges above and below the back of their bra can make wearing body-hugging fashions a nightmare.
Now, a plastic surgeon in North Carolina has designed a procedure that lifts and smoothes the upper and middle back.
In a one-hour procedure, with the patient under general anesthesia, Dr. Joseph P. Hunstad makes an incision across the back, at the level of the bra line. "We strongly gather up every bit of 'tissue laxity,' which can be 8 to 10 inches of excess skin, and remove it," he said.
The area is stitched closed, leaving a fine line scar that is typically hidden under the bra or a swimsuit, he said.
Hunstad reported on the new procedure in the October issue of Plastic and Reconstructive Surgery.
He details the case histories of seven women who had the procedure. The average age was 54, and six of seven patients were not overweight. Only one had undergone gastric bypass surgery for weight loss. "This procedure eliminates all the laxity there, and the contour of their whole body becomes taut and smooth," he said. While he uses a short-acting general anesthesia, he said the procedure could be done under a local anesthesia in some patients.
"If we have a heavy patient, which is unusual, we can do liposuction at the same time," he said.
So-called back fat can occur with age or after substantial weight loss, he said.
Patients are advised to avoid vigorous activity, heavy lifting, raising their arms above their head or submerging the surgical site under water after the procedure. They can shower after 24 hours, return to normal activity in three or four days, and can walk for exercise within 48 hours of surgery, Hunstad said.
During the follow-up, on average almost two years, complications were minimal, he said, with no infections or tissue death. Two of the seven women underwent scar revision surgery, but Hunstad said their scars weren't much different than those on the other five patients. It's important, he wrote in the report, to discuss the scar with the patient before the surgery, so expectations are realistic.
The new technique "will catch on," said Dr. Renato Calabria, a Beverly Hills plastic surgeon familiar with the procedure. "It's a great operation and works well, and the scar is hidden [under the bra], but there is still a scar," he noted.
"For years, doctors have used liposuction to take care of back fat," Calabria said. Now, the new procedure might be used in combination with liposuction, he added.
Not everyone will go for it, , however, Calabria said. "Here in Beverly Hills, there are not a lot of patients who want to walk around with that kind of scar," he explained.
Elsewhere, however, Calabria predicted the procedure will catch on. It might be appreciated especially by patients who have lost a substantial amount of weight and have sagging skin on their back.
The cost is about $7,500 to $10,000, Hunstad said, noting the fees vary from region to region. In large metropolitan areas, patients can expect to pay up to $20,000 for it, Calabria said.
More information
To learn more about body contouring, visit the American Society of Plastic Surgeons.
SOURCES: Joseph P. Hunstad, M.D., plastic surgeon, Charlotte, N.C.; former professor, Duke University, Durham, N.C., and University of North Carolina, Chapel Hill; Renato Calabria, M.D., plastic surgeon, Beverly Hills, Calif., and instructor, University of Southern California Department of Plastic Surgery; October 2008, Plastic and Reconstructive Surgery
Consumer News