April 7, 2014
Atopic Dermatitis Symptoms Persist Through Childhood
At age 20, half of patients report having a six-month symptom- and treatment-free period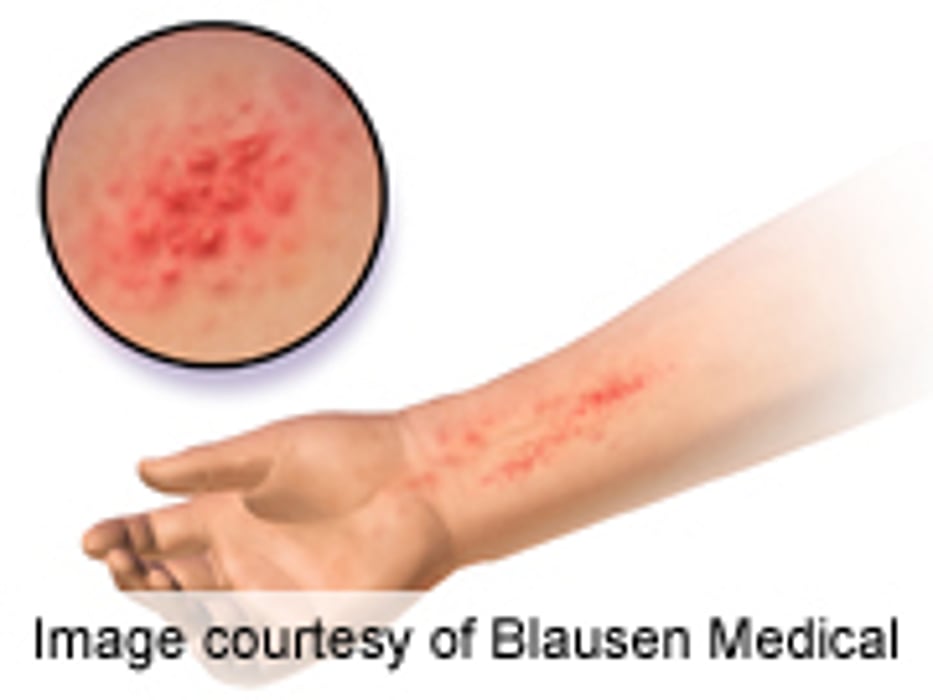 MONDAY, April 7, 2014 (HealthDay News) -- For children with atopic dermatitis, symptoms persist throughout childhood into adulthood, according to a study published online April 2 in JAMA Dermatology.
Jacob S. Margolis, from the University of Pennsylvania Perelman School of Medicine in Philadelphia, and colleagues examined the natural history of atopic dermatitis in children enrolled in the Pediatric Eczema Elective Registry (PEER). The persistence of symptoms was assessed among 7,157 children with atopic dermatitis who were followed for a total of 22,550 person-years (4,248 children followed for at least two years; 2,416 followed for at least five years).
The researchers identified several demographic and exposure variables that correlated with more persistent atopic dermatitis. More than 80 percent of PEER participants had atopic dermatitis symptoms at every age from 2 to 26 years, and/or were using medication for treatment of atopic dermatitis. Fifty percent of patients had at least one lifetime six-month symptom- and treatment-free period at age 20.
"Based on this large longitudinal cohort study, symptoms associated with atopic dermatitis seem to persist well into the second decade of a child's life and likely longer," the authors write "Atopic dermatitis is probably a life-long illness."
The PEER study was funded by a grant from Valeant Pharmaceuticals, which manufactures pimecrolimus, used to treat atopic dermatitis.
Abstract
Full Text
Editorial (subscription or payment may be required)
Physician's Briefing