February 27, 2013
Isotretinoin Not Linked to Increased Risk of IBD
Case-control study and meta-analysis show no increased risk of ulcerative colitis, Crohn's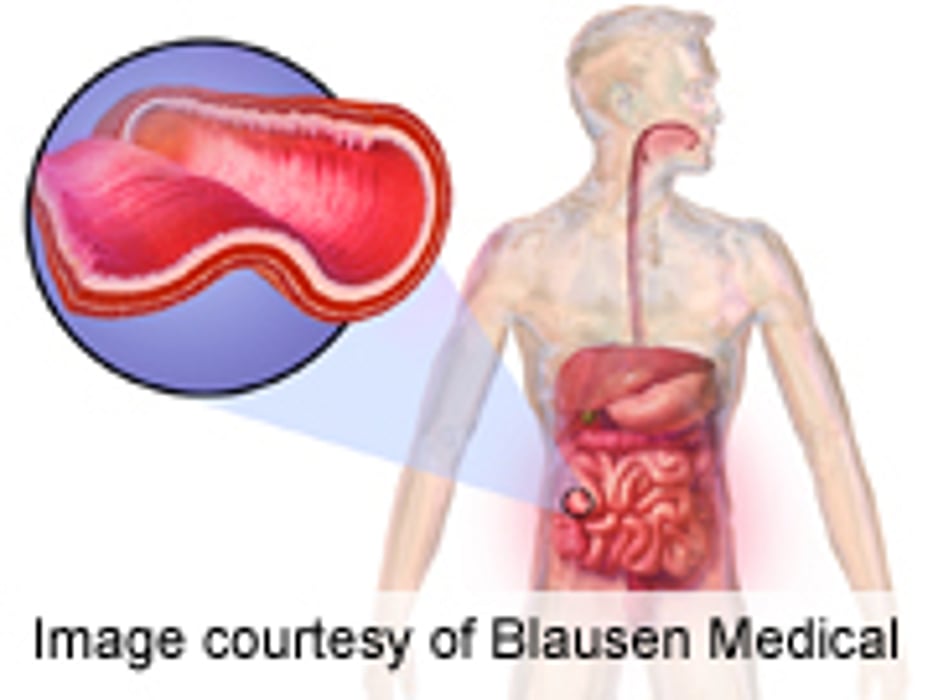 WEDNESDAY, Feb. 27 (HealthDay News) -- Among women of reproductive age, isotretinoin is not associated with an increased risk for inflammatory bowel disease (IBD), including ulcerative colitis (UC) or Crohn's disease (CD), according to research published in the February issue of JAMA Dermatology.
Mahyar Etminan, Pharm.D., of the University of British Columbia in Vancouver, Canada, and colleagues used data from a U.S. health claims database for women aged 18 to 46 years to examine the correlation between isotretinoin and the risk for IBD, including UC and CD. Each IBD case was matched with 20 controls using incidence-density sampling. In addition, a random effects meta-analysis was conducted of published and unpublished studies to estimate the pooled relative risk of IBD associated with isotretinoin.
For the case-control study, the researchers identified 2,159 cases of IBD (1,056 with UC; 1,103 with CD) who were matched with 43,180 controls; of which 10 cases and 191 controls were exposed to isotretinoin. The adjusted relative risks for IBD, UC, and CD were not significant at 0.99, 1.10, and 0.91, respectively. In a meta-analysis of five studies, the pooled relative risk was similar, at 0.94.
"The results of this study are consistent with other published studies that do not suggest an increase in the risk for IBD with isotretinoin use," the authors write. "Given the high burden of psychological stress associated with cystic acne in adolescents and young adults, clinicians should not be discouraged from prescribing isotretinoin therapy to their patients owing to concerns of an unproven association with IBD."
Abstract
Full Text (subscription or payment may be required)
Editorial (subscription or payment may be required)
Physician's Briefing