December 13, 2018
Wearable Sensor Can Measure Personalized Ultraviolet Exposure
Device can be used during outdoor activities and in therapeutic phototherapy units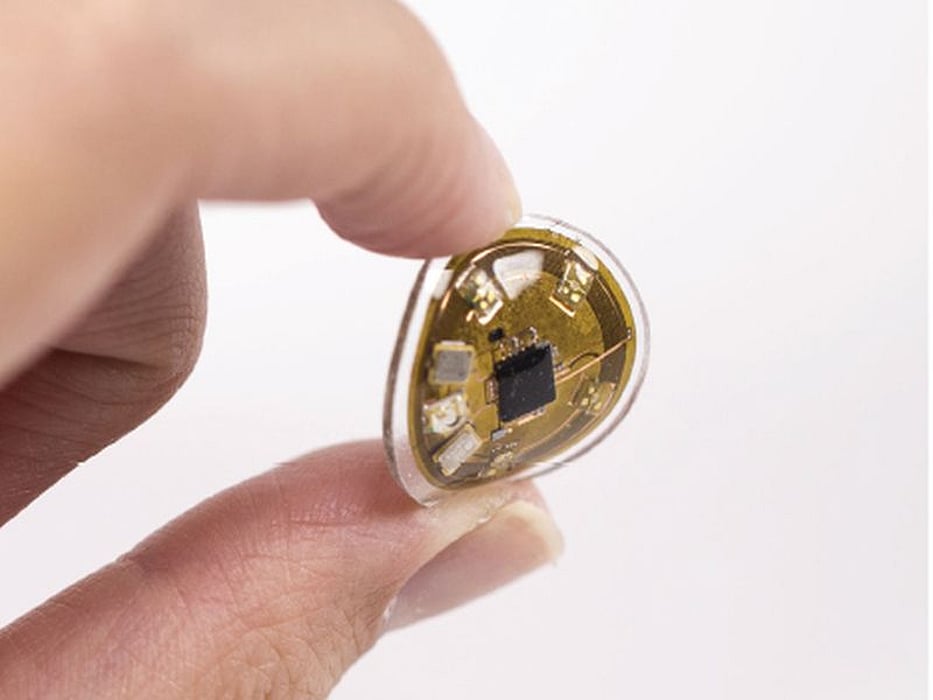 Sun-sensing patch. Photo: S.Y. Heo et. al.
THURSDAY, Dec. 13, 2018 (HealthDay News) -- A millimeter-scale, wireless, battery-free, miniaturized dosimeter can monitor ultraviolet (UV) radiation exposure and appears to work well in different settings, according to research published online Dec. 5 in Science Translational Medicine.
Seung Yun Heo, from the Simpson Querrey Institute for BioNanotechnology at Northwestern University in Evanston, Illinois, and colleagues designed a miniature, low-cost, and battery-free device for precise dosimetry to monitor exposure to solar radiation and to light for phototherapy. The device is a millimeter-scale, wireless, and battery-free platform with versatile operational schemes that measures light intensity in real time.
The researchers examined use of the devices during outdoor activities and in therapeutic phototherapy units. In two separate studies, the device was used in outdoor human trials during exercise and while engaging in activities in and around a pool, including swimming; the sensors were completely immersed in water. In addition, the functionality of the sensors was examined in infants in the neonatal intensive care unit under incubation conditions. Three neonates undergoing blue light phototherapy treatments were recruited. The sensors were mounted on the chest with skin-safe adhesive.
"There is a critical need for technologies that can accurately measure and promote safe ultraviolet exposure at a personalized level in natural environments," a coauthor said in a statement. "Right now, people don't know how much ultraviolet light they are actually getting. This device helps you maintain an awareness and for skin cancer survivors, could also keep their dermatologists informed."
Several authors disclosed having commercial interests in the technology. One author disclosed financial ties to Aclaris Therapeutics.
Abstract/Full Text (subscription or payment may be required)
Physician's Briefing