June 5, 2014
Gastric Bypass Sx May Be Best Strategy for Obese T2DM Patients
Research suggests greater success in weight loss, DM remission compared to lifestyle changes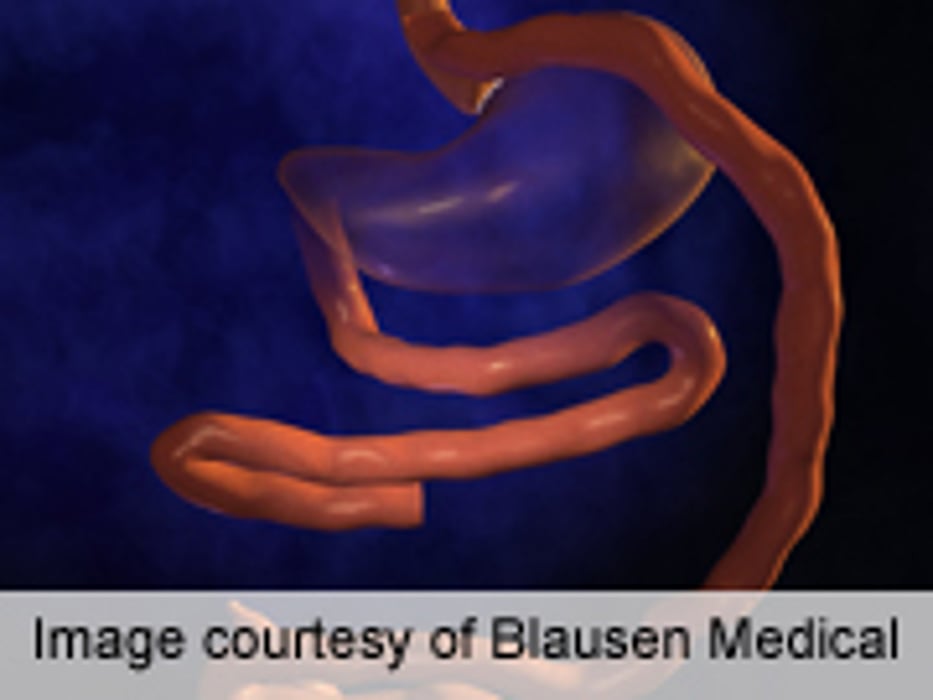 THURSDAY, June 5, 2014 (HealthDay News) -- Compared to diet and lifestyle changes, gastric bypass surgery appears to be the clear winner in helping obese people with type 2 diabetes lose weight and even rid themselves of the disease, according to a pair of studies published online June 4 in JAMA Surgery.
In one of the new studies, researchers led by Anita Courcoulas, M.D., M.P.H., of the University of Pittsburgh Medical Center, tracked outcomes for 69 obese or very obese patients who were assigned to receive either gastric bypass, gastric banding, or a traditional lifestyle-change intervention. They report that people who underwent gastric bypass had an average 27 percent drop in their weight, compared to a 17.3 percent weight loss for those who got gastric banding, and about a 10 percent loss for those who tried diet/exercise changes. The results were similar when it came to diabetes: One year after the intervention, 50 percent of the gastric bypass patients saw their type 2 diabetes partially ease and 17 percent saw it completely disappear, compared to 27 percent and 23 percent, respectively, for those who got the banding treatment. None of the patients on the lifestyle-change regimen saw any remission of their diabetes.
In the second study, a team led by Florencia Halperin, M.D., of Brigham and Women's Hospital in Boston tracked the one-year outcomes of 38 obese or very obese people with type 2 diabetes. The patients underwent either gastric bypass or drug/lifestyle weight-management interventions. Fifty-eight percent of people in the gastric bypass group saw their type 2 diabetes go into remission within a year after the procedure, compared to just 16 percent of those who got the lifestyle intervention.
Halperin's team stressed, however, that a much larger clinical trial is needed -- something that might be difficult to put together.
Full Article
Abstract - Courcoulas
Full Text (subscription or payment may be required)
Abstract - Halperin
Full Text (subscription or payment may be required)
Physician's Briefing