March 25, 2011
Nick Jonas Lives Large, Despite Diabetes
Teen star says careful management and good support help keep him healthy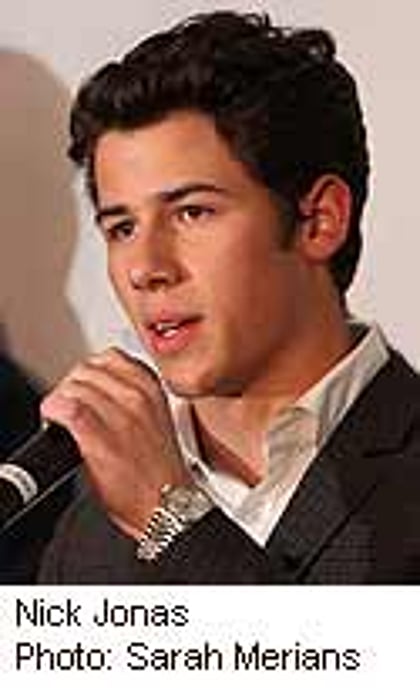 FRIDAY, March 25, 2011 (HealthDay News) -- Teen superstar Nick Jonas may be the picture of health today, but five years ago his body was wasting away. Even at 13, Jonas knew something was wrong. He just didn't know what.
That something was type 1 diabetes, and though it's a disease Jonas will have for the rest of his life, he's healthy now because he spends a lot of time every day taking care of his diabetes.
"It was obviously a devastating thing to find out that I had diabetes, but it was also kind of a relief to find out that it was something that could be managed, and that I'd be all right as long as I stayed on top of it and did what I could to keep it in control," said Jonas, who's now 18.
The symptoms of type 1 diabetes tend to come on very quickly, noted Dr. Joel Zonszein, director of the Clinical Diabetes Center at Montefiore Medical Center in New York City. They typically include:
Extreme thirst.
A need to urinate frequently.
Weight loss, often dramatic.
Mood swings or irritability.
Type 1 diabetes is often confused with the more common type 2 diabetes. But, the cause and management of each disease is different. Type 1 diabetes is an autoimmune disease in which the body's immune system mistakenly identifies the insulin-producing cells in the pancreas as foreign and destroys them. Insulin is a hormone that allows the body to process carbohydrates, including sugar.
Type 2 diabetes develops when the body stops using insulin effectively. It can sometimes be controlled with diet and exercise. Type 1 diabetes, on the other hand, must be treated with injected insulin.
The problem with insulin therapy, however, is that it's difficult to achieve the right balance. Too little insulin causes high blood sugar, and excess insulin can cause dangerously low blood sugar.
"Before insulin, type 1 diabetes was a catastrophe," Zonszein said. "Now, with insulin and newer technology, we know how to better treat these patients so they can live long lives without complications. But, a lot of the outcome depends on the patient. They have to be engaged and proactive with the disease."
Jonas has proven to be a great example of how an "intelligent, informed person can overcome and manage type 1 diabetes well with the tools we have nowadays," Zonszein said. "Someone without his personality might have more trouble managing his lifestyle -- and its stress, traveling, sleep changes, etcetera. He deserves a lot of credit for managing so well."
Jonas spoke recently to a crowd of fans, many with type 1 diabetes themselves, at the Diabetes Research Institute's Carnival for a Cure in New York City. Jonas, who was at the event as a spokesman for Bayer Diabetes Care, told his fans that he had promised himself that he wouldn't let diabetes slow him down.
And, it would seem he's kept that promise. Since his diagnosis, the Jonas Brothers band (Nick and his brothers Joe and Kevin) has released three albums, toured nearly constantly and starred in two seasons of a self-titled TV show. Last year, Jonas released his own album and toured with his band, Nick Jonas and the Administration, for several months.
To maintain this hectic pace, Jonas said he thinks about his blood sugar levels all the time and tests his blood sugar about 12 times a day. He has a blood sugar meter that allows him to easily upload his readings to his doctor so that even if he's on the road touring, he can get feedback on his diabetes management.
Jonas said that having diabetes hasn't been all bad. "It's been a part of my life that has turned out to be a blessing in some ways," he said. "I've been able to speak about it and hopefully bring a message of encouragement."
Still, he added, "I'd be lying if I told you that there weren't days that I wasn't frustrated with being a diabetic. It's definitely not something you ask for. There are moments when I think life would be a lot easier without it. But, then again, it's part of my DNA at this point, and it's given me an outlook on life that I think is very rare. When I was diagnosed, if we had waited two days, I could've been in a coma. A week later, and I could've died, so I'm very thankful that I've lived to see all of this."
Jonas' best advice for someone who's newly diagnosed? "No matter how independent a person you are, never be afraid to rely on your doctors and the people around you -- your family and friends," he said. "I wouldn't have been able to do all of this without the support of the people around me."
More information
The Diabetes Research Institute has more about type 1 diabetes.
SOURCES: Nick Jonas, spokesman, Bayer Diabetes Care, and member, The Jonas Brothers and Nick Jonas and the Administration bands; Joel Zonszein, M.D., director, Clinical Diabetes Center, Montefiore Medical Center, New York City; March 13, 2011, presentation, Diabetes Research Institute Carnival for a Cure, New York City
Consumer News