July 15, 2011
The Cycling Stud Who Shed His Couch Potato Skin
Writer, who once flirted with type 2 diabetes, completes grueling two-day, 200-mile marathon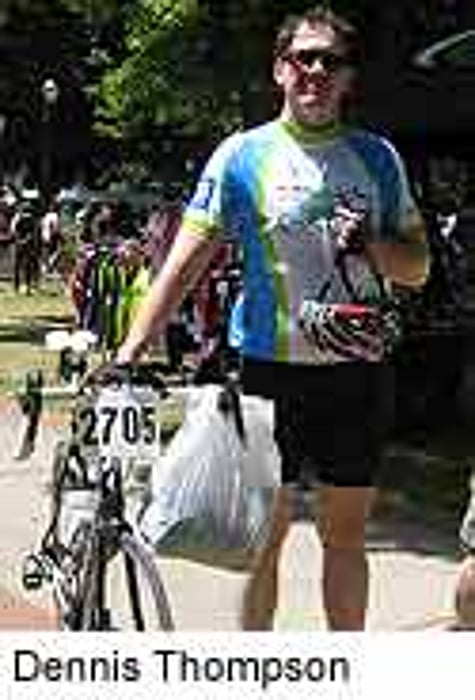 FRIDAY, July 15, 2011 (HealthDay News) -- Kids stretched out their open palms over barricades as I crossed the finish line Sunday of the Seattle to Portland Bicycle Classic, and I high-fived them as I rolled past, feeling like an utter rock star.
Farther down the "chute," volunteers handed out garish yet glorious blue-and-green patches to finishers of the grueling 202-mile, two-state bike ride. I smoothly plucked the offered patch with one hand as I rolled past the smiling girl, slowing only slightly.
As I dismounted, I took a closer look at the patch and thought back over the months -- years, really -- of training that brought me to this moment.
My doctor in 2009 had told me that my obesity had pushed my health to the edge of ruin. I was pre-diabetic, I had dangerously high cholesterol and my liver enzymes were elevated. I had the beginnings of metabolic syndrome, a group of conditions that combine to greatly raise the risks for serious heart problems.
Luckily, I also had my bicycle. I'd gotten into bicycling after moving to Oregon several years earlier, and enjoyed long weekend rides that felt like workouts but did nothing to help me shed weight.
So I started eating better -- cutting back on sugar and simple carbohydrates, eliminating most fats from my diet, eating more fruits and vegetables, choosing lean cuts of meat. I read food labels like other folks read murder mysteries.
And I got serious about my bicycling, too. I began riding at least four days a week, and either lifting weights or running on the off days.
The results were surprisingly quick in coming. Within six months, I dropped from 270 to 210 pounds. My bad cholesterol levels fell, while my good cholesterol levels increased dramatically. Most important, my blood glucose levels decreased -- I was no longer in danger of developing type 2 diabetes.
I kept up with the bicycling, partly to maintain my weight loss but mostly because I'd fallen in love with it. I found myself lifting weights and performing balance exercises to improve my performance on the bike. In 2010, I rode about 2,500 miles, savoring long climbs through lovely countryside and exhilarating sprints on fast-pace lines.
So when my wife early this year suggested I sign up for the Seattle to Portland ride, it wasn't something I could reject out of hand. But at the same time, it was daunting. Could I ride more than 200 miles over two days, basically two bicycle centuries back-to-back?
I figured I'd give it a shot.
'Fat guy legs' to the rescue
The ride started Saturday morning, cool and clear, with 10,000 riders signed up. I'd gotten up at 4 a.m. and was on the starting line by 5:30 a.m. With most bicycle event rides, you just start rolling when you like, following the direction markers painted on the road surface. Not the Seattle to Portland Bicycle Classic, or STP. The organizers sent us out in waves, stacking us up at the starting line and then sending us through with a thrilling flourish.
The most enjoyable endurance rides are the ones where the gorgeous scenery is at the beginning. Toward the end, riders aren't really paying attention to anything but the road, the bike and their body.
The scenery along the STP's first 20 miles was stunning. The ride took us out of Seattle around a beautiful lake. At one point, riders could see both the delicate spires of the Seattle skyline and the hulking mass of Mt. Rainier across water shimmering golden from the morning sun.
I fell in with some other riders who were going about my speed, and we formed a pace line that soon was hitting speeds of up to 25 miles per hour.
There are a few hidden benefits to being obese, getting into bicycling and then losing a ton of weight. My favorite is Fat Guy Legs. Your legs get very strong carrying around all that extra bulk. When you lose the weight, you find that you can rocket along flat stretches and climb hills like a monster. Lose the weight and your Fat Guy Legs give you an advantage over slender riders who have never battled obesity.
I soon found myself out in front of the pace line for extended periods, with the other cyclists "drafting" off of me. That was OK -- nearly all of them were one-day riders who aimed to complete the 202 miles that same day. I didn't mind giving them some relief, since my ride would be broken over two days.
As the miles ticked off, my mind went quiet and the mental jukebox kicked in. Riders shouldn't wear earbuds, because it's important for safety to be completely aware of the road and your surroundings. So your mind supplies the music. A tune will pop into your head that matches the rhythm of your riding, and you can't get rid of the thing.
Luckily, a woman in the pace line mentioned that her mental jukebox had fixed on "September," a late '70s disco song by Earth, Wind & Fire. Oh, that was a good one. I latched onto it and was soon humming, "Ba de ya, say do you remember, ba de ya, dancing in September."
The route then took us up one steep hill, and along an extended stretch of asphalt through a dense forest with huge pines looming over us. The day's last section included a heavily wooded bike path, which was unusual because endurance rides usually stick to roads.
By then, we were at the mid-point of the ride, in Centralia, Wash. I chugged some chocolate milk as a recovery drink and wished the other riders in my pace line luck as they pressed onward. My wife soon picked me up and drove me to the motel where we'd stay the night.
Another wonderful thing about endurance riding -- you need to eat a lot. It's not that you can eat a lot, you absolutely have to. Otherwise, you run out of fuel and your muscles cramp and your body bonks and you either don't finish or you have a really, really lousy day.
Chowing down with 100 miles down
So that night, for the first time in years, I ate at an Olive Garden. First up, salad and breadsticks dipped in alfredo sauce, and then ravioli carbonara with chicken, and I didn't feel a twinge of guilt. I even ate a whole Cadbury bar back at the motel room, for dessert.
I got started the next day around 6 a.m., after a breakfast of waffles -- another rare luxury. I wasn't as stiff as I thought I would be, and again fell into a fast-pace line.
But as the day wore on, my legs did not have as much punch in them as they did before. I started paying less and less attention to the scenery, focusing solely on the road and on finishing the ride -- something my wife calls "going brain stem."
We crossed into Oregon riding single-file over the Columbia River on a tall bridge with traffic screaming past us, probably the scariest moment of the ride. After that, we spent a long time cruising on the shoulder of a characterless highway.
Then, there it was before us, the marker we'd been waiting for, a green utilitarian road sign bearing the most gratifying words on the planet: "Welcome to Portland."
There were still another 10 miles to go. Climbing a steep hill to another bridge that brought us speeding downhill into the city proper. Excruciating stop-and-go stretches where every traffic light seemed out to get me. A few hair-raising moments in metro traffic.
And then, off to the right past the last red light of the ride, was the finish line and the outstretched hands and the patch and the accomplishment.
I averaged more than 19 miles per hour over the length of the ride. To put that in perspective, the U.S. Department of Health and Human Services considers riding a bike faster than 10 miles per hour to be "vigorous" exercise.
I rode the 202-mile route in 12 and a half hours, with 10 and a half hours in the saddle and two hours spent at rest stops.
And as with every other event ride, I had two thoughts fill my head as I walked my bike toward my waiting wife and dog:
"God, that was hard. I'll never do that again." And, "Maybe in one day, next time."
More information
Visit this U.S. Health and Human Services website for physical activity guidelines for Americans.
Consumer News