April 25, 2012
Donor Kidney Re-Used in Second Patient After Failing in First
Breakthrough approach could stretch the supply of donor organs, experts say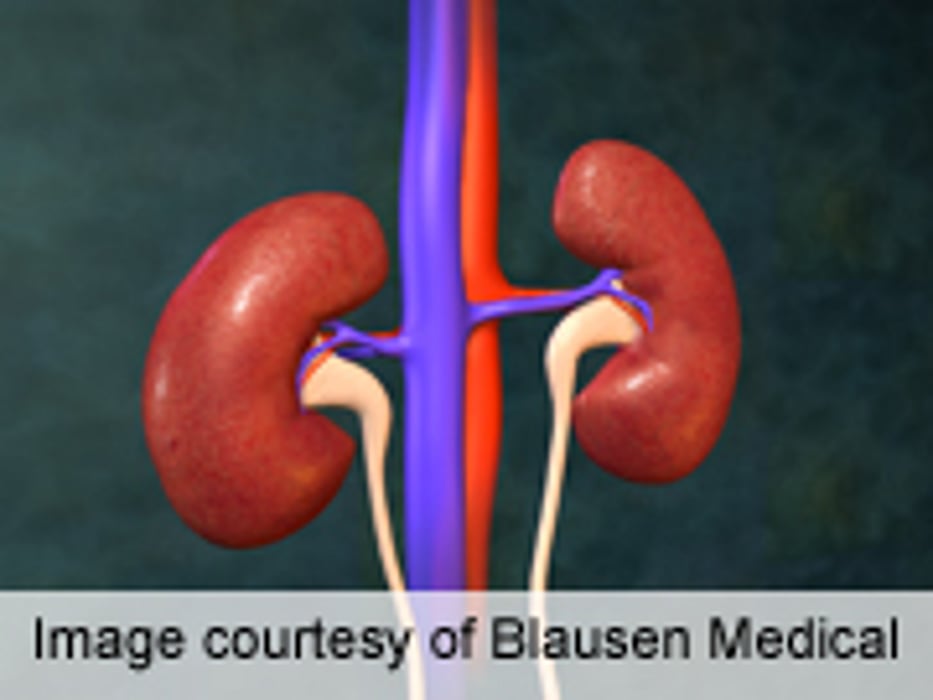 WEDNESDAY, April 25, 2012 (HealthDay News) -- In a groundbreaking medical report, U.S. doctors describe a case where a kidney transplanted into one patient had to be removed but was then successfully transplanted into another patient.
The team at Northwestern University in Chicago said that Ray Fearing, 27, received a kidney from his sister after he developed kidney failure due to a disease called focal segmental glomerulosclerosis (FSGS). The disease causes scar tissue to develop on the part of the kidney that filters waste out of blood.
However, just days after receiving the new kidney Fearing showed signs of a disease recurrence and doctors told him they had to remove the new organ. The doctors also told Fearing they could potentially save another person's life by re-transplanting the organ -- something that had never succeeded before with a kidney.
"In over 50 percent of cases, transplant does not stop the process of FSGS. When post-surgery tests indicated that Ray was at risk of developing life-threatening conditions due to the reoccurrence of the disease, we had to remove the kidney before he deteriorated. The kidney, however, was still a relatively healthy, viable organ that could be transplanted into someone else without FSGS," Dr. Lorenzo Gallon, transplant nephrologist and medical director of the kidney transplant program Northwestern Memorial Hospital and an associate professor of medicine and surgery at Northwestern University Feinberg School of Medicine, said in a university news release.
So, with Fearing's approval, the doctors transplanted the kidney into a 67-year-old patient. The kidney regained function almost immediately after the second transplant and within eight days it showed a reversal of the damage caused by the FSGS in Fearing's body.
"This is a groundbreaking medical moment because it suggests that it is possible to reverse the damage done to a kidney as a result of FSGS after it is re-transplanted into a body with a healthy circulatory system," Dr. Joseph Leventhal, transplant surgeon at Northwestern Memorial Hospital and associate professor of surgery and director of kidney and pancreas transplantation at Northwestern University Feinberg School of Medicine, said in the news release.
"Not only did we save a viable organ from being discarded, we also made significant strides in better understanding the cause of FSGS, which has been relatively unknown, so we can better treat the disease in the future. This also proves that when an organ fails in one body, it may thrive in another," he added.
The report appears in the April 26 issue of the New England Journal of Medicine.
One expert said the successful re-use of the donor kidney could be a milestone.
"This case represents a unique and innovative addition to current scientific, humanitarian and ethical practices, and establishes a precedent to improve patient survival and quality of life," said Dr. Ernesto Molmenti, vice chairman of surgery and director of the transplant program at the North Shore-LIJ Health System in Manhasset, N.Y.
But, he also said the procedure raises interesting new questions, such as "Should the initial donor and recipient have any input on the second allocation of the kidney? Should the kidney be offered first to the original donor prior and then to a second recipient? [and] What type of priority [if any] should the first recipient be granted when being considered for a second transplant?"
For his part, Fearing is back on dialysis and still hopes to receive another kidney transplant in the future.
"It may not have been my time, but I am grateful that I was able to help another patient," he said in the news release. "My day will come."
More information
The National Kidney Foundation has more about kidney transplantation.
SOURCES: Ernesto Molmenti, M.D., vice chairman, surgery, and director, transplant program, North Shore-LIJ Health System, Manhasset, N.Y.; Northwestern University, news release, April 25, 2012
Consumer News