December 31, 2020
The Most Fragile Caregivers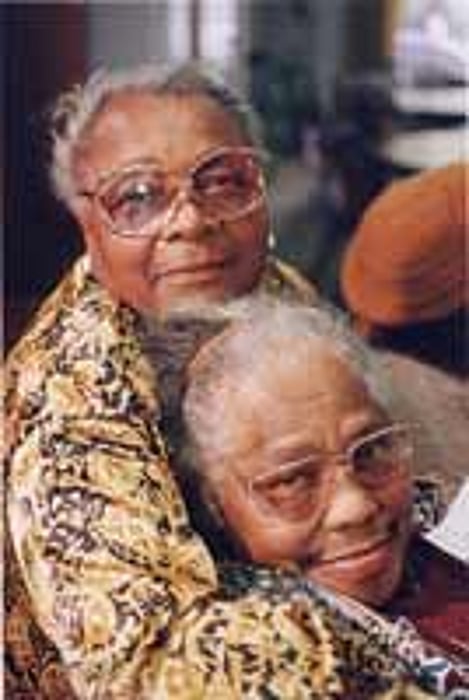 Millions of people care for friends and relatives with no help or compensation, and the hardest working are also the oldest and most vulnerable.
At age 86, Alice Wilson of Billings, Montana, is a full-time healthcare worker. In her case, full-time means 24 hours a day. Alice's 81-year-old husband, Gunther, has a congenital condition that allows water to collect in his brain. The condition makes him unsteady in mind and body. He has memory lapses and brief bouts of dementia, and he can barely move around, even with the help of a walker.
Wilson (who chose not to use her real name) spends much of her day giving her husband food, medicine, supervision, and comfort. "He tells me all the time that without me, he'd be dead," she says. She does her job with cheer and love, but she also admits that it can be tough at times.
The low point came in late 2000, when her wobbly husband fell on top of her. Wilson, who has osteoporosis, wasn't sure she'd ever get back up. "I heard my bones snap," she says. "I just said, 'Lord, take me now.'"
Instead, she ended up in a hospital with a broken wrist and three broken bones in her leg. She spent four weeks in the hospital, three weeks in a rehabilitation center, and a month in a nursing home. (In her absence, her husband's daughter came to town to help him, and he spent some time in an adult day-care facility. For the last month of her recovery, her husband shared a room with her in the nursing home.) As soon as she was well enough, the couple went back home -- and she was back at work.
Caregiving alone
Wilson's story isn't unusual. Some 29.2 million people in this country provide uncompensated care to relatives and friends, many of them working more than 40 hours a week at caregiving alone. Like Alice, many of the hardest-working caregivers are frail and elderly themselves. They never applied for the job, but they still give it everything they have, sometimes at great personal cost.
In a study published in the American Journal of Public Health, 36 percent of caregivers surveyed were identified as "vulnerable," meaning they were in fair to poor health or had a serious health condition. Vulnerable caregivers were likely to be at least 65 years old, female, and married. They were caring for spouses, siblings, and in some cases elderly parents. The study found that sick or frail caregivers actually worked harder than their healthier counterparts. They were more likely to exceed 20 hours of work a week and more likely to provide basic day-to-day care, such as bathing and dressing.
"We take it for granted that we can count on these people," says Maryam Navaie-Walliser, a doctor of public health with the Center for Home Care Policy and Research and the lead author of the study. "Despite their own health problems, they do the best they can with very little support and very little recognition."
Another study, published in the Journal of the American Medical Association, put the toll of caregiving into grim perspective. Researchers from the University of Pittsburgh recruited more than 800 elderly people for the study, roughly half of them caregivers. The researchers collected detailed personal information on every subject, including their medical conditions. Four years later, they checked to see who was still alive.
The results were shocking. After adjusting for preexisting medical problems, age, economic status, and other factors, the researchers found that caregiving by itself increased the risk of death by 63 percent. If a coal mine or a factory put workers in such jeopardy, it would be shut down.
Many vulnerable older caregivers don't seek help until their conditions become emergencies. Suzanne Mintz, president and founder of the National Family Caregivers Association, recalls one woman who for years gave round-the-clock care to her frail, aging husband. Shortly after his death, she was rushed to the emergency room, where doctors determined she had a severe potassium deficiency. They asked why she hadn't sought help earlier. Wasn't she exhausted? "I was a caregiver," she said. "I expected to be tired."
Mintz has seen caregivers struggle with depression, back problems, sleep deprivation, and a wide variety of stress-related illnesses. She has also seen elderly men and women who can barely take care of themselves essentially working as full-time nurses. No matter how sick or frail they become, the caregivers are unlikely to get help. "They say 'This isn't about me.' Their own welfare definitely fades into the background," Mintz says.
Declining health
When Family Caregiver Alliance did a survey of 3,440 caregivers throughout the state of California, it discovered that two-thirds had "significant health problems." Forty-one percent said their health was worse than it had been five years earlier, and well over half showed symptoms of clinical depression. The average age of the people surveyed was 60.5 years; more than one in five was 75 or older. The most common health problems they reported were depression, high blood pressure, arthritis, heart trouble, allergies, and diabetes.
Why is caregiving so hazardous to the health? Part of the problem is physical. Long hours of lifting, bending, and doing household chores can take a toll on anyone. Just as important, caregivers generally do a very poor job of taking care of themselves, says Mintz. "They know they need to exercise and eat right, but they don't feel like they have the time," she says. And if they do start to feel ill, they're unlikely to seek help: "They're already sick of going to the doctor's."
The emotional strain can be just as harmful. Helping a loved one cope with a serious illness or disability is traumatic enough. With scant support or training, the task borders on impossible. "Many of them provide care that's on the caliber of skilled nurses," Navaie-Walliser says. "But nobody's giving them any training. They're told to wash their hands before changing a dressing, and that's about it."
When Navaie-Walliser encounters a sick, frail person caring for a loved one, she doesn't see someone who should get out of the caregiving business. Instead, she sees a person who could urgently use some help. In many cases, other family members will step in and lend a hand -- if only they're asked. "Too many caregivers wait until they're on the verge of exhaustion before asking for help," she says.
Of course, home health aides could ease the burden, but many caregivers can't afford such a luxury. Medicare doesn't cover day-to-day home care, and only the poorest caregivers can access Medicaid, which provides such coverage. People in the middle have little choice but to care for a loved one themselves or send them to a nursing home. "We have a system that's totally broken," Mintz says. "It's morally wrong and it's bad medicine."
Some communities offer adult day-care programs or other avenues of relief, but availability is spotty. And in most cases, the programs don't actively look for people to help. Caregivers have to take the initiative, Navaie-Walliser says. They can learn about available services by talking to a family doctor or calling the local Agency on Aging, she says.
Tips for caregivers
The American Academy of Family Physicians offers several areas of advice:
Always save some time for yourself. Ask a neighbor, friend, or relative to take your place so you can get away for a while.
Get some exercise. As hard as it is to break away for exercise, you owe it to yourself and your loved ones. Stanford University School of Medicine studied 100 women with an average age of 62 who each cared for someone with dementia. About half the women exercised four times a week for 30 minutes at a time. Some chose brisk walking, while others who couldn't leave home used stationary bikes or exercise videos. The other half was counseled on ways to maintain a heart-healthy diet. Both groups reported feeling less stress and depression, because, researchers said, they felt more in control of their own health.
Watch for signs of your own depression. Signs such as excessive crying, unusual sleep patterns, and a lack of interest in activities that used to be enjoyable are among them. If you're depressed, talk to your doctor.
Plan for the future. What will you do when the caregiving ends? Will you have any money left for yourself? Thinking about oneself isn't a sign of selfishness, Mintz says. Caregivers need to be at their best to give their best. And unless they can find some sort of support, even their best may not be enough.
For now, Alice Wilson is going it alone. And despite the hardships, she intends to hold on as long as possible. "I'm going to keep him with me until he doesn't know anything," she says. "He's my sweetheart. He tells me how much he loves me. I'd rather have him with me than away from me."
References
Interview with Maryam Navaie-Walliser of the Center for Home Care Policy and Research.
Interview with Suzanne Mintz, president and founder of National Family Caregivers Association.
Navaie-Walliser, M. et al. When the caregiver needs care: The plight of vulnerable caregivers. American Journal of Public Health. Vol. 92(3): 409-413.
Schulz, R. and S.R. Beach. Caregiving as a risk factor for mortality. Journal of the American Medical Association. Vol. 282(23): 2215-2219.
Mockus Parks, S. and K.D. Novielli. A practical guide to caring for caregivers. American Family Physician.
Family Caregiver Alliance. Selected Caregiver Statistics. http://www.caregiver.org/caregiver/jsp/content_node.jsp?nodeid=439
Wellness Library