October 2, 2017
After Deepwater Oil Cleanup in Gulf, Ill Effects Persist
Dispersant chemicals may have triggered symptoms among workers, study says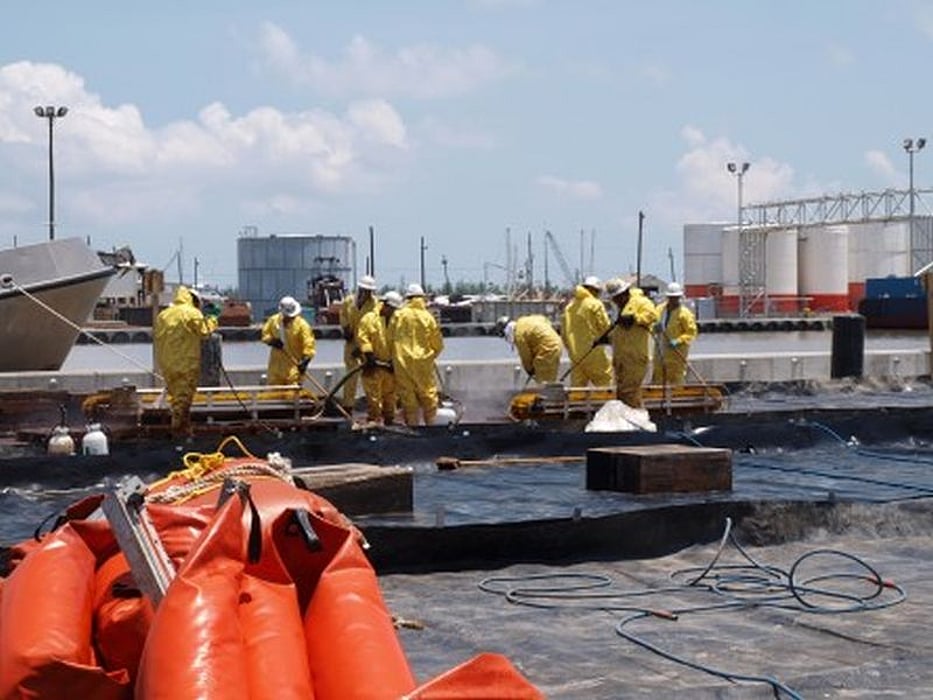 Workers in 2010 helping Deepwater spill clean up Photo J. Remington, NIEHS
MONDAY, Oct. 2, 2017 (HealthDay News) -- Workers exposed to dispersants while cleaning up a major oil spill in the Gulf of Mexico developed health symptoms, including wheeze and eye irritation, a new study says.
Dispersants are chemicals used to break up oil slicks into smaller patches that can be degraded naturally or diluted by large volumes of water.
U.S. National Institute of Environmental Health Sciences researchers are conducting a long-term follow-up study of the 2010 Deepwater Horizon oil spill.
They found that cleanup workers exposed to dispersants were more likely to experience symptoms such as cough, wheeze, tightness in the chest, and burning in the eyes, nose, throat or lungs than those who weren't exposed to dispersants.
Lead author Dale Sandler said the scientists were able to distinguish between health effects related to dispersants and those related to petroleum products in the spill.
The findings are limited to workers involved in the cleanup and do not apply to the general public, she said.
"The health effects that we see in the workers don't necessarily apply to the community at large, although many of the workers live in affected areas," Sandler said in an institute news release.
Many of the workers who reported symptoms while working on the oil spill cleanup no longer had them one to three years later, but some still have them, Sandler said.
Institute Director Linda Birnbaum said additional research might help explain their symptoms.
"Some of them are continuing to not feel well, and we don't know what factors are contributing to it. The ongoing [Gulf study] is important for shedding light on the potential health impacts associated with an oil spill," she said.
The study was published online Sept. 15 in the journal Environmental Health Perspectives.
More information
The U.S. Department of Health and Humans Services has more on oil spills and health.
SOURCE: U.S. National Institute of Environmental Health Sciences, news release, Sept. 19, 2017
Consumer News