April 8, 2014
Stroke Risk May Be Elevated After Herpes Zoster Infection
Incidence ratios for stroke lower among those who receive antiviral therapy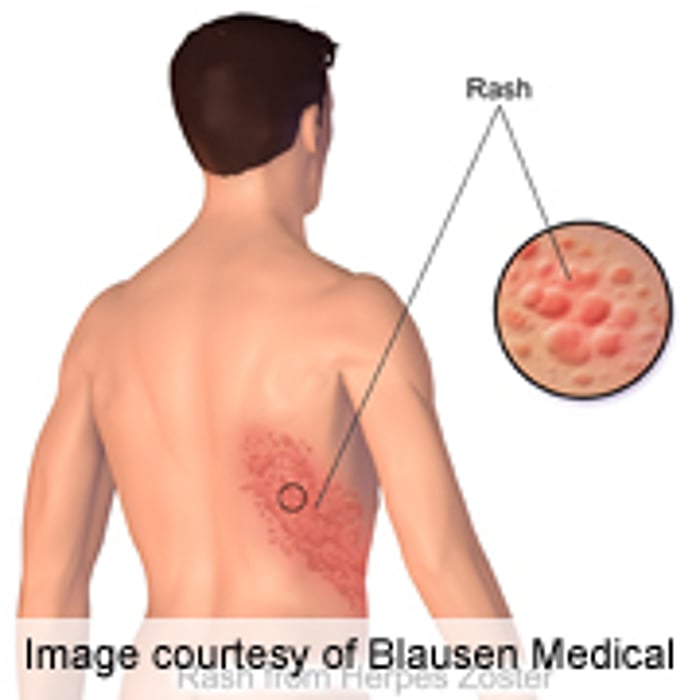 TUESDAY, April 8, 2014 (HealthDay News) -- Risk of stroke may be increased following herpes zoster infection, according to research published online April 8 in Clinical Infectious Diseases.
Sinéad M. Langan, Ph.D., of the London School of Hygiene & Tropical Medicine, and colleagues conducted a self-controlled case-series study of 6,584 individuals with first-ever diagnosis of zoster to assess stroke incidence in periods following zoster compared with other time periods.
The researchers found that, compared with the baseline unexposed period, stroke rate was increased in the period following zoster and then decreased gradually over six months (weeks one to four: age-adjusted incidence ratio [IR], 1.63; 95 percent confidence interval [CI], 1.32 to 2.02; weeks five to 12: IR, 1.42; 95 percent CI, 1.21 to 1.68; weeks 13 to 26: IR, 1.23; 95 percent CI, 1.07 to 1.42). The increased risk of stroke was even stronger for those with zoster ophthalmicus, with a greater than three-fold rate at five to 12 weeks following zoster. Incidence ratios for stroke were lower among individuals receiving oral antiviral therapy compared with those who did not receive treatment.
"The growing awareness of the role of varicella zoster virus in vascular disease promises to lead to clinical trials to assess the benefit of antiviral therapy," write the authors of an accompanying editorial.
Abstract
Full Text
Editorial (subscription or payment may be required)
Physician's Briefing