February 7, 2013
Stars Strut in Red to Bring Awareness to Women's Heart Health
Annual celebrity-studded fashion show reminds women heart disease is their No. 1 killer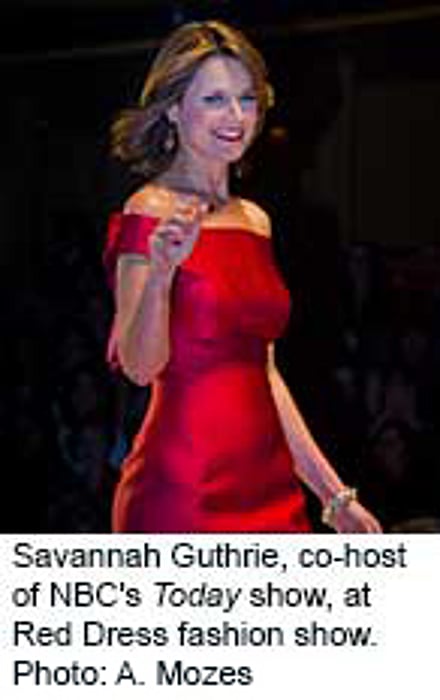 THURSDAY, Feb. 7, 2013 (HealthDay News) -- Olympic gymnastics champion Gabby Douglas wowed the crowd in crimson, actress/designer Kelly Osbourne flaunted cherry red, and pop star Toni Braxton strutted in ruby Wednesday evening in New York City, all part of the annual Red Dress Collection show to boost awareness of women's heart health.
The catwalk show -- a flagship event of New York Fashion Week for a decade -- is part of The Heart Truth campaign, sponsored by the U.S. National Heart, Lung, and Blood Institute (NHLBI). Each year, celebrities turn into runway models dressed in red designer attire, to spread the word that heart disease remains women's No. 1 killer.
It's an issue that fashion show participant and NBC Today show co-host Savannah Guthrie understands all too well.
"My father died of a heart attack when I was 16," Guthrie said. "So, it's something that I care a lot about. And particularly in terms of women. Because the fact of the matter is that I think a lot of women still don't recognize that it is the number one killer. So, to be part of this event is really important.
"Of course it's wonderful that it's wrapped up in this little bit of glamour," added Guthrie, who walked the runway in fire-engine red Carolina Herrera. "I mean who doesn't love a red dress? But what's really wonderful is that it's delivering a serious message."
There are some serious, sobering statistics on the issue, too. According to the American Heart Association, more than 43 million American women are affected by heart disease, but only one in every five believes it is women's greatest health threat. And while one in every 31 women will die from breast cancer, heart disease will claim the lives of one out of every three women.
But experts say The Heart Truth campaign and its iconic Red Dress is having a positive impact.
"About 60 percent of American women now recognize the red dress as a national symbol for heart disease, and two-thirds say it actually makes them want to learn more," said Dr. Nakela Cook, a medical officer with the clinical applications and prevention branch in the division of cardiovascular sciences at the NHLBI in Bethesda, Md.
"In fact, we know that awareness among women has actually doubled over the past 12 years," she said. "An American Heart Association survey from 2009 showed that 48 percent of women have now discussed the issue with their physician, which is up from just 30 percent back in 1997. "
According to Cook, increased awareness often brings heart-healthy changes in women's lives. She said that when women understand the full threat of heart disease, they are 35 percent more likely to exercise and 47 percent more likely to report that they've lost excess weight, compared to women who are less aware.
Efforts such as The Heart Truth, and events such as last Friday's "National Wear Red Day" may even be saving lives, Cook noted.
"We have seen a steady decline in the number of heart disease deaths among women in the decade since 1999," she said. "So, we're making progress. But we still have a road ahead of us to improve these numbers, and to get women with a personal connection to heart disease to share their stories so that women understand that we're all in this together."
The Red Dress Collection, supported by Diet Coke and WebMD, featured a bevy of other celebrities, including actress Minka Kelly and talk show host Wendy Williams, all wearing dresses from star designers such as Oscar de la Renta, Reem Acra and Zac Posen, among others.
For the first time in its 10-year history, the show also featured a non-celebrity on the catwalk -- Cindy Parsons, a woman chosen by the show's organizers for her own success at reducing her personal risk factors for heart disease.
"My mother died of heart disease just two years ago," Parsons, a 55-year old from Brooklyn, Conn., told reporters backstage. She said the loss of her mother spurred her own involvement in a Heart Truth-sponsored awareness initiative. It also helped her bring her blood pressure under control, while shedding 77 pounds in weight and 12 inches off her waistline.
"I'm very excited to be here, because I just think this is really important that women know about heart disease and that they do something about it," Parsons said.
Minutes later, a slimmer, healthier Parsons marched proudly down the runway, in a bright red Adrianna Papell.
More information
There's much more on the campaign at The Heart Truth.
SOURCES: Nakela Cook, M.D., medical officer, clinical applications and prevention branch, division of cardiovascular sciences, National Heart, Lung and Blood Institute, Bethesda, Maryland; Savannah Guthrie, co-anchor, NBC Today; Cindy Parsons, Brooklyn, Conn.
Consumer News