February 1, 2012
Experimental Drug Might Beat Aspirin in Preventing Repeat Strokes: Study
It's not yet FDA-approved, but apixaban cut clot risk caused by abnormal heartbeat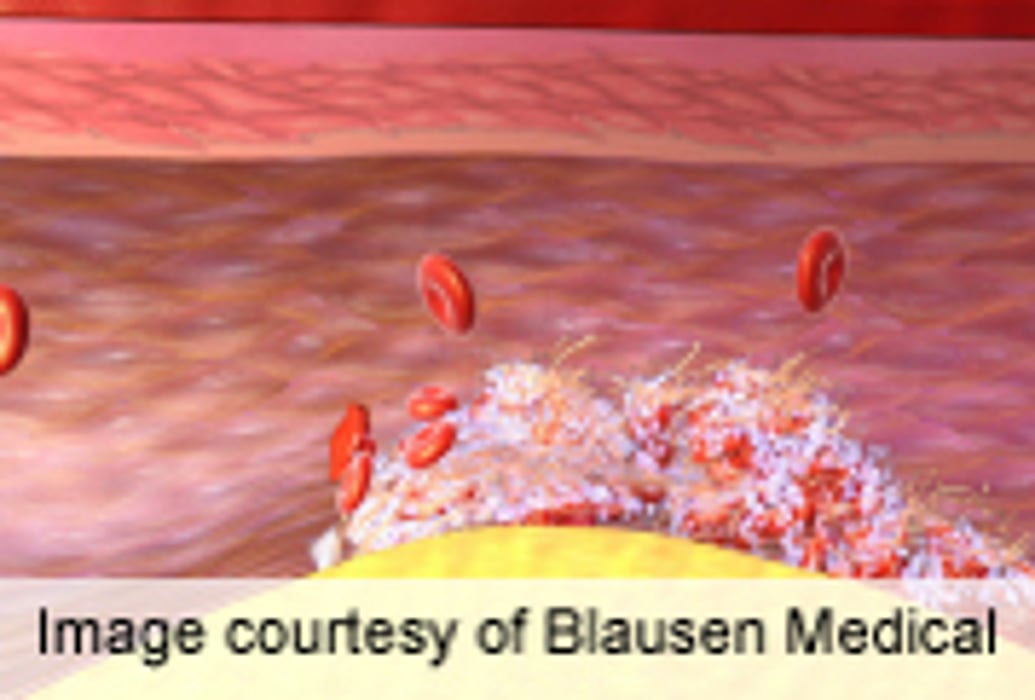 WEDNESDAY, Feb. 1, 2012 (HealthDay News) -- An investigational drug called apixaban (Eliquis) appears to be better than aspirin at preventing blood clots in certain patients who have already suffered a stroke or so-called "mini-stroke" due to an abnormal heart rhythm, according to the results of a new study.
For patients with the dangerous irregular heart rhythm known as atrial fibrillation who can't tolerate the standard drug treatment, daily apixaban seems to be more effective at warding off a stroke or blood clot than aspirin, the study found.
The study was funded by Bristol-Myers Squibb and Pfizer, which are developing apixaban. The findings were slated for presentation Wednesday at the American Stroke Association's annual conference in New Orleans.
For the study, a team of researchers from Canada and Germany, led by Dr. Hans-Christoph Diener of the University Hospital Essen, tracked nearly 5,600 atrial fibrillation patients (average age 70 years) for about one year.
All of the patients were deemed unsuitable for standard treatment with the anticoagulant known as warfarin (Coumadin), the researchers pointed out in a news release from the American Stroke Association.
Study participants were randomly divided into two groups: one group received two daily doses of 5 milligrams of apixaban (part of a new class of anti-clotting drugs known as Factor Xa inhibitors); the other group received between 81 and 324 milligrams of aspirin daily (81 milligrams is a typical "low-dose" aspirin).
The result: among those taking apixaban who had a prior history of stroke or mini-stroke (transient ischemic attack), only 2.4 percent went on to experience a subsequent stroke or systemic embolism (blood clot) during treatment. By contrast, that figure rose to more than 9 percent among similar patients receiving daily aspirin.
Patients on apixaban had no greater risk of major bleeding than those on aspirin, the team added.
The researchers concluded that apixaban was well-tolerated and afforded a greater measure of stroke risk reduction than aspirin among those for whom warfarin is not a viable option.
Commenting on the findings, Dr. Anthony Comerota, director of the Jobst Vascular Institute, Toledo Hospital in Toledo, Ohio, noted that the study results were not surprising, but added that it is important to understand exactly which patients might benefit from apixaban.
"Because aspirin does not have a major beneficial effect on the blood-clotting system, this is a result that I would expect among those with atrial fibrillation. But this is the point that needs to be made clear: strokes resulting from atrial fibrillation are different from those that result from disease going to the main arteries in the brain," explained Comerota, who was not connected to the study.
"Atrial fibrillation is an abnormal rhythm in the heart, in which the atria -- the top chambers of the heart -- do not contract. They just sort of fibrillate [quiver]. And, therefore, the blood does not empty completely from the atrium. And if it doesn't empty it sits there, and if it sits there stagnant, there's tendency for the blood to clot," he continued.
"So what this study did," Comerota noted, "was compare the benefits of aspirin versus apixaban to reduce the likelihood of this kind of clotting. Clotting in the atrium. Because if fewer clots form in the heart there's less of a likelihood any will break off and go to the brain and cause a stroke."
Comerota pointed out that "the benefit of using this new anticoagulant to reduce this risk is that it comes from a new class of drugs that has much less interaction than warfarin with other kinds of medications."
Apixaban does not require the same kind of monitoring as warfarin, which demands frequent blood tests and also interacts with many common types of food. "Warfarin is a good drug, but it needs to be carefully monitored and, unfortunately, has many problematic interactions. And for those who can't take it, this study suggests apixaban is a good alternative," Comerota concluded.
Apixaban is currently under review for approval by the U.S. Food and Drug Administration.
The data and conclusions of research presented at medical meetings should be viewed as preliminary until published in a peer-reviewed journal.
More information
For more on atrial fibrillation, visit the U.S. National Heart, Lung, and Blood Institute.
SOURCES: American Stroke Association, news release, Feb. 1, 2012; Anthony Comerota, M.D., director, Jobst Vascular Institute, Toledo Hospital, Toledo, Ohio
Consumer News