October 22, 2010
Iraq War Vet, Daytime TV Star Turns Scars Into Inspiration
Soldier-turned-actor J.R. Martinez works with other burn-injured vets to boost awareness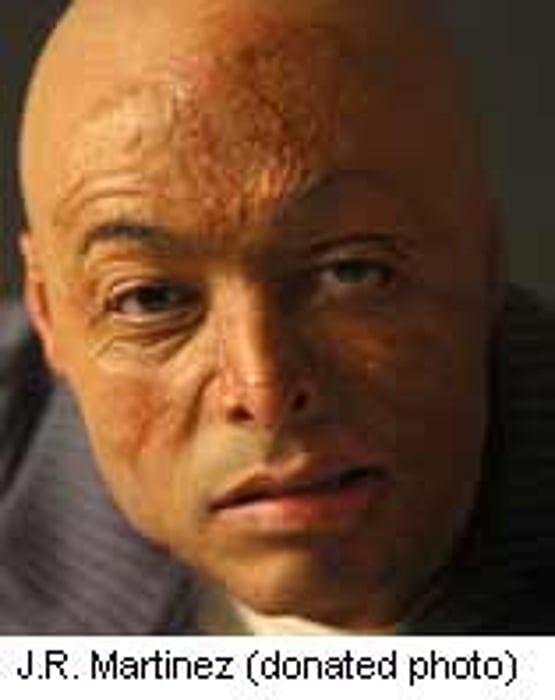 FRIDAY, Oct. 22, 2010 (HealthDay News) -- You might have seen J.R. Martinez on ABC's All My Children, where he plays an Iraq War vet with severe burns across much of his body who led his fiancée to believe he was dead rather than reveal his injuries.
Martinez, 27, earned the right to play that role the hard way, to say the least.
In 2003, just a month into his first Iraq deployment as a real-life Army soldier, his Humvee hit a land mine. The explosion caused severe burns to 40 percent of Martinez's body.
Throughout his grueling recovery, which included 32 surgeries, Martinez used his experience to lift the spirits of other military vets recovering from injuries and to raise awareness about the difficulties -- physical, social and emotional -- burn survivors face.
Martinez will speak on Saturday at the Phoenix Society for Burn Survivors World Burn Congress in Galveston, Texas. The Phoenix Society works to prevent burn injuries and improve care for burn survivors.
"I know my scars are a powerful tool," Martinez said. "When I walk into a room, people are going to look at me. I use that attention to speak to them and educate them about my world, the burn survivor world."
Martinez was a 19-year-old high school grad in Dalton, Ga. when he enlisted. He went to basic training at Fort Benning and in March 2003, was sent to Iraq.
The April 5 explosion caused the Humvee to burst into flames. Trapped inside, Martinez remembers screaming for someone to let him out. "You can see people running around, but no one is coming to get you," Martinez said. "You feel like you're in a lost place."
His last memory was of being on the ground, held by his sergeant. Then he passed out.
Martinez was flown to Kuwait, then Germany and Brooke Army Medical Center in San Antonio. The hospital is home to the U.S. Army Institute of Surgical Research Burn Center, where some 900 seriously burned military vets have been treated since the start of the wars in Afghanistan and Iraq, said Col. Evan Renz, M.D., a burn surgeon and director of the burn center.
When Martinez awoke after three weeks, his mother was at his side. He had lost parts of his ears. He had fractures in his face, arm, leg and rib; and his lungs were damaged from inhaling smoke and debris.
"My mother is unbelievable," Martinez said. "She's the best tool I have to chisel away at life. If there is an iceberg in front of me, she's the one I can count on to help me knock that iceberg down."
Renz met Martinez that summer. Martinez never complained, Renz said.
"He is one of the finest human beings I've ever met," Renz said. "Since the war began, we have been privileged to meet over 900 men injured in the line of duty, not exactly like J.R. but in similar ways. We are continuously astounded by their spirit and the fact they can overcome such devastating injuries, and not only overcome it, but do really well."
Burns can be terribly painful, and so is the treatment. Surgeons often use skin grafts, in which a 0.25 millimeter-thick layer of skin from an unburned portion of the body is removed and placed over the burned area. "Most patients say the donor site hurts worse than the burned site," Renz said.
And as it heals, the skin tightens and needs to be stretched, which also hurts. Even when it heals, grafted skin is more delicate, prone to injury and itching.
"A burn injury is a lifelong injury. It never really goes away," Renz said. "There is nothing about a burn wound that is easy or simple. It's all problems and it's all painful."
For Martinez, even as he began to heal physically, emotionally he was devastated. Most comfortable at the burn ward where everyone knew and accepted him, Martinez began hanging around there, running errands and helping out.
One sunny day, a nurse asked Martinez to check in on another young veteran who'd been severely burned. The man had the lights off and the blinds closed. Martinez sat next to him. "I wasn't trying to be therapeutic or anything, we just talked," Martinez said.
When he left, he noticed the man had opened the blinds. "By being able to talk to other guys going through something similar, it was helping them and ultimately helping me," he said.
Martinez continued to work with recovering vets, had become a spokesman for the Coalition to Salute America's Heroes and had been featured on Oprah when the ABC casting call went out for a real-life veteran to play an injured vet.
Nowadays, Martinez is living in Los Angeles, working with an acting coach and thrilled to be pursuing acting as a career.
"Being on the show is so important to me personally, but it's bigger than me," Martinez said. "It encourages those burn survivors out there in the world to say, 'He did it. We can face the world and people will love us, too.' After a while, people don't see the scars anymore. All they see is, 'Oh, that's J.R.' That's a beautiful thing. It's diminishing that gap between burn survivors and the rest of the world, for us to start understanding one another."
More information
The Phoenix Society for Burn Survivors has more.
SOURCES: J.R. Martinez, actor; Col. Evan Renz, M.D., director, U.S. Army Burn Center, San Antonio, Texas
Consumer News