December 28, 2006
Virtual Reality Soothes Young Burn Patients
High-tech game designed to distract kids during daily, painful treatments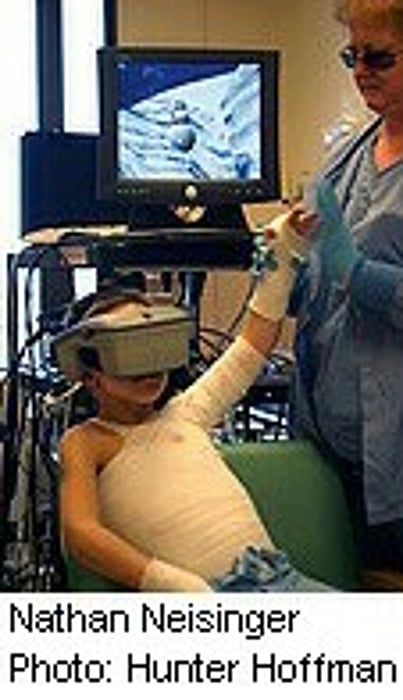 THURSDAY, Dec. 28, 2006 (HealthDay News) -- A spilled pot of boiling pasta left 6-year-old Nathan Neisinger of Marysville, Wash., with such severe burns on his torso and arms that doctors initially gave him only a 60 percent chance of survival.
Nathan did survive, only to face a terrifying new reality -- three long months of painful, daily wound scrubbing and cleaning, plus arduous physiotherapy, most of it performed with a minimum of anesthesia.
Then virtual reality -- in the form of a high-tech game designed specifically for burn victims -- came to his rescue.
"It was truly a lifesaver," said Nathan's mother, Heidi. "It doesn't totally take the pain away, but we know pain has a lot to do with your mind. And when your mind is centered on something else, it's as good as anesthesia."
The game is called SnowWorld, and when young burn victims put on its high-tech helmet and get involved in playing, they lose sight of the nurses, equipment and other fearful sights and sounds around them. Instead, they're immersed in an Arctic world where they lob virtual snowballs at penguins, snowmen and roaring woolly mammoths while speeding through hairpin turns in a canyon of ice.
SnowWorld's designer, Hunter Hoffman, the director of the University of Washington's Virtual Reality Analgesia Research Center in Seattle, explained that burn victims often re-experience the sensation of getting burned as their wounds are handled during daily care.
"So, our idea was to create this 'cool' scenario -- imagery of snowflakes, an icy world of snowmen and penguins -- things that are the antithesis of fire," he said.
Pediatric burn victims, especially, need some form of non-medicinal pain control during their treatment. That's because methods commonly used in adult patients -- drugs like morphine, or artificially induced comas -- are simply too risky for use in children.
"In fact, all they could give Nathan was a light dose of oxycontin," Heidi Neisinger said.
Hoffman knew from his own research, and others' as well, that pain requires sustained attention from the brain. He figured, then, that distraction might help ease it. That's the theory behind SnowWorld, the first-ever use of virtual reality to help treat severe pain.
Hoffman, a psychologist, teamed up with Seattle-based virtual reality designers Ari Hollander and Howard Rose to perfect the latest version of the game.
"Designing a great virtual world is all about maximizing presence," Hollander explained. "Trying to make you feel like you are really in that virtual environment."
Helping kids block out their immediate environment to avoid the anticipatory aspect of pain is key, the experts said.
Before SnowWorld, "even the simplest things were fearful to Nathan -- something like having to move his arm up, because it would stretch new skin in a way that was painful," Heidi Neisinger said. "But when he couldn't see or know that the nurse was going to lift his arm, by the time it happened, the pain was over."
And, as any parent knows, the interactive nature of video-game technology keeps kids mesmerized.
"SnowWorld doesn't totally take his pain away, but he really, really wants to get those penguins," Neisinger explained. "His mind is so intent on doing that, that he can't see or feel anything else. He's in a different world."
In fact, in brain-scan tests involving college students subjected to mild pain, Hoffman's group found that activity in five neurological pain centers was significantly reduced when volunteers played SnowWorld.
"Pain is known to have a psychological component, and distraction has been known for years to reduce pain," Hoffman said. "Virtual reality just takes that to a whole new level."
The SnowWorld software -- which was developed with funds from the Paul Allen Family Foundation and the New York Firefighters Burn Center Foundation -- is being offered free of charge to burn units across the United States. Hoffman said it's now being used in centers in Seattle, New York City, Houston and Galveston, Texas.
Virtual reality is also showing promise against other types of pain, he added.
"My team has used it to reduce pain during periodontal scaling for patients with dental fears, and it really reduced their pain and anxiety," he noted. "We've also used it with kids during cerebral palsy rehabilitation after surgery. We're just scratching the surface."
Above all, the technology demonstrates the power of the human mind to overcome serious physical distress. "With SnowWorld, the pain and drugs these kids are on are both competing for their awareness, but we're giving them a place to escape to," Hoffman said.
Heidi Neisinger said she's grateful her son, now a healthy, active 8-year-old, had SnowWorld to run to.
"Recovering from burns is hard, and it will always be hard," she said. "But thank goodness they have these things for people who are severely hurt."
More information
There's more on virtual reality for use against pain at the University of Washington's Human Interface Technology Lab.
SOURCES: Heidi Neisinger, Marysville, Wash; Hunter Hoffman, Ph.D., research scientist and director, Virtual Reality Analgesia Research Center, University of Washington, Seattle; Ari Hollander, technical director, Imprint Interactive Technology Inc., Seattle;
Consumer News