January 10, 2008
Years-Long Search Unlocks Deadly Genetic Disease
Researchers find gene that causes neurodegenerative disorder called spinal muscular atrophy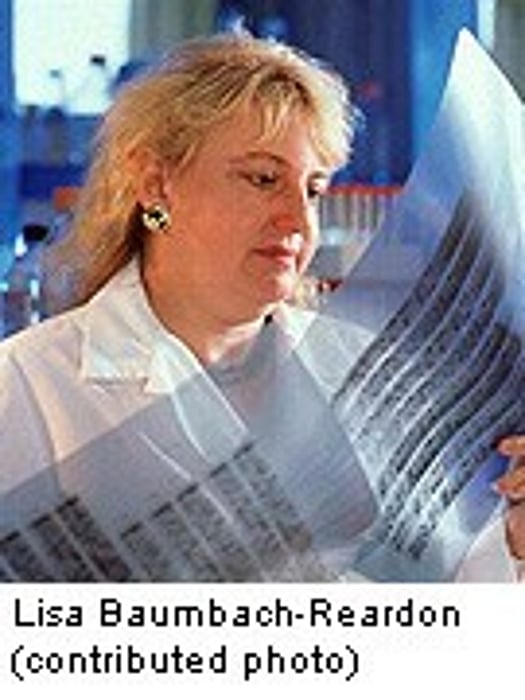 THURSDAY, Jan. 10, 2008 (HealthDay News) -- Ann Messer knew something was wrong while she was still pregnant with her second child. Her baby didn't move, except sometimes to roll over to one side of her body, leaving her stomach flat.
Her fears were confirmed when her son, Andrew, was born. "He had a very weak cry, very little muscle tone, he had contractures in his knee joints," Messer recalled.
The doctors diagnosed congenital muscular atrophy. Andrew died at 5 months of age, in 1985.
Two months later, a first cousin of Messer's, living in Evansville, Ind., gave birth to a baby boy with similar characteristics. That baby died at 10 months of age. "My mother saw him one time and said he was floppy, very limp, didn't move," Messer recalled.
And unbeknownst to Messer at the time, yet another cousin, in a third branch of the family, this one living in New Orleans, had earlier given birth to two baby boys with the same condition. One died at 18 months and one lived to 18 years, although he needed a feeding tube and was confined to a wheelchair for all his short life.
In all, four baby boys with the same condition were born in roughly a five-year span. They all died.
Several years later, doctors were able to give the disease a more specific name: autosomal recessive spinal muscular atrophy (SMA). SMA is a neurodegenerative disorder occurring in children that involves severely weakened muscles and usually results in death within two years, often because muscles of the respiratory system can no longer support breathing. The X-linked form of the disease is passed unsuspectingly by healthy mothers to their sons.
SMA made sense to Messer and her family, but they were baffled by the autosomal part of the diagnosis.
"I'm not a genetics person, but I know that autosomal recessive means that both mothers and fathers have to be carriers [of the gene that causes the disease]," Messer said. "We started scratching our heads. What are the odds that all of us would have married somebody with the same recessive gene and our two mothers and our grandmother? I don't calculate odds very well, but I can tell that that's just a staggering amount."
At about this time, another cousin, Patti, living in Houston, married and wanted to have children but was terrified after watching the devastation of her family. She sought genetic counseling.
Enter Lisa Baumbach-Reardon, associate research professor of pediatrics and neurology at the University of Miami Miller School of Medicine, who was already researching a similar family in South Carolina.
Baumbach-Reardon would spend 15 years searching for the genetic root of these family tragedies.
"We started investigating and found all these other families, and then we spent many years trying to map the gene where it was on the X chromosome, and we were very sure about where it was, but we had no great breakthroughs or clues," Baumbach-Reardon recalled. "It was probably the biggest scientific experience of my career, and many times we were told to give up, but we didn't give up, because we knew in the end what we were working on was this terrible disease."
This week, Baumbach-Reardon and her colleagues published the results of their quest in The American Journal of Human Genetics. A gene known as UBE1 is the cause of this rare, X-linked form of SMA. The gene lies at the top of a major biological pathway, the same pathway that has been implicated in Parkinson's and other neurodegenerative disorders.
"It's the beginning of a pathway. If that doesn't work in the beginning, then nothing else works," Baumbach-Reardon explained.
Tragically, all six women in Ann Messer's generation were carriers of the mutation -- a mutation that was enough to cause the disease, regardless of their husbands' genetic makeup.
On Dec. 7, Baumbach-Reardon flew to Houston to meet with nine members of the family and tell them the scientists had finally located the gene responsible for their losses.
"We met in a Sunday school room in my cousin's church," Messer said. "Dr. Baumbach flew in from Miami, bless her heart. She's sitting there looking at nine blank faces trying to explain Genetics 101."
For the family, Messer said, "it gave a meaning and purpose to all of this heartache we've all gone through and gives us so much hope for so many more families, the diagnosis and the therapies that I'm sure they'll eventually develop, and prevention."
Because the gene has links to Parkinson's disease, that offers hope that more progress will be made in preventing and treating that disease and others like it.
"The thought of the agony and anguish that we went through, the sadness, that we can be a part to help thousands of families is just huge for us," Messer said.
The knowledge gained from the Miami researchers' work has already benefited the family. One of Messer's nieces was found not to carry the mutation. "She can have children and not worry about it," Messer said.
Dr. E. Darrell Crisp, associate professor of internal medicine and pediatrics at the Texas A&M Health Science Center College of Medicine and director of pediatric neurology at Scott & White Hospital in College Station, cared for Andrew Messer 23 years ago, although he was not involved with the new study.
"Having a gene localization and a way of making a diagnosis... helps differentiate whether this is truly SMA or another disorder," Crisp said. "Another thing is, if it's the X-linked form of SMA, it can tell us whether a person in the family may be a carrier and if they are at risk."
More information
To learn more about SMA, visit the U.S. National Institutes of Health.
SOURCES: Lisa Baumbach-Reardon, Ph.D., associate research professor of pediatrics and neurology, University of Miami Miller School of Medicine; Ann Messer, Belton, Texas; E. Darrell Crisp, M.D., associate professor of internal medicine and pediatrics, Texas A&M Health Science Center College of Medicine, and director of pediatric neurology, Scott & White Hospital, College Station; Jan. 10, 2008, The American Journal of Human Genetics
Consumer News