November 4, 2016
Asocian unos medicamentos potentes contra el cáncer con unos riesgos cardiacos raros
Un informe nuevo describe a dos pacientes de melanoma que fallecieron de un problema cardiaco después de tomar las primeras dosis de medicamentos de inmunoterapia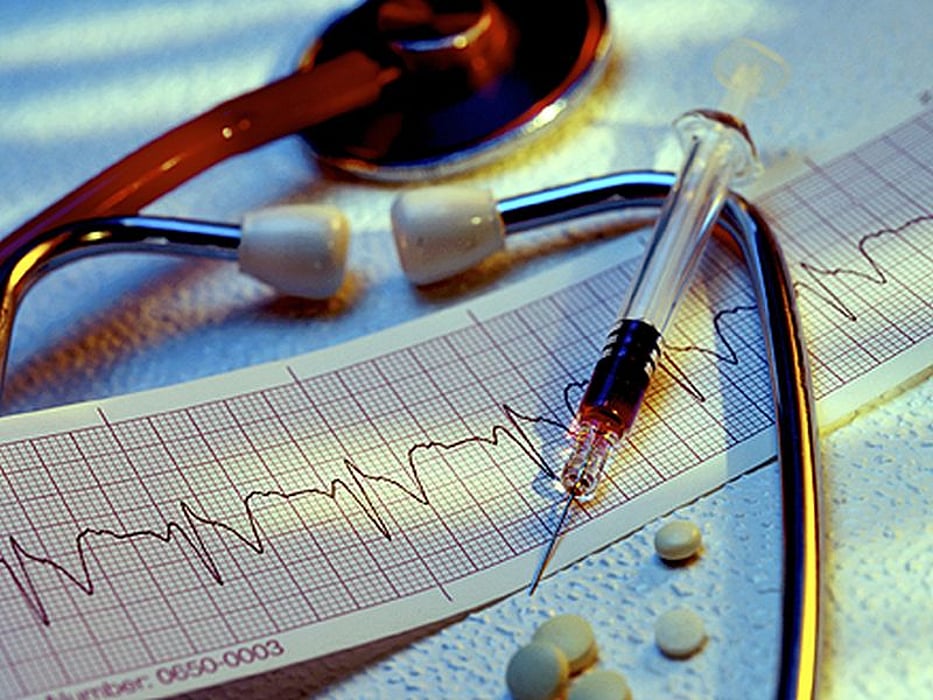 JUEVES, 3 de noviembre de 2016 (HealthDay News) -- En casos raros, unos medicamentos potentes que animan al sistema inmunitario a luchar contra el cáncer podrían ser una amenaza para el corazón durante el proceso, informan los investigadores.
Estos medicamentos, conocidos como inmunoterapia, han transformado el tratamiento del cáncer en los últimos años, y han conseguido que algunos pacientes que tenían pocas opciones entraran en remisión.
Pero un informe de la edición del 3 de noviembre de la revista New England Journal of Medicine describe dos casos en que los pacientes con un melanoma avanzado fallecieron por problemas cardiacos dos semanas después de haber recibido las primeras dosis de Opdivo (nivolumab) y Yervoy (ipilimumab).
Uno de los pacientes era una mujer de 65 años que falleció después de sufrir un ritmo cardiaco rápido e insuficiencia orgánica, y el otro paciente era un hombre de 63 años que falleció de paro cardiaco repentino después de dos rondas. Cuando se produce un ataque cardiaco, el flujo sanguíneo al corazón queda bloqueado y ocurre un daño en los tejidos, mientras que en el caso del paro cardiaco repentino el corazón deja de latir súbitamente.
Los autores del informe añadieron que dos medicamentos parecidos que están en el mercado, Tecentriq [atezolizumab], un medicamento contra el cáncer de vejiga, y Keytruda [pembrolizumab], que se usó para tratar el melanoma que se había propagado al cerebro en el caso del ex presidente Jimmy Carter, podrían suponer un peligro similar.
Pero los casos de daño cardiaco son muy poco habituales, de menos de un 1 por ciento en este momento. El riesgo parecer llegar a su punto máximo cuando dos de estos medicamentos se toman simultáneamente, añadieron los autores del estudio.
Los investigadores enfatizaron que no se deberían desmerecer los beneficios de estos medicamentos para los pacientes con cáncer por estas complicaciones.
"Se trata de una nueva complicación de medicamentos que tienen el potencial de salvar la vida", dijo el autor principal del estudio, el Dr. Javid Moslehi, a The New York Times. Moslehi es director de cardio-oncología en la Facultad de Medicina de la Universidad de Vanderbilt, en Nashville.
"Estamos trabajando para desarrollar los tratamientos para esto. Nuestro trabajo no es decir que los medicamentos son malos, sino decir: '¿Cómo podemos afrontar esto?'", planteó Moslehi.
Los pacientes que toman estos medicamentos deben ser monitorizados de cerca y ser tratados rápidamente con medicamentos que reduzcan la respuesta inmunitaria si se detecta algún problema, comentaron los investigadores.
El Dr. Michael Atkins, subdirector del Centro de Oncología Integral Lombardi-Georgetown en Washington, D.C., dijo a Associated Press que cree que los problemas cardiacos con estos medicamentos se pueden gestionar.
"Solamente nos da un momento de pausa", dijo Atkins, que supervisó un estudio que incluyó a uno de los dos pacientes que fallecieron. "Se trata de un evento raro... pero es uno particularmente grave".
Más información
Visite la Sociedad Americana Contra El Cáncer (American Cancer Society) para más información sobre la inmunoterapia.
Artículo por HealthDay, traducido por HolaDoctor.com
© Derechos de autor 2016, HealthDay

FUENTES: Nov. 3, 2016, New England Journal of Medicine; Associated Press; The New York Times
Consumer News in Spanish