September 19, 2007
Early Human-Like Skeletons Are First Outside of Africa
Improved feet, legs may have spurred Homo's spread, experts say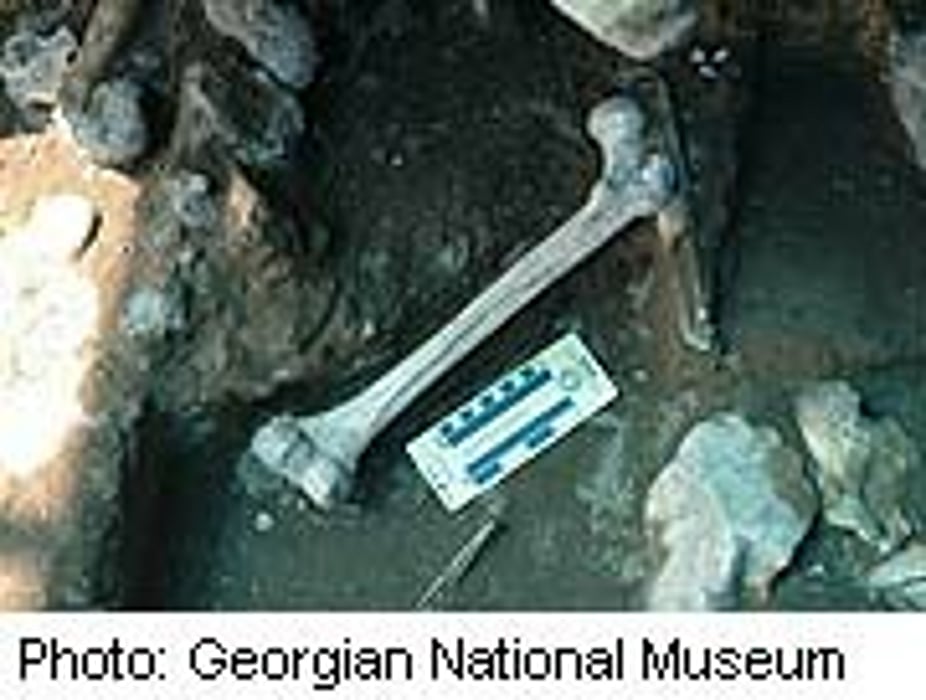 WEDNESDAY, Sept. 19, 2007 (HealthDay News) -- When it came to spreading across the globe, humanity's early ancestors may literally have put their best foot forward.
So conclude paleontologists examining the partial skeletons of a group of four individuals who died in what is now the Republic of Georgia nearly 1.8 million years ago.
Their remains -- the earliest members of the Homo genus found to date outside of Africa -- are telling much about how key body changes propelled this group's spread around the planet.
"Their lower extremities are evolving faster than their brain and upper extremities, and that seems to be what's necessary for taking them out of Africa and on a long trip to other parts of the world," explained anthropologist Jeffrey Laitman, director of anatomy at the Mount Sinai School of Medicine, in New York City.
He was not involved with the research, which is published in the Sept. 20 issue of Nature.
According to the fossil record, mankind's ancestors arose from the first true bipeds, called australopiths, of which 3-million-year-old "Lucy" is an early member. They then went on to develop the larger brain capacity and more upright gait that characterizes the genus Homo, to which modern humans belong.
In Africa, the Homo genus included first Homo habilis and then the larger-brained Homo erectus. Both were increasingly comfortable walking upright on land over long distances.
In the early 1990s, scientists digging in Dmanisi, Republic of Georgia (between Turkey and Russia), came upon a remarkable find: The skull specimens of early Homo individuals dating to 1.77 million years ago. "When they were first described, it was really quite revolutionary to see material [like this] out of Africa," Laitman said.
But even though paleontologists can learn a lot from craniums, full or even partial skeletons are necessary to fill in many of the gaps. That's why the new findings from Georgia are so important, the experts said.
The time period in which the four Dmanisi individuals -- three adults and one adolescent -- lived is called the Plio-Pleistocene age. "It's right around the time that we have the emergence and spread of the earliest members of the genus Homo," said Erik Trinkaus, a professor of physical anthropology at Washington University in St. Louis.
Members of the Homo genus gradually spread north and east of Africa beginning (as far as scientists can tell) about 1.8 million years ago. They spread relatively quickly, reaching Southeast Asia and Indonesia by 1.5 million years ago, Trinkaus noted.
And, according to the Dmanisi remains, their more human-like legs and feet may have helped get them there.
"Absolute hindlimb length of the Dmanisi hominins is greater than in australopiths and close to that of later Homo, including modern humans," wrote the Georgia team, which was led by David Lordkipanidze of the Georgian National Museum in Tbilisi. "This may reflect selection for improved locomotor energy efficiency," they explained.
Laitman agreed that it's no coincidence that Homo's spread was linked to their improved bipedal gait. The specimens "also show features of the transverse arch of the foot, the longitudinal arc of the foot, and a particular [movement] of the big toe" not seen before, he said.
And yet other parts of the specimens' skeletons lagged behind in terms of approximating modern humans. For example, their upper limbs fit into the Homo genus but retained some characteristics of australopiths, the researchers noted. The Dmanisi group was relatively small-statured, too -- about 5 feet tall and 100 pounds on average.
Most significant, their brains were only 600 to 775 cubic centimeters in volume -- less than half that of modern Homo sapiens.
To Laitman, all of this means that, "If you were going to go on a long trip, you didn't have to be a genius -- but you did need good feet."
This "mosaic" of features -- some more human-like than others -- means the Georgia researchers have been careful not to give their skeletons a specific taxonomic label, such as Homo habilis or erectus. "You're not yet having anyone saying which drawer in the museum desk these bones should be placed in," Laitman noted.
And there's some controversy over the researchers' conclusions.
Trinkaus, for one, disputes the notion that the specimens' highly flexible upper arm points away from Homo and toward the australopiths. "That's something that is actually extremely variable even in modern humans," he said. "It's a developmental thing that's dependent on activity patterns."
Even less is known about how the Dmanisi individuals lived. The researchers speculate that they gained food from hunting and scavenging, and stone tools have also been found in the area. But much remains unknown.
Still, everyone agrees that having even partial skeletons helps fill in the historical record.
"There's just a whole lot more that you can do when you have an associated skeleton, even if it's incomplete," Trinkaus said.
More information
Find out more about human evolution at Minnesota State University.
SOURCES: Jeffrey Laitman, Ph.D., professor and director, anatomy, Mount Sinai School of Medicine, New York City; Erik Trinkaus, Ph.D., Mary Tileston Hemenway Professor in Arts & Sciences, Physical Anthropology, Washington University, St. Louis; Sept. 20, 2007, Nature
Consumer News