March 20, 2008
Fossils Push Back Bipedalism to 6 Million Years Ago
First detailed look at Orrorin tugenensis bones proves earliest hominin walked upright, researchers say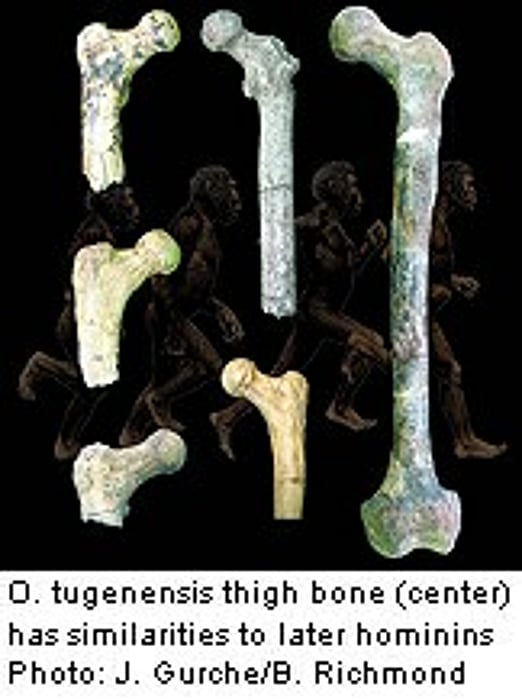 THURSDAY, March 20, 2008 (HealthDay News) -- Far from being a recent, revolutionary development, the ability to walk upright on two legs began at the dawn of human evolution more than six million years ago, new research confirms.
The first detailed examination of the fossilized thigh bones of a 4-foot tall creature called Orrorin tugenensis supports the notion that this very early member of the hominin family tree was bipedal, anthropologists say.
"Upright walking is one of the very first traits in our lineage to occur. So this finding reinforces that and pushes the date back even farther," said study co-author Brian Richmond, associate professor of anthropology at George Washington University in Washington, D.C.
But the study also suggests that bipedalism changed through succeeding millennia, and that, biomechanically speaking, O. tugenensis probably walked differently than modern humans.
Richmond and a colleague, William Jungers, of Stony Brook University in Stony Brook, N.Y., published their findings in the March 21 issue of Science.
French anthropologists first discovered the six-million-year-old group of fossil thigh bones, hand bones and teeth in Kenya in 2000. O. tugenesis -- about the size of today's chimpanzees -- lived in an era close to the very origins of human evolution.
"It's right in the time period where we think chimpanzees and humans first split from each other -- about 5 to 8 million years ago," Richmond said.
Bipedalism was crucial to human development because it "freed up our hands," Richmond explained. These free forelimbs allowed humans and their ancestors to begin to explore the use of tools, for example. Expanded brain size may also have accompanied (and been encouraged by) bipedalism, anthropologists say.
But was O. tugenensis truly human-like? Because bipedalism is a key trait separating hominins from other primates, a close look at the bones -- the thigh bone, especially -- was necessary.
"We took a simple caliper and measured the size of the hip joint and the strength of the shaft of the bone," Richmond said. "Our analysis showed that the overall shape profile of the bone really closely resembles early human fossils from about three to two million years ago."
Those fossils -- of hominins such as Australopithecus (such as the famous "Lucy"), and Paranthropus -- inhabited East Africa just prior to the emergence of the genus Homo, which includes today's Homo sapiens.
That means that "the overall theme of upright walking remained the same for the majority of our evolutionary history," from O. tugenensis straight up to Australopithecus, Richmond said.
But about two million years ago, an environmental shift occurred within East Africa, changing forests into grasslands, forcing hominins to rely even more on walking as they looked for food.
"There was dramatic change in hip structure then that was probably related to longer-distance walking and gave us the capabilities that we have today," Richmond said. "We see the origins of the genus Homo then, with these long striding legs, a very different kind of body shape," compared to O. tugenensis or Australopithecus, he said.
That's why O. tugenesis bones more closely resemble those of Australopithecus rather than Homo sapiens, even though all three species are related and walked upright, he added.
Signs of strong musculature on the upper limbs, as well as fingers designed for climbing, also suggest that O. tugenensis probably split time between the trees and ground. "When they were on the ground they were on two legs, but they probably climbed trees regularly to get food, to escape predators, to sleep at night," Richmond said.
One anthropology expert called the new study "a marvelous piece of detective work."
Richmond and Jungers "are taking the knowledge of what it means to be bipedal to a new level of understanding," said Jeffrey Laitman, a functional morphologist and director of the Center for Anatomy and Functional Morphology at Mount Sinai School of Medicine, in New York City.
Besides fixing O. tugenesis firmly within the hominin lineage, the new work "is causing scientists to search for and understand the nuances of functional morphology of bipedalism, and how it came to be," Laitman said.
The exact trigger for the shift from walking on four legs to two remains a tantalizing mystery, Richmond said. And he stressed that if Africa's climate hadn't changed, who's to say that evolution would have moved away from the successful Australopithecus, and led to Homo sapiens ?
As Richmond said: "The way we are today is not necessarily the way we had to have been. We are not the necessary endpoint."
More information
To learn more about human evolution, visit Minnesota State University.
SOURCES: Brian Richmond, Ph.D., assistant professor, Center for the Advanced Study of Hominid Paleobiology, Department of Anthropology, George Washington University, Washington, D.C.; Jeffrey Laitman, Ph.D., professor, and director, Center for Anatomy and Functional Morphology, Mount Sinai School of Medicine, New York City; March 21, 2008, Science
Consumer News