August 8, 2012
R-CHOP Benefits Older Mantle-Cell Lymphoma Patients
Improved survival for older patients with R-CHOP induction, rituximab maintenance treatment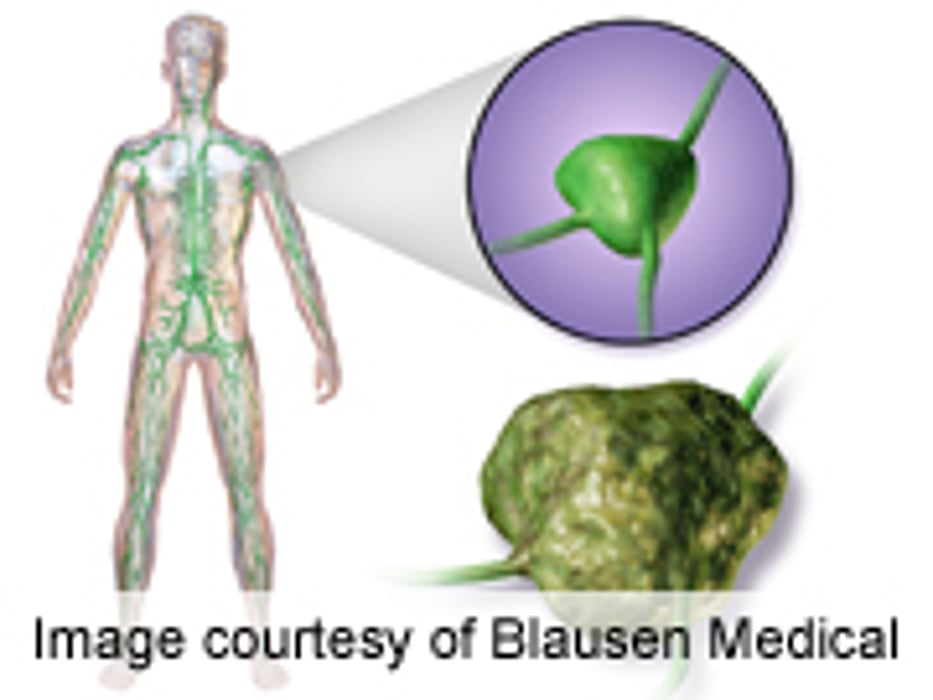 WEDNESDAY, Aug. 8 (HealthDay News) -- In older patients with mantle-cell lymphoma, a rituximab-based chemotherapy regimen (rituximab, cyclophosphamide, doxorubicin, vincristine, and prednisone [R-CHOP]) followed by maintenance therapy with rituximab improves survival, according to a study published in the Aug. 9 issue of the New England Journal of Medicine.
Hanneke C. Kluin-Nelemans, M.D., Ph.D., from the University Medical Center Groningen in the Netherlands, and colleagues randomly assigned 560 patients (age 60 years and older; median age, 70 years) with mantle-cell lymphoma to six cycles of rituximab, fludarabine, and cyclophosphamide (R-FC) every 28 days or to eight cycles of R-CHOP every 21 days. Patients who responded were further randomized to maintenance treatment with rituximab or interferon alfa.
The researchers found that the R-FC and R-CHOP groups had similar complete remission rates (40 and 34 percent, respectively; P = 0.1). However, with R-FC there was more frequent progressive disease (14 versus 5 percent), a significantly lower four-year survival rate (47 versus 62 percent), and more patients died during the first remission (10 versus 4 percent). The frequency of grade 3 and 4 infections was balanced, and hematologic adverse effects were more frequent with R-FC than R-CHOP. For maintenance therapy, rituximab significantly reduced the risk of progression or death (hazard ratio, 0.55) and significantly improved four-year survival, compared with interferon-alfa, in patients who had responded to R-CHOP (87 versus 63 percent).
"R-CHOP induction followed by maintenance therapy with rituximab is effective for older patients with mantle-cell lymphoma," Kluin-Nelemans and colleagues conclude.
The study was partially supported by Roche Pharmaceuticals, Bayer Schering Pharma, and Schering-Plough; several authors disclosed financial ties to these and other pharmaceutical companies.
Physician's Briefing