August 2, 2012
High-Cost Imaging of Advanced Cancer Patients Increasing
More than one-third of stage IV cancer patients scanned in the last month of life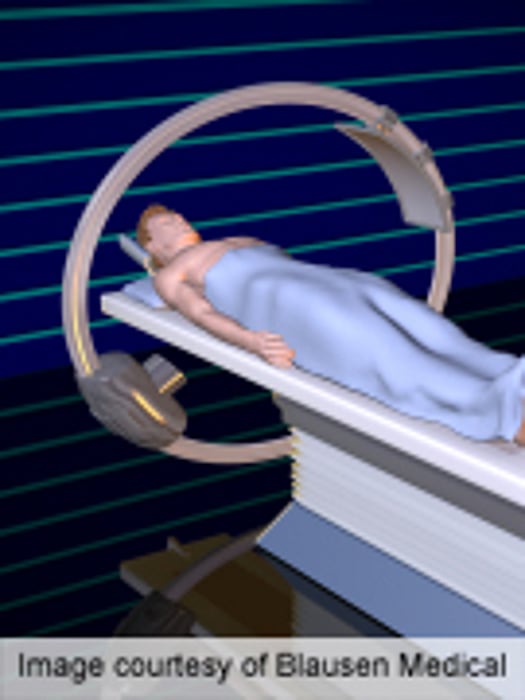 THURSDAY, Aug. 2 (HealthDay News) -- Use of imaging in stage IV cancer patients increased from 1995 to 2006, according to a study published online July 31 in the Journal of the National Cancer Institute.
To examine patterns in high-cost diagnostic imaging use among elderly patients with stage IV cancer, Yue-Yung Hu, M.D., from Brigham and Women's Hospital in Boston, and colleagues used claims data from the Surveillance, Epidemiology, and End Results-Medicare database to identify 100,594 patients diagnosed with stage IV breast, colorectal, lung, or prostate cancer from 1995 through 2006. All patients underwent computed tomography, magnetic resonance imaging, positron emission tomography, and/or nuclear medicine scans from 1994 through 2009.
The researchers found that, from 2002 through 2006, 95.9 percent of stage IV patients underwent a high-cost diagnostic imaging procedure, with a mean number of 9.79 scans per patient and 1.38 scans per-patient per-month of survival. Among stage IV patients, 75.3 percent were scanned again after the diagnostic stage and 34.3 percent were scanned in the last month of life. The proportion of stage IV cancer patients imaged increased from January 1995 to December 2006 (relative increase, 4.6 percent), while the proportion of early-stage cancer patients imaged decreased (relative decrease, −2.5 percent).
"Imaging, although it often leads to (appropriate) palliative measures, may also distract patients from focusing on achievable end-of-life goals, require them to spend more of their limited time in medical care settings, and/or provoke anxiety," the authors write. "These procedures represent a costly, yet underappreciated and understudied aspect of care in this vulnerable population."
Abstract
Full Text (subscription or payment may be required)

Physician's Briefing