September 29, 2014
ESMO: Combo Treatments Up Survival in Metastatic Melanoma
Studies show improved progression-free survival for cobimetinib + vemurafenib; dabrafenib + trametinib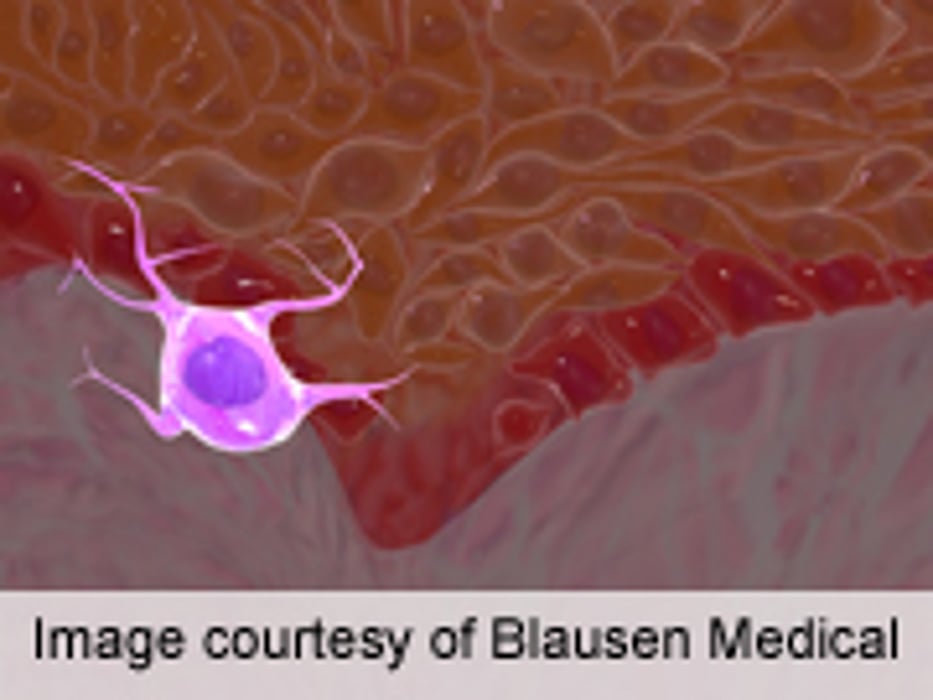 MONDAY, Sept. 29, 2014 (HealthDay News) -- For patients with untreated metastatic melanoma with BRAF V600 mutations, combination treatments of cobimetinib and vemurafenib, and dabrafenib and trametinib, improve progression-free survival. These findings were published online Sept. 29 in the New England Journal of Medicine to coincide with the annual meeting of the European Society of Medical Oncology, held from Sept. 26 to 30 in Madrid.
James Larkin, M.D., Ph.D., from the Royal Marsden Hospital in London, and colleagues randomized 495 patients with previously untreated unresectable locally-advanced or metastatic BRAF V600 mutation-positive melanoma to vemurafenib and cobimetinib (combination) or vemurafenib and placebo (control). The researchers found the median progression-free survival to be 9.9 and 6.2 months in the combination and placebo groups, respectively (hazard ratio for death or disease progression, 0.51; P < 0.001).
Georgina V. Long, M.D., Ph.D., from the University of Sydney, and colleagues conducted a phase 3 trial involving 423 previously untreated patients with unresectable stage IIIC or stage IV melanoma with a BRAF V600E or V600K mutation. Participants were randomized to dabrafenib and trametinib or dabrafenib and placebo. The researchers found the median progression-free survival to be 9.3 and 8.8 months in the dabrafenib-trametinib and dabrafenib-only groups, respectively (hazard ratio for progression or death, 0.75; P = 0.03).
"A combination of dabrafenib and trametinib, as compared with dabrafenib alone, improved the rate of progression-free survival in previously untreated patients who had metastatic melanoma with BRAF V600E or V600K mutations," the authors write.
The Larkin study was funded by F. Hoffmann-La Roche/Genentech, the manufacturer of cobimetinib (in collaboration with Exelixis). The Long study was funded by GlaxoSmithKline, the manufacturer of trametinib.
Abstract - Larkin
Full Text
Abstract - Long
Full Text
More Information
Physician's Briefing