July 30, 2012
Histological Subtype Impacts Survival in Renal Cell Cancer
Improved survival with chromophobe; poor survival with collecting duct, sarcomatoid subtypes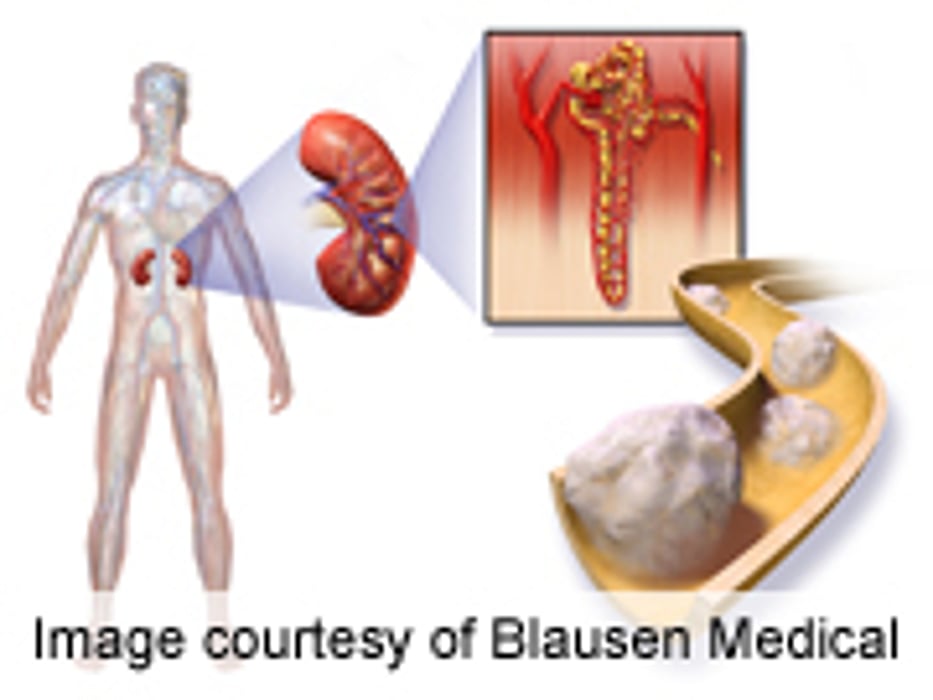 MONDAY, July 30 (HealthDay News) -- The histological subtype of renal cell carcinoma (RCC) impacts both overall and cancer-specific survival, according to a study published in the August issue of The Journal of Urology.
Kirk A. Keegan, M.D., of the Vanderbilt University School of Medicine in Nashville, Tenn., and colleagues conducted a large, population-based cohort study using data from the National Cancer Institute's Surveillance, Epidemiology and End Results database involving 17,605 patients who underwent surgery for RCC from 2000 to 2005. The authors sought to determine the role of RCC histopathology on the stage-specific survival rate.
The researchers found that, compared to that among patients with clear cell histology, presentation with T3 or greater disease was less likely among patients with papillary and chromophobe pathology (17.6 and 16.9 percent, respectively) and more likely among patients with collecting duct and sarcomatoid variants (55.7 and 82.8 percent, respectively). Histology correlated significantly with overall and cancer-specific survival on multivariate analysis; improved survival was seen for patients with the chromophobe pathology (hazard ratio, 0.56), while patients with collecting duct or sarcomatoid variants had worse survival (hazard ratios, 2.07 and 2.26, respectively).
"Histological subtype in patients with RCC predicts overall and cancer-specific survival. Despite adjustment for stage, patients with collecting duct and sarcomatoid RCC variants have poor survival," the authors write. "These findings may inform the role of percutaneous renal biopsy and other pretreatment diagnostic techniques since differences in histology reflect intrinsic biological variance and may ultimately form the basis of future targeted therapy."
Abstract
Full Text (subscription or payment may be required)
Physician's Briefing