February 24, 2014
'Epidemic of Diagnosis' Driving Thyroid Cancer Rates Up
Almost three-fold increase in incidence of thyroid cancer, but death rates stable from 1975 to 2009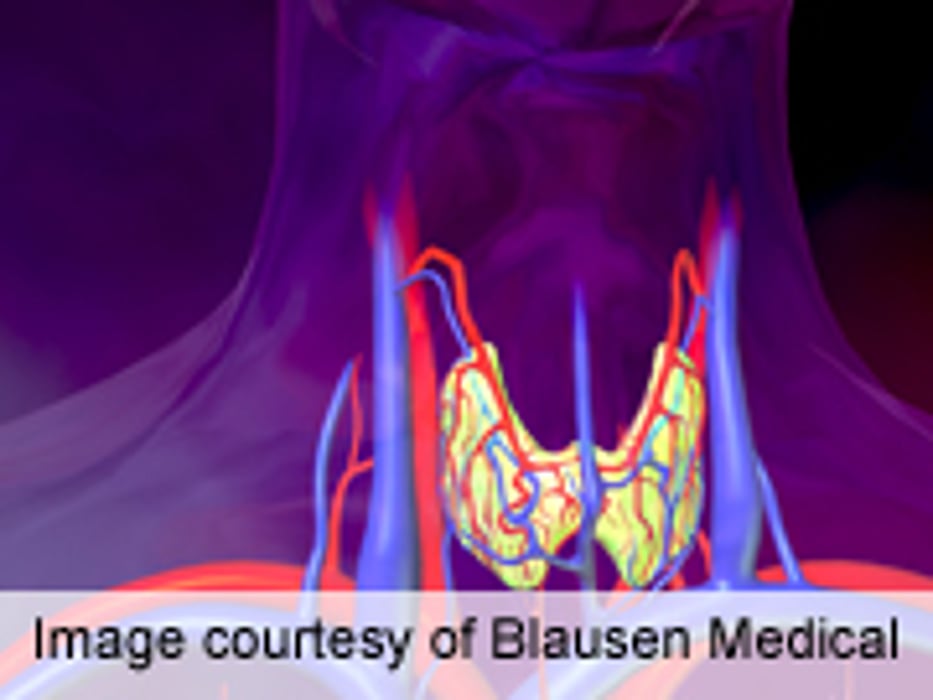 MONDAY, Feb. 24, 2014 (HealthDay News) -- The incidence of thyroid cancer increased nearly three-fold from 1975 to 2009, particularly in women, with the increase mainly attributable to papillary thyroid cancer, according to a study published online Feb. 20 in JAMA Otolaryngology-Head & Neck Surgery.
Louise Davies, M.D., and H. Gilbert Welch, M.D., M.P.H., from Dartmouth University in Hanover, N.H., examined secular trends in patients diagnosed with thyroid cancer from 1975 to 2009. Incidence and mortality data were obtained from the Surveillance, Epidemiology, and End Results program in nine areas and the National Vital Statistics System, respectively.
The researchers found that the incidence of thyroid cancer increased nearly three-fold since 1975, from 4.9 to 14.3 per 100,000 individuals (absolute increase, 9.4 per 100,000; relative rate [RR], 2.9). Papillary thyroid cancer accounted for almost the entire increase (3.4 to 12.5 per 100,000; absolute increase, 9.1 per 100,000; RR, 3.7). The absolute increase in thyroid cancer was almost four times greater in women than in men (14.9 versus 3.8 per 100,000). Between 1975 and 2009, the thyroid-associated mortality rate was stable at about 0.5 deaths per 100,000.
"There is an ongoing epidemic of thyroid cancer in the United States. The epidemiology of the increased incidence, however, suggests that it is not an epidemic of disease but rather an epidemic of diagnosis," the authors write. "The problem is particularly acute for women, who have lower autopsy prevalence of thyroid cancer than men but higher cancer detection rates by a 3:1 ratio."
Abstract
Full Text (subscription or payment may be required)
Physician's Briefing