May 5, 2020
PPE With More Coverage Ups Protection, but Harder to Don, Doff
Modified gowns with attached gloves and gloves, masks with added tabs may cut contamination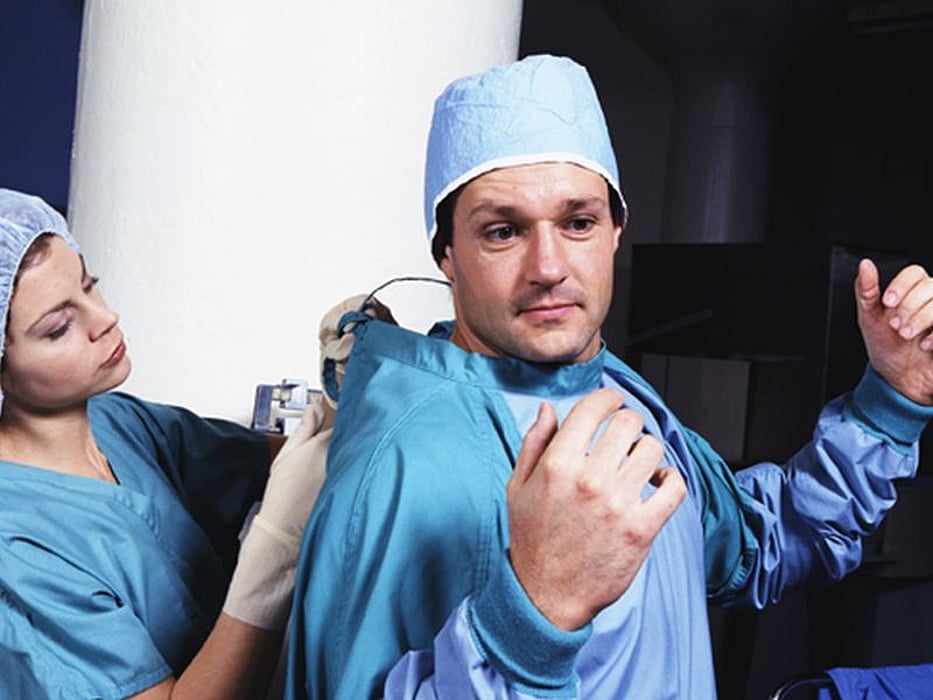 TUESDAY, May 5, 2020 (HealthDay News) -- Covering more of the body leads to better protection for health care workers against contamination, but greater coverage is usually associated with increased difficulty in putting on and removing personal protective equipment (PPE), according to a review published online April 15 in the Cochrane Database of Systematic Reviews.
Jos H. Verbeek, M.D., Ph.D., from the University of Amsterdam, and colleagues updated a review first published in 2016 and previously updated in 2019. The researchers identified 24 relevant studies with 2,278 participants that evaluated types of PPE, modified PPE, procedures for putting on and removing PPE, and types of training. The majority of the studies (18) assessed simulations of exposure to infection using fluorescent markers or harmless viruses or bacteria, but they did not assess health care workers who were treating infected patients.
The researchers found that coveralls are the most difficult PPE to remove but may offer the best protection, followed by long gowns, gowns, and aprons. Protection from respirators worn with coveralls may be better versus a mask worn with a gown, but they are more difficult to put on. More breathable types of PPE are more comfortable, with similar levels of contamination. Half of the studies showed contamination was common, despite improved PPE. Gowns that have gloves attached at the cuff may reduce contamination. Furthermore, adding tabs to gloves and face masks may lead to less contamination. Fewer errors in PPE removal were seen with face-to-face training, computer simulation, and video training versus training delivered via written material only or a traditional lecture.
"It would be helpful if hospitals could register and record the type of PPE used by their workers to provide urgently needed, real-life information," write the authors.
Physician's Briefing